This Week in Quality Digest Live
American Customer Satisfaction Index ACSI
Statistics
Citizen Satisfaction Rebounds in 2016
Satisfaction with federal government reaches a four-year high after three years of decline
Published: Wednesday, February 22, 2017 - 12:00
(ACSI: Ann Arbor, MI) -- Citizen satisfaction with the federal government reached a four-year high at the end of 2016, according to the American Customer Satisfaction Index (ACSI). Three years of eroding citizen satisfaction culminated in an all-time low score in 2015, but over the course of a year, satisfaction rebounded 6.4 percent to 68.0 on a zero-to-100 scale.
Several factors contribute to the rise in citizen satisfaction. Government websites are better than they were a year ago. The Department of Health and Human Services (HHS) also improves, up 8 percent to an ACSI score of 67. With nearly 10 million users enrolled in the Affordable Care Act (ACA), more people are interacting with HHS than ever before. Substantial gains in HHS survey respondents and improved satisfaction with the department contributes to higher satisfaction with the federal government overall.
"As the impending repeal and replace of the ACA legislation moves forward, the effects on citizen satisfaction will be important to track," says Claes Fornell, ACSI founder and chairman.
The Department of the Interior (+4% to 78) and the Department of State (+10% to 78) lead the way in citizen satisfaction. At the other end of the spectrum, the Department of the Treasury anchors the bottom at 59.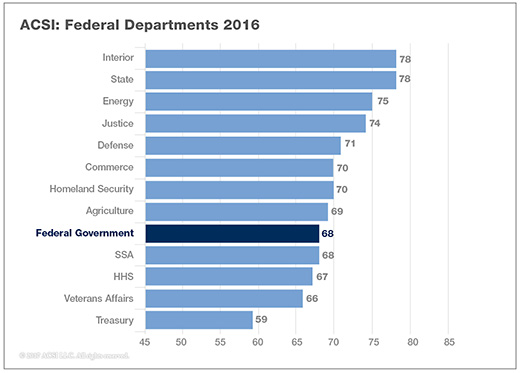 About The Author

American Customer Satisfaction Index ACSI
The American Customer Satisfaction Index (ACSI), founded at the University of Michigan's Ross School of Business and produced by ACSI LLC, is a national economic indicator of customer evaluations of the quality of products and services available to household consumers in the United States. The national index is updated each quarter and scores on a zero-to-100 scale at the national level. The ACSI produces indexes for 10 economic sectors, 47 industries, more than 225 companies, and more than 200 federal or local government services.