This Week in Quality Digest Live
Standards Store
Standards
Standards-Training.com Provides Database of Classes for ISO 9001 and Other Standards
User-friendly database offers 3,000 classes available in 35 cities in North America
Published: Tuesday, June 19, 2018 - 11:00
(Standards Stores: Excelsior, MN) --Standards Stores has simplified the process of finding industry training (like ISO 9001 lead auditor training) with one site that has 1000's of classes from all the top industry organizations. Much like Travelocity simplified the process of travel reservations, Standards-Training.com is the most comprehensive and up-to-date database of industry training courses available. Simply select the course type, location, and dates that work for you and immediately see options.
Clients benefit by:
• Reducing time spent searching for courses, times, and locations from many sources
• Having a choice of several alternatives on one page: cities, dates, and providers
• Large selection: Thousands of classes from the top providers, with more coming
• Variety: Classroom, online, webinars, and downloads
• On-site training: Easily request training at your location from top providers
Training providers also benefit by reduced online advertising fees because clients are matched to their capabilities before they are sent to their website to purchase the training.
How it benefits organizations
The Standards Training Finder offers organizations a comprehensive look at all of the management system training available at any given time. This user-friendly database has more than 3,000 classes available in 35 cities in North America and is updated daily, as soon as training providers release their latest schedules.
This service offers maximum flexibility by allowing users to see a variety of training course options and providers that fit their schedule, including online training options that can occur any time or any place. The quick class comparisons this service provides saves individuals and companies time and money as they search for standards training. Training companies include BSI, Omnex, Bureau Veritas, AQS, Axeon, Lloyd's Register, and Cavendish Scott, among others.
Standards Training Finder is useful because it offers courses that cover a variety of certification and business improvement topics, including implementation, auditing, standards overviews, and skills, in formats from classroom to online or webinar. If users don't find an existing class or time that works, they can also request a bid for custom online training or on-site training on this site.
Organizations exploring new standards adoption, planning a transition to an updated version of their standard, or pursuing other quality management goals can give this free service a try by visiting StandardsTraining.com.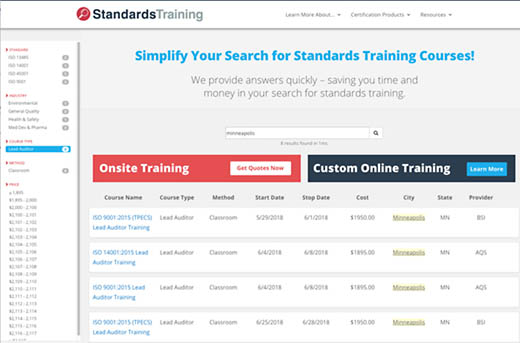 About The Author

Standards Store
Since 2001, Standards Stores has provided affordable, effective, easy-to-use tools and training to achieve and maintain certification to management system standards like ISO 9001, AS9100, AS9110, AS9120, ISO 13485, ISO 14001, IATF 16949, ISO 17025, OHSAS 18001, ISO 45001, ISO 5001, as well as integrated standards. Standard Stores' products are guaranteed and have helped thousands of companies achieve certification to one or more management system standard.