This Week in Quality Digest Live
Mike Micklewright
Quality Insider
Lean Order Entry
Huh?
Published: Tuesday, July 15, 2008 - 05:37
Question: Many modern enthusiasts claim that feng shui is Chinese for the practice of arranging objects (such as furniture) to help people achieve their goals. What is the American corporation translation of feng shui?
Answer: 5S (5 = feng, S = shui)
A very good client (definition: one in which top management actually is open to modifying its behaviors and management structure; one that wants to learn real lean—and not practice fake lean) asked me to determine why its waste-reduction and quality-improvement efforts in the order-entry process had run into a roadblock and weren't progressing any further after some initial successes.
This client, based in a Waunakee, Wisconsin, is a manufacturer of gear boxes and motors and is owned by its German parent. Several months prior to this request and just after my providing a simple one day lean office overview and simulation and referring the students to some good lean books, the president of the company put a team together and lead it through a value stream mapping exercise of orderentry, a process in which the company was experiencing a high rate of shop order errors coming back from the production floor. The president had no previous training in value stream mapping and he lead the team through a lean exercise and made some real changes. How cool is that? The customer-service manager and the team leaders not only supported the suggested change, they drove them.
Did Dr. Deming not state relentlessly that it starts at the top?
So, per their request, I performed a full analysis of their lean environment and waste-reduction efforts in the order-entry process. This included a gemba walk, or in this case, a gemba sit, because when "going to see" (the English translation of gemba) an order-entry person perform the work, it's easiest to see in a sitting position. Also, in the spirit of not becoming overly dependent on Japanese words that make no sense to most employees within the company, gemba sit will most probably be renamed at this company using English words. What a crazy concept.
At the conclusion of my analysis, I presented my observations and recommendations. Like so many other companies, this company had made some nice changes to the process and gotten rid of some waste, but for the most part, they made no cultural changes or leadership changes that would support and encourage everyday improvement activities. They focused on the lean tools, rather than the lean principles. They also suboptimized the department process without looking at the entire system.
Many of the most important recommendations made and presented to this company focused on creating a lean culture. As eloquently summarized by David Mann in Creating a Lean Culture (Productivity Press, 2005), the four main interdependent facets of creating a lean culture are:
Leader standard work (now that's another crazy idea; standard work is only for those who do repetitive work; I do nothing repetitively; that's why no one is accountable for their actions—because I never follow up)
Visual controls (huh—no more hiding problems?)
Daily accountability meetings (you mean we actually have to be accountable for our actions?)
Leadership discipline (what's wrong with micromanaging?)
I provided a hands-on lean culture class to address all of these facets, along with some of Deming's principles. The company took all four facets to heart and has made real cultural, organizational, and management changes. Perhaps, if you readers express enough interest, I will provide more information and photos of the improvements in this process in a subsequent article.
But, for now, on to the story…
Besides the lean cultural changes, one of the other radical recommendations was to 5S the order-entry work area and process, including the computer desktop and all of the electronic folders and files. It's only radical because 5S is so infrequently applied to office processes, much less the organization of electronic files. I taught a brief class, and then we went to work. I asked the participants to think conceptually, because the examples I had were mostly related to manufacturing. I also made sure that their main "IT dude" participated, in case we needed his expertise. As it turned out, he was very valuable to the efforts.
Here are the results of the second day of the 5S event for this company's order entry process. If you have no idea of what 5S is, you will learn a lot by just reading the examples below:
1. Sort
Order entry personnel have to reference many different documents as they "build" orders into the system. The documents were organized into the following folders:

 

Work instructions
Order entry screens
Product data sheets
Product manual
Quality systems log
Reference sheets
Technical manuals
Procedures

An electronic folder entitled appropriately enough "red tag" was created. The group went through every document in the above folders, and if the document hadn't been referenced in the past month or so it was moved into the "red tag" folder. If it was known for sure that it was obsolete, it was simply deleted.  The target timeframe to determine a disposition for each of these documents was two weeks. At that point, the red tag folder would also be eliminated.
All hard copies of reference documents hung on the cubicle walls and product manuals that were within the cubicle and not used within the last month or so, were also red tagged. A list of hard-copy product manuals that were deemed to be necessary to be maintained in the cubicle was created. It was discovered that there was a huge discrepancy of the manuals being maintained within each of the five order entry personnel cubicles.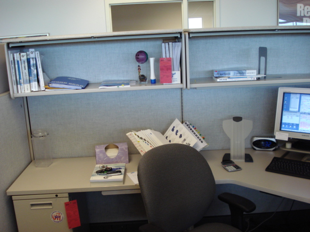 Red tags in a cubicle
Unneeded documents on an order entry computer desktop were moved to the red-tag folder if they had not been used in the last month.
2.Set in order (or straighten)
A person performing order entry can have a difficult time finding certain documents because they were organized by type. If a customer ordered a special gearbox that required using a reference sheet, the order-entry person would have to go into the "reference sheet" folder. Next, if she/he had to reference a product data sheet, she/he would downsize that document and go through a number of clicks to reach that folder to find the appropriate document. There may be more documents that this person has to reference, but because of the difficulty and the inconvenience in finding such documents, a person might try to rely on his or her memory. With so many facts to be kept in mind, errors ensue.
Arranging documents by type (i.e., procedures, work instructions, forms, reference documents) is no different than arranging the production process by equipmenttype (e.g., all machining operations together, all welding operations together, all assembly operations together). This isn't convenient to the user and thus hurts the most important aspect of business—the process.
The group rearranged the folders by product type, which is how they "build" the product description in the computer. The documents that the order entry personnel now reference are organized into the following folders:

Gearbox
Motors
RGAs
Oil/paint
Parts
Germany orders
Etc.

This was a great improvement over organizing documents by similar type as it was as described above in 1a. The order-entry and customer-service personnel, including those who were not involved in the reconstruction, all claimed that the new organization was much easier to use. If it's easier to use, then it will be referenced more often, and both the quality and speed of developing shop orders are now increasing.  

When an order-entry person now receives an order for gearboxes, she or he opens the gearbox folder and can easily find any document, whether it is a product data sheet, reference sheet, work instruction, or procedure that relates to gearboxes. The process to find documents and enter an order now requires many fewer key strokes, which should result in fewer errors and a faster process. This was all due to "setting in order" in accordance with how one uses the folders and files.
The documents themselves also needed to receive a little "setting in order" or "straightening." The file names were organized by number and then description. An example: AA 7.2.1-014 Brake Motor Order Entry. The number and letters at the beginning of the filename had no meaning to the user, only to the ISO 9001 quality management document control person. So the number was eliminated from the link to the file name and the files within a folder were naturally organized in alphabetical order. The new file name for the aforementioned document is now Brake Motor Order Entry, and since it's now arranged alphabetically, it's much easier to find. Anytime a document or product or tool or machine is easier to find, the more chance there is that it will be used properly.
Looking at all of the documents in addition to the order-entry screens is very difficult to do on one monitor, so a dual-monitor system was purchased for each order entry person. This action was in place as a result of earlier efforts to improve the overall system and reduce waste.
The icons on an order entry person's desktop were also properly organized and standardized for ease of use and consistency in training.

3. Shine

On an on-going basis, periodically, one is supposed to shine their process and inspect if it for any possible wear-and-tear issues.
I'm really trying here, but I cannot think of one thing we did to encourage the shine aspect of customer service. We could perhaps, and maybe we should, include a 5–10 minute shine at the end of each work day in which each order entry person makes sure that the correct electronic and hardcopy documents are in the right place and that no order is left incomplete. If three order-entry personnel are finished and one is still working on a difficult order, the others would lend support.

4. Standardize

Once the folders and files were set in order, it was easy to standardize what all of the order entry personnel saw when they entered the main folder. The folders were also electronically locked so that they could not be moved.
The approximately nine hardcopy product manuals are now all standardized for each order entry person. A list was also developed for any new people so that they will receive the exact same product manuals in the exact same order, which makes training much more consistent. The manuals are organized into a standardized three-ring binder on a platform angled towards the user for ease of access.
Each of the product manuals now have standardized tabs on the side and across the top of the manuals. Each tab has a specific meaning as identified by colors, and opens easily to the desired section.
A portion of the physical desktop within the cubicle was standardized to include five hard copies of frequently used reference documents. Some of these documents have certain locations labeled on the cubicle wall to make missing or out-of-date documents more obvious. The entire desktop wasn't standardized, just the working portion, to allow for freedom of expression and personnel effects to be displayed in other portions of the cubicle as desired.
A list of all of the required items a new employee would need is now part of the orientation checklist.

The result of the first 4Ss:

Before




After

5. Sustain

This is the most difficult step for every company.
However, the changes that were made to support a lean culture and your quality management system provide a much better chance of supporting and sustaining the improvements that were made.

For example, the team leader's standard work includes a weekly check to ensure that all of the standardized electronic and hardcopy documents, the cubicles, and the computer desktops are organized in the same fashion, are where they should be, are the latest edition, and are in compliance with their ISO 9001 certified documentation system.
The customer service manager's standard work includes ensuring that the team leader is performing the  standard work for that job.
The president's standard work includes ensuring that the customer service manager is performing that job's standard work.
The visual controls put in place make all of the standard work that much easier and quicker to perform.
The daily accountability meetings provide ample opportunity to bring discrepancies up to the team and provide resolution.
The leadership discipline encourages the order entry personnel to develop their own solutions to these and other problems that arise.

The development of the lean culture and an ISO 9001-based quality management system allows for the ability to sustain improvements resulting from the use of lean tools and builds discipline and accountability into the system, unless, of course, top management doesn't do its own standard work.

As the beloved Dr. Deming stated many times, quality starts at the top. If the top chooses not to follow through on its standard work, then it will be obvious to all who are involved and that is the way it should be, even for a crazy idea like 5S in the order-entry process.  

Footnote (because it is at the foot of this article and it's a note): If you are the management representative, quality manager, or director for your company, and you're not leading or actively involved in the lean effort, you aren't doing your job—helping to continually improve the effectiveness of your quality management system. Get involved with the lean efforts today—it's part of the QMS.
About The Author

Mike Micklewright
Mike Micklewright has been teaching and facilitating quality and lean principles worldwide for more than 25 years. He specializes in creating lean and continuous improvement cultures, and has implemented continuous improvement systems and facilitated kaizen/Six Sigma events in hundreds of organizations in the aerospace, automotive, entertainment, manufacturing, food, healthcare, and warehousing industries. Micklewright is the U.S. director and senior consultant for Kaizen Institute. He has an engineering degree from the University of Illinois, and he is ASQ-certified as a Six Sigma Black Belt, quality auditor, quality engineer, manager of quality/operational excellence, and supply chain analyst.
Micklewright hosts a video training series by Kaizen Institute on integrating lean and quality management systems in order to reduce waste.