Featured Video
This Week in Quality Digest Live
Ryan E. Day
Quality Insider
Give 'Em What They Want, Not What They Think They Want
Customer service at the speed of technology
Published: Wednesday, September 4, 2013 - 16:57
'This 3/8-in. corded drill/driver features a 4.5-amp motor that offers up to 1,500 rpm for powerful drilling and driving in a variety of materials. The variable-speed trigger helps you match the speed to the application, while the lock-on feature enables continuous drilling and helps to reduce operator fatigue during long drilling times. The ergonomic handle includes a GripZone for comfort during use." Sold! I need to drill holes, and that drill is exactly what I want.
"Our Industrial Plasma Cutter is a lightweight unit that features powerful inverter technology for smooth cutting. Handles almost any project you can throw at it, from mild steel to copper, brass, stainless, and aluminum up to 3/8 in. Cuts faster and more precisely with a thinner kerf and less slag than cutting with oxy fuel. A smaller heat-affected zone also causes less warping. No gas pressure settings, flame tuning, metal preheating, or gas cylinders or refills to worry about, ever."
Hold the phone. Forget the 3/8-in. drill; the plasma cutter is waaaay better! That's what I want.
"The X-1 Water-Jet features an industrial PC controller designed specifically for five-axis water-jet cutting. Featuring an open architecture design that gives operators the freedom to tune programs from any CAD/CAM/nesting software, utilizing standard G&M code. The X-1 Water-Jet system cuts complex, taper-free holes from virtually any material!"
Be still my beating heart. I have found hole-making Nirvana!
"People don't want to buy a quarter-inch drill. They want a quarter-inch hole!"
—Theodore Levitt
Never more true. With the ludicrous pace of change today—from software to 3D printing to group sourcing—consumers, our customers, are having a more difficult time than ever keeping up with what solutions are available to them. The point being, if they don't know about your unique solution, they can't want your product, which means, of course, they can't buy your product. And that means the consumer might not be using the best solution to their particular problem.
Over and over I hear customers requesting the same old product, the same old "solution." The same solution that may not have worked so well the last time around!
Why?
Maybe this customer's old cordless drill just gave up the ghost and he needed a hole right now, and we didn't insist he look at our Uber-Efficient CNC Controlled Water-Jet system because he was in a hurry. And now our customer is going to go back in his shop and fight with and curse at the new drill we sold him. We missed a righteous upsell, our customer is still using a Stone Age implement, and neither one of us is particularly happy about it.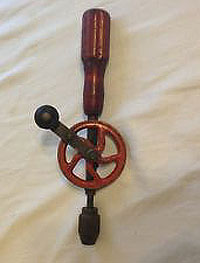 Technology is changing. Techniques are changing. Possibilities for new and better solutions abound. If we ask ourselves, "What is customer service?" in this context the answer is, "Solutions at the speed of technology." It is our job to stop selling product and start communicating with our customers. Get up in their heads (so to speak). If our customers ask for a product or service, and we do not offer possible alternatives that could increase their bottom line, then we are not doing our jobs. Feeding consumers the status quo because they ask for it is a cop-out and a disservice.
Innovate—create—solve! Then start selling holes instead of drills.
About The Author

Ryan E. Day
Ryan E. Day is a Quality Digest contributing editor and principal administrator of the company's content marketing program, which brings together those seeking business improvement solutions, and solution providers. Day has spent the last 7 years researching and interviewing top business leaders and continuous improvement experts including Sakor, Ford, Merchandize Liquidators, Olympus, 3D Systems, Hexagon Intertek, InfinityQS, Johnson Controls, FARO, and Eckel Industries. When not developing engaging and informative content, Day might be found polishing his html and css skills, or hanging out with his 20lb American Tabby cat.