This Week in Quality Digest Live
Ryan E. Day
Quality Insider
Creepy Christmas Holiday Creep, or...
The Grinch(es) who shoved Christmas down my throat
Published: Thursday, November 16, 2017 - 13:03
If I said I can't stand Christmas, would you stop reading? If I said I love Jesus—who taught unity and forgiveness—would you stop reading? If I said I can't stand Christmas, but I do love Jesus at the same time, would you think I'm crazy?
I wouldn't normally bring up the subject of Christmas, but I recently read an article by Jason Karaian about holiday creep. I was a little surprised that such a light-hearted piece raised my hackles so quickly. Some introspection led me to ponder what I think of as a standard progression in the understanding of the Christmas tradition.
First, you find out that Santa Claus isn't real. And then, years later, you find out that Santa Claus was kind of real in that he was based on the third-century Turkish bishop, Nicholas (who was sainted more than a century later). But, it's OK because you are mimicking the "three wise men" giving presents to baby Jesus anyway.
Then, over the next few decades you find out that nearly every Christmas tradition is either definitely co-opted from pagan tradition or suspect of fabrication. From Christmas trees to gift-giving, to the date of December 25, all have roots in paganism. By all accounts, the birth of Jesus was not even celebrated by Christians for at least 300 years after Jesus' death. The tradition of the time period was to honor the death of honored or revered persons. But, it's OK because you are celebrating a season of joy, or love of family, or maybe even the birth of Jesus.
And that is all OK. But, do we have to celebrate Christmas before the Halloween decorations are put away and Thanksgiving hasn't even come yet?!
I snapped the following images on November 8th.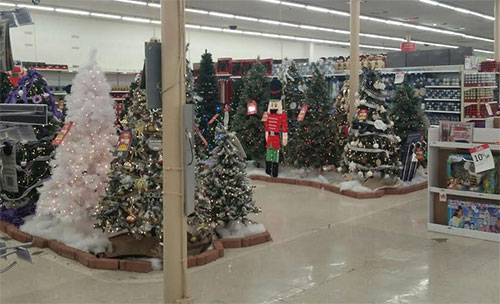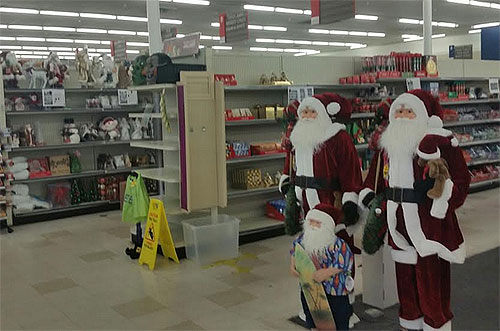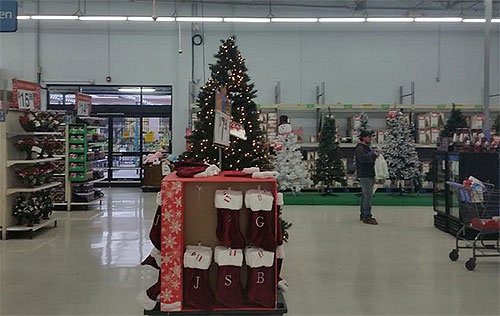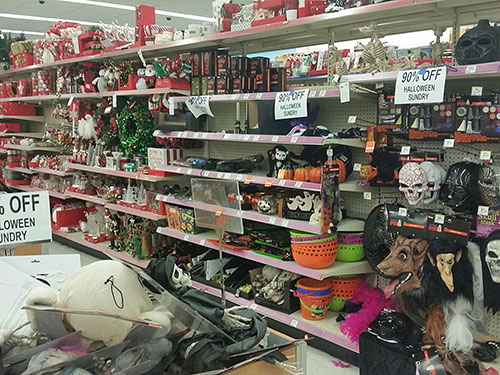 Note the last image. Halloween isn't even cold in its Tupperware storage, and apparently, Thanksgiving doesn't exist. In fact, zero out of the four stores I visited had any Thanksgiving decorations at all.
Maybe because the date of December 25 was adopted by the church in an attempt to co-opt the pagan festival of Saturnalia, holiday creep is OK? Perhaps the fact that the date is admittedly not tied to a factual birth date makes holiday creep not a festival foul.
I cry foul nonetheless.
I cry foul because holiday creep rushes us to "get them over with" before we even get sick from eating too much candy and leftover turkey sandwiches. It also diminishes, in some way, the spirit of Halloween and Thanksgiving, which have as much legitimacy as any other holiday.
I cry foul mostly because holiday creep is a naked market reaction to the fact that Halloween and Thanksgiving don't produce the profits that Christmas does. Duh, yeah, I get it. I guess it just rankles me a little bit.
It's bad enough that every last holiday, event, and sentiment has been commercialized to the hilt, but Christmas in particular bothers me.
Maybe if we all called it Winterfest or Solstice Celebration, I wouldn't mind. At least it would be a little more honest. Winterfest could be assigned any old arbitrary date and tradition. Winter solstice is defined by the cosmos. No pretending. No pretending that we're celebrating the birth of Christ while our focus belies our attention. No more pretending that the angst of providing the traditional festivities is a trivial thing, considering the "true meaning" of Christmas. Creep away, spend all you want; it's not like it would be any different than any other birthday.
Take the pagan tradition out of Christmas, and see how far the holiday creeps. But leave in the presents and the trees and the feasting—all the pagan stuff—and Christmas looks like it does, and creeps up interminably, as one would expect.
Quartz's trademarked Christmas Creep Calculator predicts that by the year 2120, Santa will arrive sometime in July, sheesh!
Does all this make me a Scrooge about Christmas? Maybe, but I will say this: Everyone has a right to celebrate Christmas in his own way and for her own reasons—or not celebrate at all. As for me, I am very happy and comfortable celebrating the life of Jesus in my own quiet way, any and every day of the year. But, as far as being swept up in arbitrary tradition and swindled by retailers, I say, "Bah, humbug!"
About The Author

Ryan E. Day
Ryan E. Day is Quality Digest's senior editor for solution-based reporting, which brings together those seeking business improvement solutions and solution providers. Day has spent the last decade researching and interviewing top business leaders and continuous improvement experts at companies like Sakor, Ford, Merchandize Liquidators, Olympus, 3D Systems, Hexagon, Intertek, InfinityQS, Johnson Controls, FARO, and Eckel Industries. Most of his reporting is done with the help of his 20-lb tabby cat at his side.