Featured Video
This Week in Quality Digest Live
H. James Harrington
Quality Insider
China: A Call to Action
Good news: Improved wages and conditions
Bad news: Poor quality and getting worse
Published: Tuesday, October 4, 2011 - 15:03
China is blessed with an abundance of hard-working, conscientious, and low-paid laborers who are driven to improve their living conditions. The result of their efforts has been a rapid and steady increase in production capabilities and demand for China-built products. Contrary to the approach Japan used to build its economy, which relied on building brand recognition, the Chinese have focused on product production. That has allowed them to progress much faster in the international market than Japan because China's customers are retailers, not consumers. However, this approach has produced both good and bad results.
First, a little background. After a communist government was established throughout China in 1949, the economic playing field was leveled, and the Chinese government focused on building infrastructure and developing industry. Policies like one child per family slowed down population growth, which has had a major impact on decreasing unemployment. China's Cultural Revolution, beginning in the late 1960s, was intended in part to further industrial development but instead introduced an element of chaos. However, during its decade-long run, it did help set the stage for individuals who put forth additional effort to be rewarded for that effort.
After the Cultural Revolution, developed countries like the United States and Germany began looking at the huge Chinese market, which represented almost 20 percent of the world's population, and were quick to jump in to help Chinese companies modernize and expand. Western companies did so hoping to sell into the Chinese market. Labor-intensive product moved out of countries like Japan and the United States and into China to take advantage of the inexpensive labor and relaxed environmental requirements. Retailers' primary interest in the country was in cost savings, and China's low-paid, hard-working workforce allowed companies to produce labor-intensive product at a lower price than their competitors, even with the additional shipping costs.
A great manufacturing leap forward
From those beginnings, China has grown to become the manufacturing center of the world. During the past 30 years, export revenue has jumped every year. There has been a massive expansion in production capabilities and infrastructure. The quality of jobs created per capita is the highest in the world. The value of the Chinese yuan has increased constantly. The standard of living has improved yearly, and wages have increased more rapidly than costs, providing the Chinese people with increased buying power. The balance of trade has been heavily in China's favor throughout the 21st century.
Here are some telltale figures. With only 19 percent of the world's population, China consumes 53 percent of the world's cement, 48 percent of the world's iron ore, 47 percent of the world's coal, as well as a majority of almost every major commodity. In 2010 China produced 11 times more steel than the United States.
Labor woes
Now let's look at the downside of China's meteoric rise as a manufacturing giant. Newton's Third Law of Motion states that "mutual forces of action and reaction between two bodies are equal, opposite, and collinear." China's current situation verifies the soundness of Newton's law. The country is facing an equal and opposite reaction to its major competitive advantage—"cheap" labor, which is not as cheap as it used to be. Some companies there are having problems even finding and keeping labor. Foxconn Technology Group, one of China's largest employers and the fifth biggest employer in the world, has a staff of about 1 million people. It is struggling to find skilled workers, quite likely because they know they will be placed in environments where there is a great deal of stress to meet production schedules. Meanwhile, companies' operating costs are rising as a result of the increased wages and benefits.
Chinese management is also concerned about the increasing number of suicides that are occurring in the workforce. To relieve this problem, Foxconn Technology Group's management announced that it would be installing robots to perform low-skilled, repetitive jobs. The company estimates that by 2013 it will have as many robots as employees. People whom the robots replace will be retrained for higher-skilled jobs or released. This is an early indication that China must sell into the midrange or high-end markets in order to cover increasing labor costs.
Finally, many countries in the Middle East and Africa have vast quantities of low-cost labor that is less expensive than the present labor costs in China.
The big Q
Another negative situation is the quality of Chinese products, which are viewed by consumers in much the same way as Japanese products were before World War II—i.e., as cheap, unreliable, and disposable items that fulfill a temporary need. If an organization is going to sell into the midrange or high-end market, it must have a reputation for providing high-quality, reliable products and services.
Unlike Japan, China has not established a brand name for itself; it has relied instead on being a subcontractor to other firms that own the brand. People pay good money for reputable brand-name products without paying much attention to where they are made. But when a part in a brand-name product fails, the customer looks to see who made it. For example, I need a new power supply for my Sony Vaio computer. The failed power supply was made in China, the replacement I ordered was also made in China, and it would not work when it arrived. What was the impression I was left with? That the power supply is another cheap, unreliable product manufactured in China.
Two landmark studies have been conducted to define how consumers perceive Chinese-produced products. The first, titled "Consumer Perceptions of Product Quality: Made in China," by Marc J. Schniederjans, Qing Cao, Dara Schniederjans, and Vicky Ching Gu, was published in 2004 in the American Society for Quality (ASQ) Quality Management Journal. A second, follow-up study was conducted in 2010 and published in the July 2011 edition of Quality Management Journal. The second study, "Consumer Perceptions of Product Quality Revisited: Made in China," was conducted in the same format as the first, so that legitimate comparisons could be made to chart China's progress in improving its quality reputation. Unfortunately, results proved just the opposite. The two studies clearly indicate four important points:
1. There has been a negative trend in quality and value of Chinese-manufactured products as perceived by the U.S. customer during the last six years.
2. Chinese-manufactured products are perceived as having significantly less quality than products produced in other countries.
3. Chinese-manufactured products are perceived as having significantly less value to the customer than products produced in other countries.
4. Chinese-manufactured products are perceived as being significantly less reliable than products produced in other countries.
Toys were excluded from the study because the authors felt that recent negative publicity related to the quality of toy products produced in China during the last three years might create an unfair bias against these products. However, five major categories were sampled: lawn furniture, small appliances, clothing and fabric products, hardware items, and miscellaneous items.
Let's look at the survey in more detail. The following is question No. 2 on the survey:
Considering the price and the length of useful life of the Chinese-made product, how would you rate the value of this product from what you might have expected from using a similar product in the past? On the 1-to-10 scale below, please indicate by circling the number that comes closest to how you feel about the value of the Chinese product you experienced:
I feel cheated: 1 _________ 2
Poor value: 3 _________ 4
Fair value: 5 _________ 6
Good value: 7 _________ 8
Great value: 9 _________ 10
The average rating for Chinese-made products was 2.802, which falls between the "I feel cheated" and "poor value" ranges. This has to be a very big concern for all the people in China as well as the Chinese government. Low prices may capture the first sale, but perceived value is what's required for sustaining growth. To make the situation worse, the rating for the same question in 2004 was 3.467—not good, but much better than it is today. This indicates that the perceived value of Chinese-made products has dropped by almost 20 percent.
When survey participants were asked to compare the quality of Chinese products to those manufactured in other countries, Chinese products were rated at 2.097, which fell in the "bad" category, while products manufactured in non-Chinese countries were rated at 7.585, which fell in the "good." This indicates that Chinese-manufactured products were rated 3.6 times poorer than non-Chinese manufactured products.
Product reliability has a major impact on market sustainability. When customers were asked to compare the product duration of use (i.e., reliability) between Chinese-made products and products manufactured by non-Chinese companies, the non-Chinese products were rated to last an average of 72.12 months, whereas Chinese-made products were good for only 27.31 months. Based on these data, non-Chinese manufactured products last 264 percent longer than Chinese-made products.
China's perspective
I was almost embarrassed to report the findings from these surveys to my manufacturing friends in China. When I did, they were quick to point out the high number of vessels filled to the brim with Chinese-manufactured products that are leaving every day for the United States and coming back almost empty. They pointed out that China's overall strength has grown considerably. Its total economic output reached $5.88 trillion in 2010, more than 16 times that of 1978, rising to 9.3 percent of the world's total, as compared to 1.8 percent in 1978. The Chinese people, once inadequately fed and clad, are leading decent lives on the whole, a historic breakthrough. China's share of per capita income comparable to the world average grew from 24.9 percent in 2005 to 46.8 percent in 2010. The country's total import and export volume grew from $20.6 billion in 1978 to $2.974 trillion in 2010. Utilized foreign direct investment from 1979 to 2010 totaled $1.04838 trillion.
They also pointed out that China has made important contributions to the stable development of the world economy. Since its entry into the United Nations World Trade Organization (UNWTO) in 2001, China has imported goods worth nearly $750 billion every year, which created more than 14 million jobs for the countries and regions that exported those goods to China. During the past decade, foreign-funded companies in China have remitted a total of $261.7 billion of profits, with an annual increase of 30 percent. From 2000 to 2010, China's annual nonfinancial, direct overseas investment grew from less than $1 billion to $59 billion, thus boosting the economic development in the recipient countries. In 2009, overseas China-invested companies paid taxes worth $10.6 billion, and employed 439,000 local people. China has contributed more than 10 percent to world economic growth every year in recent years.
My Chinese friends asked me how they can be doing the wrong thing and getting such good results. I have to say I can see their point. It looks like Wal-Mart, Target, Sears, and the like all want cheap products that have a short lifespan so that their customers will be back to buy more of the same.
Well, one of us has to be wrong. China now manufactures more than 50 percent of the world's product but has been reeling from the high defect rate that "Made in China" products now have. In the September 2005 issue of Forbes, Daniel Lyons reported that in the case of U.S. firms setting up manufacturing facilities in China, there was virtually no quality control and the culture does not encourage it.
However, the Chinese government is looking ahead in a very progressive way, if "China's Peaceful Development," a white paper issued in September 2011 by the State Council Information Office in Beijing, is any indication. Following are some important points included in the statement.
"We should be open to new ideas and be innovative in improving institutions, draw on the advanced technologies and managerial expertise of other countries, and improve the sustainability and efficiency of economic growth. It will also be driven by progress in R&D, better quality of the labor force, and managerial innovation instead of increase of material and resource consumption."
"We will speed up the way of conducting foreign trade and continue to actively participate in international division of labor. We will move away from focusing on increasing volume of trade only to improving the quality and efficiency of trade, and raise the overall competitiveness of China's foreign trade instead of relying on low cost production."
To fulfill the "seven visions of the future," Chinese development and manufacturing systems must undergo some radical changes in the way they function. There needs to be an increased focus on the quality of materials, design, and production. China has captured customers around the world by providing low-cost clothing, toys, and appliances. Given this success to the companies' bottom lines, how does the government plan to get management teams to change their operating approaches? It will be difficult for Chinese managers to accept the necessary changes, but the increased cost of Chinese labor will force them to look for new ways to continue to grow.
Remaking itself
For China to offset the world's perception that it produces cheap, unreliable products, Chinese CEOs and managers will need a wake-up call similar to the one U.S. businesses got during the early 1980s, when Japan walked away with their steel and auto industries. Chinese management must change its focus from just meeting minimum requirements to doing the job in an above-average way. There must be a shift from achieving a minimum compliance to requirements to striving for excellence.
To change the negative impression the world has of Chinese products, the country's export companies must:
• Focus on designing reliability into their products.
• Focus on safety when designing products.
• Increase the level of innovation in all their people, products, and processes.
• Secure greater control over raw materials.
• Use extreme care in selecting subcontractors.
• Undertake continuous product testing.
• Improve product traceability.
• Upgrade worker training.
• Upgrade worker involvement.
• Increase automation.
• Improve measurement and reporting systems in manufacturing and support areas.
• Improve reliability testing.
• Establish brand-name products that become China's flagships.
• Install better in-process control systems.
• Streamline their business processes.
• Establish closer relationships with consumers.
• Companies need to develop a strategic plan that defines how they want to change the internal culture during the next 5 to 10 years. Then they must define the tools and techniques they'll use to bring about the required changes.
• Companies need to benchmark the best international organizations but not simply to duplicate their processes or approaches. China will need to leapfrog the competition in order to catch up to them.
The challenges
Unfortunately, because people's perceptions are largely based on past experience, it takes years to change the poor reputation of a company or a country's products. China must first change its processes and train its people before a significant quality and reliability change can be reflected in its products. Considering all the factors discussed in this article, Chinese export companies will need to invest 10 to 20 years of hard work before they change the world's perception that the country produces only cheap, unreliable products. It will then take one to two product cycles under the improved regime before consumer perception of the products will change. Based on non-Chinese manufactured product duration of use in 2010, that will add another five to 10 years (see figure 1).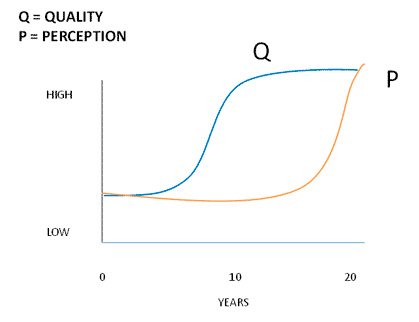 Figure 1: Improvement vs. perception
The negative part of this scenario is that China's labor costs are increasing at a rate of 10 to 30 percent per year. Although this means a very positive trend for the Chinese standard of living, it represents a very negative impact on product cost that must be passed on to the customer with no delays. Otherwise China could easily find itself in a position where it has priced itself out of the low-end market while still carrying the reputation for producing poor-quality, unreliable products.
Were this to happen, China would sustain a significant loss in market share, and its business would go to a country with a much lower base salary.
China, be warned: The time is now. Your product quality must start improving before it's too late to recover, and you forfeit the progress you have made. It takes time to build a quality reputation.
About The Author

H. James Harrington
H. James Harrington is CEO of Harrington Management Systems, which specializes in total quality management (TQM), Six Sigma, lean, strategic planning, business process improvement, design of experiments, executive management mentoring, preparing complete operating manuals, organizational change management, ISO 9000, ISO 14000, and TRIZ. Harrington is a prolific author, having written hundreds of technical reports, magazine articles, and more than 35 books. He has more than 55 years of experience as a quality professional. Harrington is a past president of the American Society for Quality (ASQ) and the International Academy for Quality (IAQ).