This Week in Quality Digest Live
Mike Micklewright
Quality Insider
The Two-Page Quality Manual
How to get lean all over
Published: Monday, March 27, 2006 - 23:00
Our company's quality manual must mirror the ISO standard, must be between 25 and 40 pages in length and must be customized to our business. After the initial approval of the quality manual, no one within the company ever reads it again. The manual is a nonvalue-added element and it flies in the face of lean philosophy and a lean documentation system.
The requirements
According to subclause 4.2.2 of ISO 9001:2000, an organization should establish and maintain a quality manual that includes:
The scope of the quality management system, including details of and justification for any exclusions
The documented procedures established for the quality management system or reference to them
A description of the interaction between the processes of the quality management system
Well that's not too difficult to accomplish, and with many clients it's possible to develop a two-page quality manual that meets all of these requirements, that's user-friendly, and that adds value.
Here's an example of such a manual:
The two-page quality manual (page numbers, etc., are omitted):
Founded in 1966, Val-Matic is a leading manufacturer of butterfly, plug, air and check valves for municipal, commercial-building and industrial applications. Val-Matic's corporate offices and manufacturing facilities are located in the Chicago suburb of Elmhurst, Illinois.
Val-Matic's quality management system (QMS) is intended to comply fully with ISO 9001.
The scope of its QMS, as recorded on its ISO 9001 registration, is:
The design, development, manufacture, and servicing of water and waste-water valves for municipal and industrial applications
This quality manual represents the scope of Val-Matic's QMS, references the procedures established, identifies the relationships between the procedures and processes established, and defines the interaction between these processes. The relationship between ISO 9001 and Val-Matic's QMS is defined in this manual and the internal audit schedule (#).
Val-Matic is committed to live by the spirit of all applicable clauses of ISO 9001, including the requirement to continually improve the effectiveness of its QMS. This commitment is supported by Val-Matic's quality policy statement:
Quality Policy Statement
"We are committed to consistently exceeding customer expectations by providing
products, services and information of the highest quality in terms of safety,
reliability, accuracy and timeliness. Our success is based on continuously
improving the effectiveness of our products, processes, and quality management system.
This quality policy statement is supported by our documented objectives and goals found in the annually revised 'Objectives and Goals Form.'"
Explanation of Relationship Between Processes, Procedures, and ISO 9001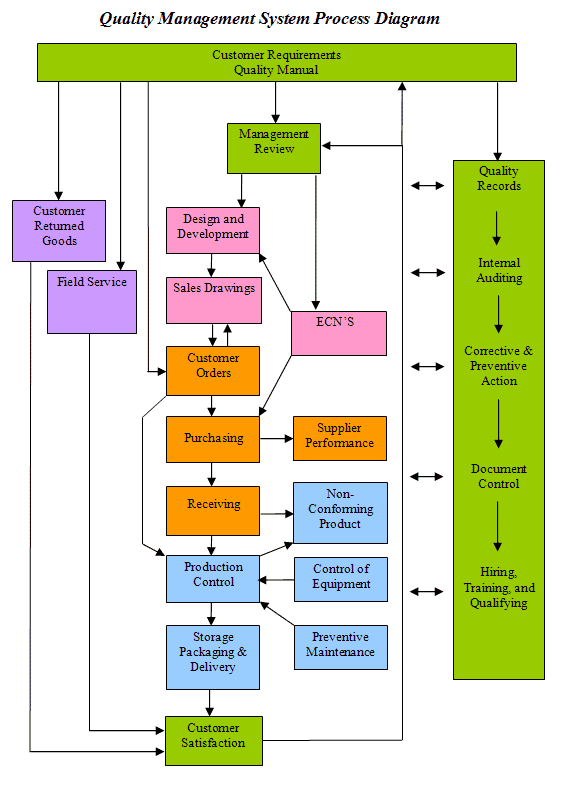 The titles in the boxes of the flow chart are the actual procedure titles. Document numbers can be inserted into the boxes as well. When using document numbers, it's best to link the numbering system to the ISO standard. For instance, the purchasing procedure could be numbered 7.4-01. Each box can be hyperlinked to the procedure itself.
The company in this example defined each process area by color. These processes define the scope of each internal audit and have defined objectives and goals that are measured and monitored.
These processes should also define the relationship to the ISO 9001 standard. The company in the example showed the relationship between each process and the ISO standard in the referenced internal audit schedule.

Allow for the auditor's reaction
Like most people, some auditors have a difficult time accepting change. So, it's a good idea to forewarn the registrar about the two-page quality manual that your company would like to pursue with a letter explaining the above justifications.
Lean and ISO 9001
It's amazing how many companies that are ISO 9001- or ISO/TS 16949-certified embark on a lean journey and yet have fat, overdocumented, cumbersome, user-unfriendly quality documentation systems that provide little value and have no controls in place to keep them from gaining even more weight.
Practice what you preach
Make the first lean project one to reduce the documentation system. I have helped many companies reduce their documentation system by 50 percent to 80 percent by applying basic lean principles, especially when a transition is being made (e.g., QS-9000 to ISO/TS 16949). In all cases, no important content was eliminated, and junk, nonvalue-added documents, and redundancies were eliminated.
Some basic principles of a lean documentation system include:
State each requirement/sentence/specification in your quality system no more than once and use references and hyperlinks. Get rid of all redundancies. This is the biggest source of a fat quality system and a large source of variation. For example, one document gets changed but the others with the identical requirement don't.

Review each section of each document. Ask yourself and others, "Do we really read this section or document?" If not, get rid of it.

Get rid of sections in your documents that don't add value. For instance, a work instruction needs only the instructions and revision/approval record. It doesn't need purpose, scope, responsibilities, etc., because those should have been addressed in the procedure referring to it.

Review the revision record of documents. If there hasn't been a change to a document for a long time, there's a good chance that this document isn't being used and may not add value.

Have a system to ensure that the system doesn't get out of control again.
About The Author

Mike Micklewright
Mike Micklewright has been teaching and facilitating quality and lean principles worldwide for more than 25 years. He specializes in creating lean and continuous improvement cultures, and has implemented continuous improvement systems and facilitated kaizen/Six Sigma events in hundreds of organizations in the aerospace, automotive, entertainment, manufacturing, food, healthcare, and warehousing industries. Micklewright is the U.S. director and senior consultant for Kaizen Institute. He has an engineering degree from the University of Illinois, and he is ASQ-certified as a Six Sigma Black Belt, quality auditor, quality engineer, manager of quality/operational excellence, and supply chain analyst.
Micklewright hosts a video training series by Kaizen Institute on integrating lean and quality management systems in order to reduce waste.