This Week in Quality Digest Live
Dennis Monroe
Supply Chain
Supply Chain Savvy
Better, faster, friendlier
Published: Thursday, June 13, 2013 - 15:35
There is an ever-growing need to transform supply chain management. More companies are feeling the pressure to produce high-quality products at low costs. To produce these products efficiently and effectively, companies must clearly express their needs to their suppliers; they must work to improve relationships and build partnerships. The "old ways of doing business," in which relationships were often adversarial, no longer suffice. A partnership is the first prerequisite to attain better, faster, and cheaper results.
Improved relations between producers and purchasers can lead to lower-cost supplies and components delivered on time and on budget. The overarching goal of a quality-focused supply chain is increased customer satisfaction through the joint creation of value in the supply chain.
Supply chain optimization creates value in the following six areas:
1. Quality improvement
2. Cycle-time reduction
3. Cost of poor-quality reduction
4. Total cost-of-ownership reduction
5. Technology and innovation
6. Shared risk
Successful supply chains require that the sourcing process operates as a single, seamless entity rather than as a set of discrete processes.
Importance of supplier quality
The costs associated with poor-quality suppliers are high. For one home appliance manufacturer, 75 percent of all warranty claims were traced to poor quality of purchased parts. There is a growing dependency for suppliers and end users to use just-in-time delivery, electronic data interchange, electronic funds transfer, cycle-time reduction to minimize incoming inspection, and for purchase decisions to be made not on lowest price, but on the total cost of ownership of the product or service.
Shift to strategic purchasing
These considerations require the supplier and end user to abandon traditional transaction-performance management of the purchasing function. A successful transition to a strategic approach to purchasing requires everyone in an organization to embrace a new belief system concerning purchasing. In the transition, senior management will find it necessary to aggressively promote the new view, which might be summarized as follows: Purchasing has become a key strategic process within our organization, requiring a staff of highly skilled professionals committed to working with our end users and suppliers, in a collaborative, problem-solving environment, facilitating quality and continuous improvement.
The differences between the traditional view of purchasing and the strategic view are highlighted in figure 1. The differences require some significant changes in culture and behavior.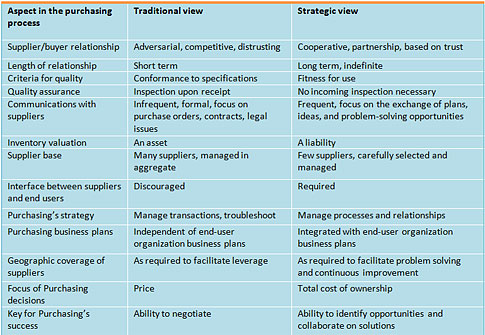 Figure 1: The differences between the traditional view of purchasing and the strategic view. Click here for larger image.
The most fundamental shift for purchasing is to base purchase decisions on the total cost of ownership. Taking a total process approach (rather than a transactional approach) to quantifying the total cost of ownership results in the identification and measurement of supplier, end-user, and joint costs. Many of these costs will be reduced through joint problem solving. The entire supply chain must be considered, including indirect suppliers, manufacturers, distributors, and end users. The defining points of this shift and the process approach are:
• Ongoing—supply chain optimization is not an event but an ongoing process.
• Measureable—the results of supply chain optimization are tangible benefits.
• Improvement—the foundation of supply chain optimization is continuous improvement.
True supply chain optimization requires participation of all parties involved to share in the benefits.
The triple role
Every processor team conducts a process and produces a product. To do so, the processor team carries out three quality-related roles:
1. Supplier. The processor team supplies its products to its customers.
2. Processor. The processor team carries out various managerial and technological activities to produce its products.
3. Customer. The processor team acquires various kinds of inputs that are used in carrying out the process. The processor team is a customer of those who provide the inputs.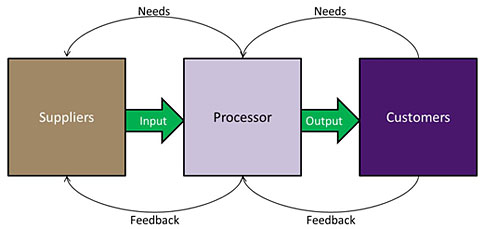 Figure 2: The processor team's triple role of supplier, processor, and customer

The concept of the triple role is simple enough. However, the application can become quite complex as a result of the large number of suppliers, inputs, processes, products, and customers. The greater the complexity, the greater the need for an orderly approach to quality planning.
Friendlier partners
The customer-processor-supplier relationships at all levels must function as partnerships to succeed in today's marketplace. For partnering to be effective, of course, the supplier must get something out of the deal. Often, companies will share cost savings with their suppliers as an incentive for better prices. A company that is truly committed to partnering will also offer assistance in, for example, achieving process breakthroughs that will allow the supplier to produce at a lower cost and supply in a more timely fashion.
Other enticements include single-source orders or majority volume of orders for the supplier partnership, similar to GE's approach as Ed Rigsbee noted in Partnershift: How to Profit from the Partnership Trend (John Wiley and Sons, 2000): "General Electric (GE) went after cost reductions differently. The company assembled appliance suppliers in November 1992 and announced 'Target 10' asking suppliers for 10-percent cost reductions. The difference was that GE pledged its assistance to suppliers in finding strategies for the [cost] reductions."
By approaching the supply chain as partners, a consumer of their products and services can achieve shorter supplier lead times (faster) and lower costs of products and services procured (cheaper). Faster, cheaper, supplied goods and services result from optimization of the supply chain.
Implementing and using supplier scorecards
Effective supplier scorecards can help the producer improve the speed and reduce the cost of the supply chain. Also, supplier scorecards can be used to track and trigger any improvement to remedy poorly performing suppliers. Key to effectiveness is the choice of the appropriate criteria against which to measure your suppliers and metrics that directly reflect performance against these criteria. Nearly universal criteria are quality history, total cost, and timeliness of delivery, but other criteria may be important to add, depending on a producer's particular needs. For example:
• Design and technical capability
• Proximity to producing facility
• Responsiveness
• Part problem resolution effectiveness
• Audit results
• Price increase/reduction history
• Financial stability
Appropriate metrics must be designed if they do not already exist. The metric must reflect measureable characteristics of the criterion and be easily applied to the scoring system in use by the producer. It is recommended that the rating system not be over complicated.
Auditing suppliers to support the scorecard
A regular auditing program to monitor supplier continuous improvement progress is important to add validity to the supplier scorecard. Particularly for suppliers of key or critical components, audits should be conducted at specified intervals no longer than biannually. The checklist used for a supplier audit should include all the areas of the supplier organization that could affect the quality of suppliers and components, including:
• The strategic planning process and its effectiveness
• The quality management system, its appropriateness and effectiveness
• The efficiency and effectiveness of the processes used to measure, control, and improve the product and process quality
• The supplier culture (Is it one that supports continuous improvement and process excellence?)
• Human capital management (Does the supplier practice employee involvement and the principles of self-control?)
• The quality of products and services provided by this supplier (e.g., complaints, rejections, corrective action requests)
• Supplier delivery performance
• The supplier's analysis of competitors' strengths and weaknesses and how they compare
• The supplier's understanding of the culture behaviors and norms that are needed to create a customer-oriented culture
Other supplier attributes may be uniquely important to your producer organization and should be added as appropriate. The key is to take as much subjectivity as possible out of the scoring decision by establishing clear rules for each category. If a supplier falls below the acceptable level on any audit element, then an improvement plan addressing each deficient area should be required. The savvy producer will lend assistance to the supplier to help it improve and meet the producer's goals for its suppliers.
A company needs to manage and partner with its suppliers in a similar way to how it deals with its own employees. Establish a list of high-performing suppliers, evaluate them, validate them, create metrics to track their performance, and audit them regularly. You will begin to see higher-quality products and services that not only meet the demands of your customers, but also inevitably, delight them.
Joseph M. DeFeo contributed to this story.
About The Author

Dennis Monroe
Dennis J. Monroe is senior vice president with Juran Institute and holds certifications as a Six Sigma Master Black Belt and Lean Master. Monroe works with companies in business performance assessment, lean, and Six Sigma deployment and training, value stream management, and cost reduction employing a variety of management tools including 6S for lean manufacturing, value analysis, value engineering, and statistical process control. Monroe has extensive international experience in all sectors of Juran's business including manufacturing, services, and healthcare. He has delivered training and consulting to all levels of organizations from executives to shop-floor workers.