Featured Video
This Week in Quality Digest Live
General Electric GE
Quality Insider
GE Unveils Clean, Smart, Fuel-Efficient Locomotive
This engine can move a ton of freight 480 miles on one gallon of fuel
Published: Monday, August 27, 2012 - 11:10
G

E Transportation has unveiled the prototype for its next Evolution Series locomotive, which will decrease constituent emissions by more than 70 percent and save railroad customers more than $1.5 billion in infrastructure and operational costs.
GE expects that the locomotive will be the first in the industry to meet the U.S. Environmental Protection Agency's (EPA) stringent Tier 4 emission standards, which call for the single-largest emission reduction in the tiered program's timeline. The new locomotive will meet this standard with technological advancements vs. costly alternatives, which require special exhaust additives and infrastructure investments.
This new locomotive is part of GE's ecomagination-qualified Evolution Series locomotive family. Today, more than 5,000 Evolution Series locomotives operate in the United States and globally, allowing railroads to move one ton of freight more than 480 miles on a single gallon of fuel. This new engine technology is the result of an initial six-year, $400 million investment, followed by a two-year, $200 million investment to hone the research, design, and engineering to meet Tier 4 standards.
"GE Transportation continues to challenge what is possible and reshape the future of the rail industry in the United States," says Lorenzo Simonelli, president and CEO of GE Transportation. "Thanks to the tireless efforts of our employees and the collaboration with our customers, we are the first in the industry to offer a solution that meets the next phase of the EPA's emissions standards. Our technology is good for our customers and better for the environment."
"This is another example of the innovation and ingenuity of the Erie workforce and GE," says Tom Corbett, governor of Pennsylvania. "My administration firmly believes we can be successful in business while also safeguarding our environment, and this advancement does exactly that. Congratulations to the GE Transportation team on this milestone achievement."
The EPA has introduced Tier 4 industry standards that require reduction of locomotive emissions to curb the potential environmental effects typically associated with these emissions. Effective in 2015, the EPA will require manufacturers of locomotive diesel engines to lower particulate emissions 70 percent and nitrogen dioxide (NO2) 76 percent, compared to engines first introduced in 2005. Alternative solutions would likely rely on the use of a urea exhaust additive to meet these Tier 4 emission standards, requiring railroads to build an extensive network of fueling stations across North America. As a result of GE's diesel engine combustion research and innovative technology, the Evolution Series locomotive will not require the additive, and railroad customers will not have to incur the costs related to rail infrastructure upgrades.
"Rail manufacturing is a critical part of President Obama's commitment to revitalizing American manufacturing, creating jobs, and building a safer, faster, and more efficient national transportation systems," says U.S. Transportation Deputy Secretary John Porcari. "Since the beginning of 2011, GE Transportation has announced more than 2,000 new U.S. jobs, which is great news for workers and the local economy. Rail manufacturing companies, including GE, are helping to build better, safer transportation networks and a stronger economic foundation for years to come."
Powered by collaboration
This new locomotive technology is a prime example of how GE works together with its customers to develop solutions that help make the world work better. GE gathered inputs from its North American Class I railroad customers concerning safety, reliability, fuel usage, and operational needs, and then partnered with its operations and maintenance teams to test the new design's real-world functionality. These sessions generated invaluable feedback around accessibility of parts, the layout and design, and above all, safety.
In addition, GE applied the breadth and depth of technical expertise from its Global Research Center and other GE businesses to develop the Evolution Series engine, enhancing key engine systems and components, as well as other support systems. These changes will enhance the locomotive's pulling capability, performance, emission reductions, and fuel efficiency.
American innovation at work
GE Transportation plans to build its Tier 4 Evolution Series locomotives at one or both of its U.S. locomotive manufacturing sites in Erie, Pennsylvania, and Fort Worth, Texas, and it will produce its Tier 4 compliant diesel engines at its manufacturing plant in Grove City, Pennsylvania.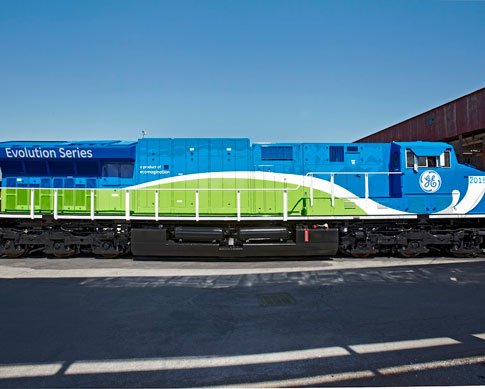 About The Author

General Electric GE
GE Sensing & Inspection Technologies is part of GE Measurement & Control Solutions, a division of GE Energy, and an innovator in sensor-based measurement, inspection, asset condition monitoring, controls, and radiation measurement solutions for customers in oil and gas, power generation, aerospace, transportation, and health care industries. GE Energy develops and deploys technology for efficient use of natural resources. GE Transportation, formerly GE Rail, manufactures for the railroad, marine, mining, drilling, and energy generation industries.