This Week in Quality Digest Live
Michael Lowenstein
Customer Care
Customer Advocacy Behavior Measurement, Part 1
Product/service experience optimization and customer advocacy behavior
Published: Monday, August 15, 2011 - 10:51
The word "advocate" has French and Latin origins. It has multiple applications, including legal, political, social care, and marketplace. It is the marketplace applications where the business, academic marketing, and management consulting communities have focused. Essentially, advocacy can be defined as active personal espousal or support of a brand, product, service, or company. As a concept and measurement technique, advocacy should not be confused with recommendation, which is simply one possible outcome of advocacy behavior.
Advocates are the deeply connected and brand-involved, energized, positive, and vocal de facto sales force within a company's, product's, or service's customer base. As we measure it, and as guided by ideas and findings published by major consulting organizations throughout the past decade, customer advocacy is based on such key elements as brand favorability, evidence and frequency of positive and negative voluntary personal communication, and the likelihood of continued consideration and relationship. Advocacy identifies the monetizing downstream customer behavioral impact of informal communication by individuals on a voluntary, active, peer-to-peer basis.
For decades it has been well understood in the world of quality that: "It will not suffice to have customers that are merely satisfied. An unhappy customer will switch. Unfortunately, a satisfied customer may also switch, on the theory that he could not lose much, and might gain." This statement was made nearly 30 years ago by W. Edwards Deming in his book Out of the Crisis (Massachusetts Institute of Technology, 1982). Though an expert in total quality processes, he understood that it was customer experience formed by use of company's products or services, augmented by employees, operating systems, and processes, and supported by a company's messaging and other communication, that creates success. Deming concluded: "Profit in business comes from repeat customers, customers that boast about your product or service, and that bring friends with them. … profit in a transaction with a customer that comes back voluntarily may be 10 times the profit realized from a customer that responds to advertising and other persuasion."
Many business-to-business (B2B) and business-to-customer (B2C) companies offer antiseptic, commoditized, vanilla product or service experiences for customers. These experiences are almost guaranteed not to be memorable, not talked about (unless neutrally or negatively), and not to create customer advocacy behavior. Some, through culture, discipline, and purpose, have succeeded in creating consistent, positive experiences that are appealing to customers and which customers consider worthy of passing along through their informal conversations and recommendations.
Most brands and corporations seem to get by on transactional approaches to customer relationships and passive methods of creating value. These might include basics such as occasional price promotions, merchandising gimmicks, new product offerings, and the like. In these situations, the customers see no brand-to-brand differentiation; and their experience of the brand or company is largely one-dimensional (as identified, for instance, in Noriaki Kano's performance model) and easily capable of replacement. Moreover, the customer has no personal investment in choosing—and staying—with one brand or supplier over another.
Consulting organizations like Forrester report that at a time of economic pressure, two-thirds of companies feel that customer experience will become even more important. At the same time, Peppers & Rogers reports in its product or service studies of senior marketers that three quarters believe the full revenue potential of current customers is unrealized.
A key opportunity for companies to become stronger and more viable to customers is creation of branded experiences. Beyond simply selling a product or service, these "experiential brands" connect with their customers. They understand that delivering on the tangible and functional elements of value are just basic table stakes, and that connecting and having an emotionally-based relationship with customers is the key to leveraging loyalty and advocacy behavior.
These companies are also invariably quite disciplined. Every aspect of a company's offering—customer service, advertising, packaging, billing, products, etc.—are all thought out for consistency. They market, and create experiences within the branded vision. IKEA might get away with selling super-expensive furniture, but they don't. Starbucks might make more money selling Pepsi, but they don't. Southwest Airlines could offer first-class seating, but they don't. Every function-delivering experience is a "closed-loop" well-designed to maintain balance between customer expectations and what is actually executed.
Exemplars of branded customer experience also understand that there is a "journey" for customers in relationships with preferred companies. It begins with awareness, how the brand is introduced, i.e., the promise. Then, promised and created expectations must at least equal real-world touch-point results (such as through service, which will be covered in Part 2 of this article), sustained over time, with a minimum of disappointment.
Finally, branding the customer experience requires that the brand's image, its personality, if you will, is sustained and reinforced. Advanced companies map and plan this out, recognizing that experiences are actually a form of branding architecture brought to life through excellent engineering. Companies need to focus on the touch points which are most influential.
Zappos has all of the traits just described. First, serial entrepreneur Tony Hsieh, CEO of Zappos, is an evangelist for his company's culture and what makes them successful. He has traveled the country (in a specially designed bus) presenting the Zappos story, "Delivering Happiness," to rapt marketing executives and students eager to learn what has taken the company to more than $1 billion in sales in a few short years. Hsieh describes the culture and what has propelled the organization to become one of the Fortune magazine's "100 Best Companies to Work for In America" for the past two years, and what motivated Amazon to purchase their organization, as one that is built on a foundation of inside-out and outside-in stakeholder advocacy.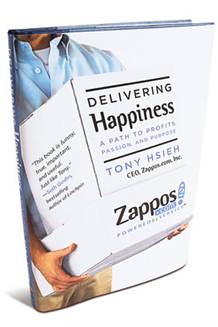 The outside-in, i.e., customer-driven, advocacy Zappos has created is pretty straightforward. They build advocacy behaviors by understanding, and exceeding, customer expectations, creating word-of-mouth-worthy branded experiences. They make an effort to focus on the emotions connected with customer relationships and identify ways to "reinforce good memories."
"People may not remember exactly what you did or what you said, but they will always remember how you made them feel," notes Hsieh in his presentations. Zappos continually asks how its culture can create more positive stories and memories.
Some branded customer experience-centric companies, like Zappos, IKEA, Disney, Target, REI, Nike, American Girl, Starbucks, Southwest Airlines, Baptist Health Care, Whole Foods Markets, The Container Store, Zane's Cycles, and Harley-Davidson are well-known. Zane's Cycles, for example, has succeeded so well in personalizing the sale and service experience and bringing extraordinary value to the relationship (through such devices as lifetime service guarantees, "forever" flat tire insurance, and free trade-in programs for kids' bikes), that their average customer has a lifetime value of $12,500—of which $5,000 is profit.
Much of what Zane's does to create and sustain value is quality-function-deployment (QFD) oriented. For example, Zane's has closely studied key elements of the customer purchase and service journey, then organized its store flow and modified its selling and support processes so that the customer optimally feels the differentiated, personalized value inherent in the purchase experience and continued relationship. Full details on Zane's Cycles can be read in Chris Zane's informative book, Reinventing the Wheel: The Science of Creating Lifetime Customers (BenBella Books, 2011).
In a recent study of 1,000 adults by the Chartered Institute of Marketing in the United Kingdom, only 8 percent believed that regular contact with suppliers is more beneficial to them than to the suppliers, while 50 percent thought that such an ongoing relationship benefited the suppliers. Worse, only 9 percent of the respondents said they wanted that contact to be driven by the supplier. These are alarming numbers, and they strongly suggest that skeptical consumers are rejecting common customer relationship-building and experience practices.
To succeed at customer relationship and experience management, the cold reality is that frequency programs are not enough. Great product is not enough. Exceptional service and customer-sensitive staff, though incredibly important, are not enough. Use of new and innovative communication technologies and multiple channels is not enough. Tight, efficient operational processes are not enough. Reputation, though also extremely important, is not enough. What really leads to loyalty and advocacy is the companywide commitment to customers—strategic customer-centricity, if you like—along with the ongoing creation of customer-perceived value and "barriers to exit," often best demonstrated through attractive and desired branded experiences.
Outstanding marketplace performance will be defined by three outcomes: the highest share of customer possible, optimal lifetime customer value generation, and the lowest voluntary churn. This requires both discipline and commitment from the entity endeavoring to reach this goal. It's not easy, and nobody promises it will be. But it is elegantly simple.
About The Author

Michael Lowenstein
Michael Lowenstein is executive vice president of MarketProbe, a major market research and consulting organization and the author of The Customer Advocate and the Customer Saboteur (ASQ Quality Press, 2011). ASQ invites readers to learn more from Lowenstein, about the world of customer-led communication and behavioral influence, through this complimentary ASQ webcast.