This Week in Quality Digest Live
Vision Engineering Ltd.
Metrology
Vision Engineering Announces EVO Cam ll
300x optical magnification, 12x digital zoom, customizable overlays to aid inspection
Published: Tuesday, April 3, 2018 - 12:00
(Vision Engineering Inc.: New Milford, CT) -- Vision Engineering announces the EVO Cam ll, a digital microscope designed with new features to improve image quality and enhance user productivity.
Major enhancements include the system's ability to offer up to 300x optical magnification, 12x digital zoom (combined magnification up to 3600x), customizable overlays to aid inspection, up to 10 pre-set setting for reduced set-up time and the option to save images wirelessly. In addition, a newly designed user interface, allows for ease of use and more control over the camera settings.
The EVO Cam ll comes equipped with dimensioning capabilities using a grid overlay in the X and Y axis. The large zoom range allows users to measure different sized components without the need for multiple systems. When using a custom pre-set, the user can save different calibrations at set zoom positions for rapid dimensioning results.
Like the successful EVO Cam, launched in 2015, EVO Cam ll is built with quality optics expected from Vision Engineering and captures live video streaming and high quality images at full-HD 1080p/60fps, resulting in no motion blur when manipulating samples.
"We designed EVO Cam ll with features that give operators more control to get the results they need quickly and accurately," says Stephan Sanderson, international product manager. "Suitable across many industries where inspection is required, EVO Cam ll has the high-quality optics and ease of use associated with the Vision Engineering name."
For additional clarity, EVO Cam II features an eight-point LED ring light and optional sub-stage lighting, to create a shadow-free and optimum-viewing environment for a variety of components.
Specifically designed for quality control, testing, inspection, and documentation, EVO Cam ll can be mounted to a range of stands to suit the production environment and application. A floating stage is available for using EVO Cam II with fragile samples, flat subjects where focus does not need to change, or where contamination by handling must be avoided. The optional rotating viewer delivers direct and oblique views of the subject that can be rotated 360° around a central point, giving users a fast and simple way to inspect all the way around a component without holding it.
EVO Cam ll is available through Vision Engineering or Vision Engineering's authorized partners. Click here for more information.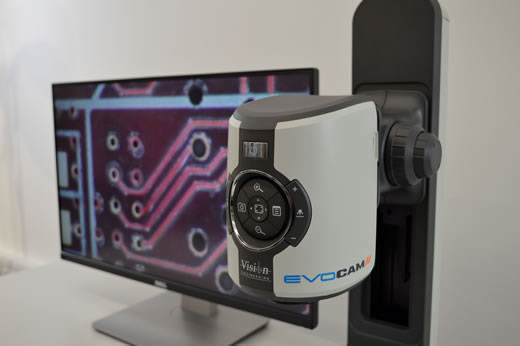 EVO Cam ll digital microscope
About The Author

Vision Engineering Ltd.
Vision Engineering Ltd. is a leading-edge manufacturer of ergonomic stereo microscopes and noncontact measuring systems. Since its formation in 1958, Vision Engineering has become one of the world's most innovative and dynamic microscope manufacturers, with offices across Europe, Asia, and North America. Vision Engineering holds world patents for optical techniques which remove the need for conventional binocular microscope eyepieces.