This Week in Quality Digest Live
peel 3d
Metrology
peel 3d Launches Affordable Professional-Grade 3D Scanner, Powered By Creaform
Caters to the growing need for sophisticated scanning in an entry-level solution that is budget friendly
Published: Wednesday, October 25, 2017 - 11:00
(peel 3d: Lévis, Québec, Canada) -- peel 3d has announced that it has launched an industry first: an affordable 3D scanner that offers the functionalities and performance level required by professionals.
"In today's marketplace, many professionals—from designers to engineers to educational professionals—are looking for 3D scanners that are affordable, but also offer 3D scanning capabilities that go beyond the simplistic, entry-level products currently on the market," explains François Leclerc, head leader of the peel 3d initiative.
"The beauty of peel 3d is that although it is a budget-friendly 3D scanner, it truly packs a punch in terms of functionalities and performance. The entire team is thrilled to bring a more compelling 3D scanning offering to the entry-level market," adds Leclerc.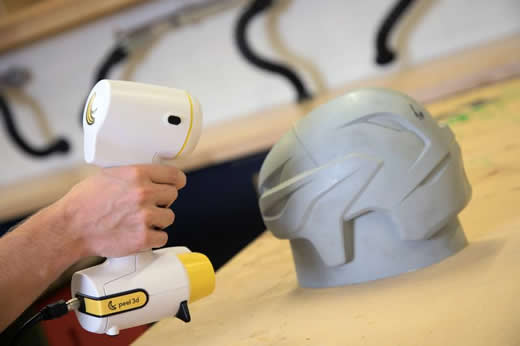 The needs of entry-level professionals and 3D enthusiasts that require affordable 3D scanning technologies is solved by this industry-first, cutting edge peel 3d product. peel 3d is affordably priced at $5,900 USD so users can make high-quality 3D scans of small or large objects while keeping project budgets in check.
Benefits of peel 3d include:
• A solution to scan many items directly without any preparation as it recognizes automatically the shape of objects
• This 3D scanner also can use stick-on targets to scan the flattest and smoothest of surfaces.
• Extremely easy to use: Just scan the object, edit the results, and export the file.
• A robust software tool that allows users to intuitively clean up, improve, align, and export scanning data with an unprecedented level of design freedom. This is a benefit not found in other 3D scanners.
• It works with a wide variety of surfaces and materials, making it ideal for many different applications including reverse engineering and design, science and education, art, heritage preservation, and human body scanning.
The peel 3d solution is powered by Creaform, a unit of AMETEK Inc. It can be purchased online at peel-3d.com. For more information, visit the website or contact peel 3d at hello@peel-3d.com.
About The Author

peel 3d
Working in 3D scanning for over 10 years taught the peel 3d team that applications for this technology are about as diversified as the people behind them and that anybody with a great idea should have a way to access high-quality, 3D scanning technology. That is how peel 3d was born!
peel 3d is a group of highly motivated individuals interested in making professional-grade 3D scanning technology as accessible as possible. Whether the user is an artist, a thinker, a school teacher, a designer, an engineer or simply a creative person, peel 3d wants to work with them and help their 3D projects come to life.