This Week in Quality Digest Live
Olympus
Metrology
Olympus Honored by Laser Focus World 2018 Innovators Awards Program
LEXT OLS5000 3D laser confocal scanning microscope received a Silver award
Published: Tuesday, June 5, 2018 - 11:00
(Olympus: Waltham, MA) -- Olympus announces its LEXT OLS5000 3D laser confocal scanning microscope was recognized by the judges of the annual Laser Focus World Innovators Awards program. The judging panel consisted of senior industry experts who honored the microscope with a Silver award.
The LEXT OLS5000 precisely measures shape and surface roughness at the submicron level. It's ideal for research and development, as well as quality control inspection in industries including automotive manufacturing, metal processing, additive manufacturing, and electric component and semiconductor manufacturing.
New features:
• 4K scanning technology and optics enable the detection of near-perpendicular features and small steps at close to nano-scale.
• Acquires data 4X faster and has intuitive software designed to automate many common settings.
• An expansion frame and a dedicated, long-working distance lens perform precise measurements on samples up to 210 mm in height and concavities up to 25 mm deep—even those with uneven surface cracks.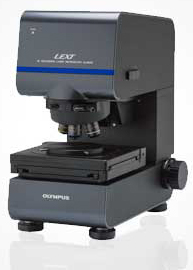 LEXT OLS5000 3D laser confocal scanning microscope by Olympus
"This prestigious program allows Laser Focus World to celebrate and recognize the most innovative products and services in the photonics and optoelectronics industry," says Alan Bergstein, publisher of Laser Focus World. "Our 2018 honorees are an outstanding example of companies who are making an impact."
The Innovators Awards are judged based on the following criteria:
• Innovation
• Value to the user
• Sustainability
• Meeting a defined need
• Collaboration
• Impact
For more information about the LEXT OLS5000 microscope and Olympus' line of laser confocal scanning microscopes, contact a sales representative or visit www.olympus-ims.com.
About The Author

Olympus
Olympus is a precision technology leader in designing and delivering innovative solutions and breakthrough technology in product design and functionality in its core business areas: cameras and audio products, industrial measurement and imaging instruments, life science imaging systems, and medical and surgical products. Olympus also serves health care and commercial laboratory markets with financial, educational, and consulting services. Olympus NDT Inc., located in Waltham, Massachusetts, is the U.S. marketing, manufacturing, and sales headquarters for ultrasonic and eddy current testing instruments.