Featured Video
This Week in Quality Digest Live
Olympus
Metrology
Olympus Adds New Features to Inspector Series Software
Inspector 5.64 provides accurate and reproducible particle detection, measurement, and documentation
Published: Thursday, July 3, 2014 - 12:52
(OLYMPUS: Center Valley, PA) -- In response to increasing requirements for particle counting and cleanliness inspection, Olympus recently launched Inspector Series 5.64, an advanced image analysis software system that helps turn Olympus microscopes into high-performance analysis stations.
OLYMPUS Inspector Series software provides users with accurate, reproducible particle size and distribution data. The Inspector Series 5.64 includes all-new versions of OLYMPUS Filter Inspector (automated filter membrane residue analysis), OLYMPUS Particle Inspector (advanced automated particle analysis), and OLYMPUS Inclusion Inspector (automated rating of nonmetallic inclusions in steel).
With the release of Inspector Series 5.64, Olympus introduces users to a host of new software features designed to further enhance workflow and allow simple, flexible system operation:
• Ability to measure the height of particles by selecting the particle list and manually defining the top and bottom of the particle (Particle Inspector only)
• Addition of NAS1638 and SAE AS4059 standards for cleanliness clarification for hydraulic fluid
• New particle standard device for confirming system calibration and performance
• Ability to interactively select individual particles or the largest particles for the report (Particle/Filter Inspector only)
• Now fully compatible with Windows 7 64-bit
• Advanced integration with the OLYMPUS BX61 microscope for further automating scans that distinguish between reflecting and nonreflecting particles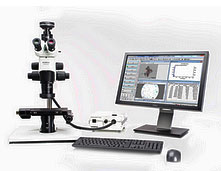 Inspector 5.64 software shown with OLYMPUS SZX16 stereo microscope
"With a new particle standard device that confirms system calibration, the new Inspector 5.64 system enhances manual particle height measurement functionality, ensures smooth image flow during live scanning, and offers an array of options and abilities that will allow Inspector to remain one of today's most useful image analysis software packages for automated particle counting," says Jennifer Wrigley, Olympus product applications manager.
OLYMPUS Inspector 5.64 software is compatible with OLYMPUS XC10, XM10, and UC30 cameras and OLYMPUS BX, GX, MX, and SZX series microscopes.
About The Author

Olympus
Olympus is a precision technology leader in designing and delivering innovative solutions and breakthrough technology in product design and functionality in its core business areas: cameras and audio products, industrial measurement and imaging instruments, life science imaging systems, and medical and surgical products. Olympus also serves health care and commercial laboratory markets with financial, educational, and consulting services. Olympus NDT Inc., located in Waltham, Massachusetts, is the U.S. marketing, manufacturing, and sales headquarters for ultrasonic and eddy current testing instruments.