This Week in Quality Digest Live
Marposs
Metrology
Hybrid Tool Setter Measures Rotating and Nonrotating Tools
Marposs Mida Laser 75P Hybrid combines a noncontact laser and touch probe in one system
Published: Wednesday, June 13, 2018 - 12:30
(Marposs: Auburn Hills, MI) -- Marposs, a leader in measurement and process monitoring technologies, has announced the availability of its Mida Laser 75P Hybrid tool setter, which combines a noncontact laser and touch probe in one system. While the laser enables measurement and checks on high-speed rotating tools, the laterally mounted touch probe monitors nonrotating, lathe tools.
The incorporated Mida A90 touch probe is available with three to five tool-contact surfaces and one or more LEDs to visually detect the electrical contact between the tool and the probe.
Typical uses of the Mida Laser 75P Hybrid include tool identification, tool breakage detection, presetting of unknown tools, tool dynamic length and diameter measurement, tool wear compensation, tool-cutting edge profile integrity verification, and machine axis thermal drift compensation. Suited for unmanned operations, the unit presets tools in the machine and updates tool table data automatically. All of this helps to reduce machine downtime and scrap, increasing productivity and production quality.
The Mida Laser 75P Hybrid features an efficient, three stage shuttergroup that protects the system from dirt. When not performing measurements, the shutter is mechanically closed to prevent dirt from reaching the emitter and receiver lens, while during the measurement cycle, a patented Air Tunnel Effect enables the measurement and verification of tool dimension, wear, and breakage, even in the presence of coolant. A microprocessor, integrated into the unit's electronic interface, elaborates the signal received, filtering noise coming from coolant and chips.
The Mida Laser 75P system is available with a "collimated" or "focused" laser beam. The focused model is essential for cutting-edge integrity verification and length measurements of chisel or rounded nose tools, or for tools with a diameter of less than 1 mm.
For more information about the Mida Laser 75P Hybrid programmable tool setting system, visit the company's website, call toll-free 1–888–627–7677, or email marposs@us.marposs.com.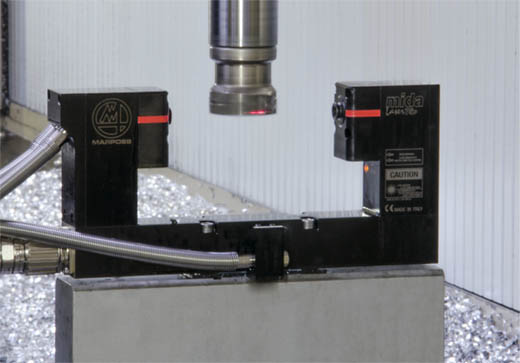 Marposs' 75P Laser noncontact programmable tool-setting system is available in a hybrid version that incorporates a touch probe for measuring nonrotating tools.
About The Author

Marposs
Marposs supplies precision gauging equipment to industries worldwide for measuring to the thousandth of a millimeter in the workshop environment, production lines, and on board machine tools. Main customers are machine tool manufacturers, automotive and their subcontractors, aerospace, bearings, glass, electrical motors, appliances, consumer durables industries, and gauge and fixture makers. Marposs supplies individual gauging components, turnkey machines, or fully automated lines. Headquartered in Bentivoglio, Italy, Marposs' U.S. office is in Auburn Hills, Michigan.