This Week in Quality Digest Live
Buehler
Metrology
Ferrous Materials Webinar Dec. 4–6, 2018
Metallography and hardness-testing techniques for steel, iron-based metals, and heat/surface-treated materials
Published: Monday, December 3, 2018 - 12:00
(Buehler: Lake Bluff, IL) -- Buehler, an Illinois Tool Works (ITW) company, is sponsoring a new webinar for the testing of ferrous materials Dec. 4–6, 2018, in English, French, and German languages.
Buehler is offering this webinar to cover a variety of issues commonly encountered in both metallography and hardness testing of ferrous materials, including common problems and how to avoid them. Critical factors for ferrous-materials​-sample preparation include: blade selection, mounting selection, cost-effective preparation techniques, image analysis, and hardness testing.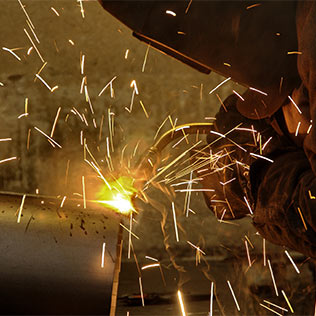 Manufacturing a welded component
The webinar is aimed at metallurgical technicians, engineers, and others who carry out metallographic preparation of ferrous materials in laboratories or production environments. The Buehler webinar will be conducted by our global material scientists and will be applicable for those testing iron-based metals (i.e., steel, stainless steel, iron, iron-based superalloys) and most traditional heat and surface treatment materials (i.e., carburizing, nitriding, induction hardening).
"Many customers have requested we present information to solve their common problems with iron, steel, and heat-treated surfaces," says Mike Keeble, Buehler's U.S. laboratory manager. "As the economy is ramping up, so is their production, and they want to be sure that their metallography techniques are not compromised."
The webinar will also delve into fundamental considerations for a wide variety of steel and stainless materials, coatings, and heat and surface treatments. It will include: efficiency, quality, cost savings, etching for microstructure, and accuracy and reproducibility in hardness testing.
The webinar is offered at no charge. Simply register to attend and receive the webinar recording shortly after the event. Certificates of attendance will be issued.
To learn more about Buehler's product offering, visit www.buehler.com.
About The Author

Buehler
Buehler, a premier manufacturer of scientific equipment and supplies for use in materials analysis, is a division of Illinois Tool Works (ITW), a global industrial manufacturer of value-added consumables and specialty equipment with related service businesses. Buehler products and analysis methods are applied in quality, R&D, and university laboratories across numerous industries, including aerospace and defense, automotive, electronics, energy, medical, and primary metals. Based in Lake Bluff, Illinois, Buehler has offices in seven countries, sales distribution in more than 100 countries, and more than 45 Buehler Solutions Centers.