Featured Video
This Week in Quality Digest Live
Hexagon Manufacturing Intelligence
Metrology
Brown & Sharpe and the Measure of American Industry
Hexagon Manufacturing Intelligence hosts book signing of Gerald Carbone's new book
Published: Wednesday, August 30, 2017 - 12:00
(Hexagon Manufacturing Intelligence: North Kingstown, RI) -- Hexagon Manufacturing Intelligence North America hosted an exclusive celebratory event and book signing last night to recognize the nearly 185years of Rhode Island's rich industrial history. The event showcased Gerald Carbone's new book titled Brown & Sharpe and the Measure of American Industry (McFarland, 2017), which honors the legacy of Henry D. Sharpe Jr. In 2001, Hexagon AB and Hexagon Metrology, Inc. (now Hexagon Manufacturing Intelligence) acquired Brown & Sharpe, an influential machine tool and metrology pioneer.
The speaker program included Rhode Island Lt. Governor Dan McKee; Douglas Sharpe (son of Henry Sharpe Jr.); Angus Taylor, president of Hexagon Manufacturing Intelligence North America; and emcee Bridget Benedetti, director of marketing and customer experience.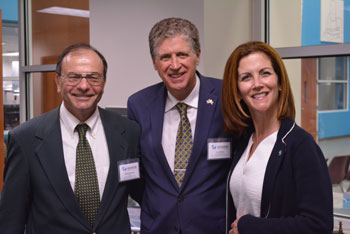 Author Gerald Carbon (left) with Lt. Governor Dan McKee and Bridget Benedetti (right)
Keynote speaker and author Gerald Carbone engaged the audience with his story about how Brown & Sharpe changed the world and created the metrology industry. Carbone presented a captivating narrative of how Providence, Rhode Island, and a cast of inventors and bold businessmen nurtured Rhode Island's unique location and skilled workforce into a global leader in advanced manufacturing.
Carbone is a biographer and a former journalist for 25 years, mostly for the Providence Journal. The new title is Carbone's third book.
The Rhode Island Historical Society set up three display cases of Brown & Sharpe instrumentation from its extensive archives. Morgan Grefe, executive director, and Dana Munroe, registrar, engaged the crowd with their knowledge of the artifacts and their historical significance. Other special guests included dignitaries from the Rhode Island Manufacturing Association, Polaris MEP, Bryant University, New England Institute of Technology, the Town of North Kingstown, the North Kingstown Chamber of Commerce, the Rhode Island press, and more.
About The Author

Hexagon Manufacturing Intelligence
Hexagon Manufacturing Intelligence helps industrial manufacturers develop the disruptive technologies of today and the life-changing products of tomorrow. As a leading metrology and manufacturing solution specialist, our expertise in sensing, thinking and acting – the collection, analysis and active use of measurement data – gives our customers the confidence to increase production speed and accelerate productivity while enhancing product quality.
Hexagon Manufacturing Intelligence is part of Hexagon, a leading global provider of information technologies that drive quality and productivity across geospatial and industrial enterprise applications.