This Week in Quality Digest Live
Edgetech Instruments Inc.

Metrology
NIST-Traceable Calibration for Chilled-Mirror Hygrometers
Edgetech also offers same-day response for replacement sensors and subassemblies
Published: Thursday, October 27, 2016 - 15:57
(Edgetech Instruments: Hudson, MA) -- Edgetech Instruments, a global leader in the manufacture of moisture and oxygen analyzers, now certifies chilled-mirror hygrometers made by other major manufacturers. Edgetech Instruments also has replacement sensors and complete subassemblies for other brands using heated-chilled mirror sensors to measure high dew points. All certifications and calibrations are traceable to NIST.
The company's quick and friendly Rapid Response Customer Service Program ensures the customer will get a call back from Edgetech Instruments the same day with a proposed solution to their needs. Certifications are typically completed within one week. All Edgetech Instruments hygrometer services are performed in the United States at its ISO 9001-certified manufacturing facility.
Often owners of other brands of chilled-mirror hygrometers are asked to provide a purchase order number and then wait days or weeks for service to these critical analyzers. Some hygrometer owners are told their equipment will have to be sent out of the country for repairs or even for simple calibration. Not with Edgetech.
As part of the program, when requested, Edgetech Instruments can send a technician to customer locations with a NIST-traceable portable hygrometer to check or calibrate customer-owned hygrometers in the field. Complete satisfaction is guaranteed with Edgetech Instruments' fast and affordable Rapid Response Customer Service Program.
Edgetech Instruments designs and manufacturers accurate and reliable absolute-humidity hygrometers, relative-humidity transmitters, humidity probes, moisture and dew-point analyzers, relative-humidity calibrators, dew-point generators, and oxygen measurement instrumentation. Edgetech products are manufactured and calibrated to the highest industry standards in a modern facility located in Hudson, Massachusetts.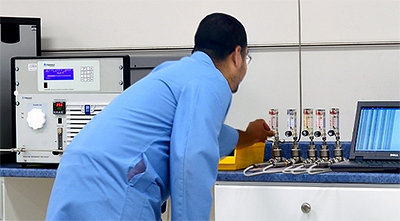 About The Author

Edgetech Instruments Inc.
Edgetech Instruments Inc. designs and manufactures humidity instrumentation and other moisture and oxygen measurement devices. Edgetech takes a solution approach, customizing and integrating other instruments or alarm devices to provide complete systems when requested. The company serves industrial customers as well as the pharmaceutical, medical and metrology industries, with standardized and specialized products. Edgetech products include trace moisture analyzers and instrumentation, wireless and hand held portable hygrometers, absolute and relative humidity transmitters, aircraft hygrometers, humidity and temperature test chambers and instrumentation for engine test cells. Equipment can be purchased or rented.