Featured Video
This Week in Quality Digest Live
Hexagon Manufacturing Intelligence
Metrology
Registration Begins for Metrology/Manufacturing Track at HxGN LIVE Hong Kong
Customers are invited to the first Asia-Pacific edition of Hexagon Metrology's international conference
Published: Wednesday, August 26, 2015 - 13:40
(Hexagon Metrology: North Kingstown, RI) -- Hexagon Metrology has announced that registration is now open at hxgnlive.com for the Metrology/Manufacturing track at the forthcoming HxGN LIVE event being held at the Asia World Expo, Nov. 18–20, 2015, in Hong Kong. HxGN LIVE is Hexagon's international user conference, a forum for customers to access information about the latest trends in geospatial and industrial enterprise technologies.
Dedicated to helping manufacturers harness the potential of new technologies, the Metrology/Manufacturing track aims to enable customers to work with greater speed and confidence—ensuring that quality drives productivity. Sessions will focus on trends specific to the automotive, aerospace, electronics, heavy industry and energy, machinery, and tooling and automation sectors.
Upwards of 3,500 people from more than 70 countries attended the HxGN LIVE Las Vegas event in June 2015. The HxGN LIVE Hong Kong conference will be held in Asia for the first time. With Hexagon Metrology's large and growing customer base in the region, this event will enable the company to further engage with local manufacturing professionals and leaders, giving these technology users the chance to influence the ongoing development of new technologies.
"The rapid market growth in Asia and China in particular demands the world's attention," explains Norbert Hanke, president and CEO of Hexagon Metrology. "One of the central principles of our company is that we go where our customers are, and so we are very excited to be bringing HxGN LIVE to Hong Kong in November. It's a great opportunity for our customers and our employees to discuss new ideas, and we look forward to meeting many people at the event."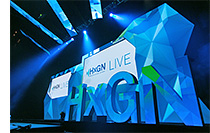 HxGN LIVE offers three days full of inspiring keynotes, insightful sessions, and industry networking events, alongside new technology previews and expert consultations. Hexagon Metrology will also demonstrate highlights from its large product portfolio in The Zone technology expo. Highlights from the HxGN LIVE Las Vegas event can be viewed online at hxgntv.com.
For further information, please contact:
Europe, Middle East and Africa
Marcel Brand, marketing and communications manager
Telephone: +41 44 809 3571 Email: press@hexagonmetrology.com
North America
Bridget Benedetti, director of marketing and communications
Telephone: +1 (401) 886-2112 Email: press.us@hexagonmetrology.com
South America
Leonardo Ventura, marketing and communication analyst
Telephone: +55 11 5525 6000 Email: marketing.br@hexagonmetrology.com
Asia Pacific
Shruti Khanna, lead consultant—marketing communications
Telephone: +91 99636 86763 Email: shruti.khanna@hexagonmetrology.com
China
Lu Liao, marketing manager
Telephone: +86 532 8089 5236 Email: lu.liao@hexagonmetrology.com
About The Author

Hexagon Manufacturing Intelligence
Hexagon Manufacturing Intelligence helps industrial manufacturers develop the disruptive technologies of today and the life-changing products of tomorrow. As a leading metrology and manufacturing solution specialist, our expertise in sensing, thinking and acting – the collection, analysis and active use of measurement data – gives our customers the confidence to increase production speed and accelerate productivity while enhancing product quality.
Hexagon Manufacturing Intelligence is part of Hexagon, a leading global provider of information technologies that drive quality and productivity across geospatial and industrial enterprise applications.