Featured Video
This Week in Quality Digest Live
Exact Metrology
Metrology
Exact Metrology Holds Tech Event
Product demos and presentations from engineers impress industry crowd
Published: Wednesday, August 5, 2015 - 12:15
(Exact Metrology: Brookfield, WI) -- Exact Metrology held a tech event on June 25, 2015, at the Horseshoe Casino in Hammond, Indiana, to demonstrate the newest products in 3D scanning equipment. Billed as "Don't Gamble With Your 3D Scanning," the event was attended by local industry professionals, including those from the steel, oil and gas, and power-generation sectors.
Hosted by Dean Solberg, Exact Metrology co-president, the day included presentations by Leica GeoSystems and Hexagon Metrology, business partners of Exact, plus product demonstrations featuring the newest technology in 3D scanners from Exact engineering specialists. Several scanners were demonstrated and available for hands-on use by the attendees, including the Romer Absolute Arm, the Leica Absolute Tracker, and the Leica T-Scan. Attendees were encouraged to bring their parts and have them scanned on site.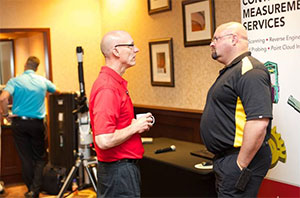 Exact Metrology co-president Dean Solberg in discussion with an attendee at the tech event
Attendees were impressed by the ease of use, speed, and accuracy of the demonstrated models, with scanning capabilities of more than 1 million points per second. Bruce Bowditch, eastern regional sales manager for Leica, described them as "a survey total station on steroids."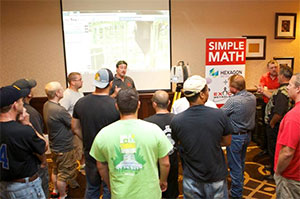 Bruce Bowditch, eastern regional sales manager for Leica, showcases the abilities of the Leica Absolute Tracker.
This newest technology in metrology equipment is capable of scanning objects varying in size from as small as a single human hair to an area as large as a football stadium. Bowditch wowed the crowd by explaining how he could scan an entire room in less than two minutes while capturing details as small as the tip of a human fingernail. Until recently, this degree of accuracy and detail was impossible to achieve in a practical manner.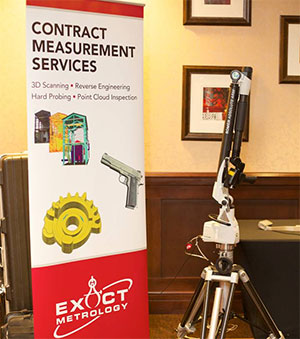 Hexagon Metrology's Romer Absolute Arm allows users to take measurements in the most challenging conditions but won't lock up when the temperature changes.
"That specific type of scanning can be applied to a lot of the work we do," commented one steel-industry engineer, who was attending the event. "Pumps need to be scanned to ensure proper fit. The Romer Absolute Arm is definitely quicker and more accurate than our current methods."
"Speed and accuracy is what we're after," said an attendee from the oil industry, after trying out the Leica Absolute Tracker. "We have a model that does about half of what this one can do. A lot less field time... hoping to get one. We're excited."

An attendee tests the Romer Absolute Arm: "It really is amazing."
Mike Trudeau, project manager at Exact Metrology, concluded the program with a presentation titled, "How We Deployed Leica HDS [high-definition scanning] Tools With Hexagon Metrology Tools on a Nuclear Plant Discharge Head Replacement Project." He detailed how Exact's experienced and professional team had the metrology equipment, technology, and know-how to scan the complex, hard-to-reach, and hazardous areas of a nuclear power plant and conventional power-generation facility.
The high-definition 3D imaging devices, which until recently were available for use only in the medical fields, now serve a wide range of industries, including industrial, manufacturing, and construction; power generation and nuclear; medical; aerospace; and the arts. The latter has already used these devices in applications for detecting forgeries and assessing sculpture integrity, for example.
Exact Metrology offers a complete line of portable scanning and measurement technologies as well as contract measurement for 3D laser scanning services, reverse engineering services, noncontact inspection, metrology services, and 3D digitizing. The company's newest equipment includes a CT scanner, the first in the United States being used for metrology rather than medical testing. Exact Metrology, an ISO 9001:2008-certified company, sells and rents metrology equipment, in addition to providing testing as a service and application software training.
In the video below, taken from the event, Dean Solberg talks about the purpose of the tech event and what attendees saw while there. Those interested in more information may contact Solberg at (262) 533–0800, or visit Exact Metrology online.
About The Author

Exact Metrology
Exact Metrology is a full-service measurement services company that provides on-site inspection, reverse engineering, noncontact laser scanning, and 2-D/3-D digitizing services as well as contract programming, software training, part programming, and measurement equipment implementation. Exact Metrology also sells, services, and implements metrology equipment solutions from companies including Artec, ROMER, Leica Geosystems, Breuckmann, Metronor, Surphaser and InnovMetric.