Featured Video
This Week in Quality Digest Live
Olympus
Metrology
View and Test the Latest Products from Olympus at SEMICON West
July 14–16, 2015, in San Francisco
Published: Tuesday, July 7, 2015 - 13:48
(Olympus: Center Valley, PA) -- Olympus, a global technology leader in industrial imaging solutions, will have its experts available for product demonstrations at SEMICON West, taking place July 14–16, 2015, in San Francisco.
The Olympus booth (No. 6040) will be exhibiting the LEXT OLS4100, the DSX510, and the MX Series (MX61L).
OLS4100
The LEXT OLS4100 laser confocal microscope system is designed to deliver nanometer-level imaging, accurate 3D measurement, and outstanding surface roughness analysis. The OLS4100 features new auto brightness and high-speed stitching modes.
DSX510
Through a unique combination of time-tested Olympus optics and today's newest digital imaging technology, the Olympus DSX510 digital microscope system allows even first-time users to immediately produce superior images and highly reliable results. The DSX510 delivers efficient observation, simple image capture, extremely accurate measurement, and easy sharing of results.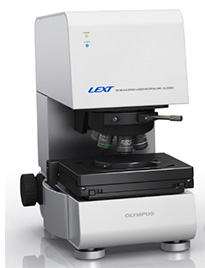 OLYMPUS LEXT OLS4100 laser confocal microscope
MX61L
The MX61L inspection microscope is designed for large samples such as semiconductor wafers up to 300 mm or flat-panel displays up to 17 in. Using a clutch-driven manual XY stage, an operator can move within 356 mm x 305 mm at reflected illumination, and 356 mm x 284 mm at transmitted illumination. The MX61L makes industrial inspection easier, quicker, and more efficient.
About The Author

Olympus
Olympus is a precision technology leader in designing and delivering innovative solutions and breakthrough technology in product design and functionality in its core business areas: cameras and audio products, industrial measurement and imaging instruments, life science imaging systems, and medical and surgical products. Olympus also serves health care and commercial laboratory markets with financial, educational, and consulting services. Olympus NDT Inc., located in Waltham, Massachusetts, is the U.S. marketing, manufacturing, and sales headquarters for ultrasonic and eddy current testing instruments.