Featured Video
This Week in Quality Digest Live
DeFelsko
Metrology
Introducing the PosiTector SHD Shore Hardness Durometer
Two models for different hardness ranges—Shore A and Shore D
Published: Wednesday, June 29, 2016 - 16:53
(DeFelsko: Ogdensburg, NY) -- DeFelsko has introduced the new PosiTector SHD Shore Hardness Durometer for measuring the indentation hardness of non-metallic materials such as polymers, elastomers, and rubbers. In the corrosion industry, durometers are commonly used to ensure proper curing of pipeline repair wraps. Two models are available for different hardness ranges—Shore A and Shore D.
Features include a digital display, a user-adjustable measurement time with onscreen countdown and an Auto Ignore mode that disregards readings below 20 and above 90 to comply with international standards. Other features include internal memory, statistics, and a USB port.
For more information on the PosiTector SHD call 800-448-3835 or visit www.defelsko.com/SHD.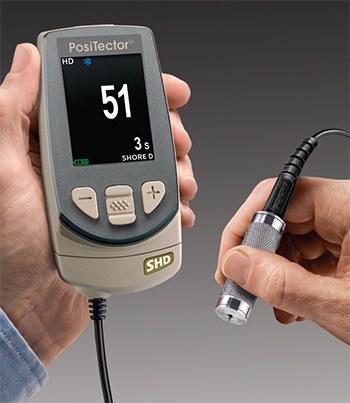 About The Author

DeFelsko
DeFelsko Corp. a U.S. manufacturer of coating thickness gauges and inspection instruments, has been delivering simple, durable and accurate gauges since 1966. Family owned and operated in northern New York, their state-of-the-art facility houses research, development, manufacturing, quality, sales, and service departments. At present DeFelsko has more than 70 models of coating thickness gauges and inspection instruments designed with unequaled handling characteristics and easy, trouble-free operation. They are simple to use and employ leading-edge technology, and come with a 30 day money-back guarantee.