This Week in Quality Digest Live
Visual Workplace Inc.
Metrology
Error-Proof Gauges with Custom-Cut Vinyl From Visual Workplace
Cost-effective way to specify parameters and increase quality control
Published: Thursday, June 9, 2016 - 08:22
(Visual Workplace: Byron Center, MI) -- Visual Workplace, Inc. offers Gauge-Marking Vinyl for quick visual identification of gauge and inspection parameters and specifications. Gauge-Marking Vinyl is a durable, transparent, adhesive-back vinyl that applies easily to gauges and other smooth surfaces. It can be easily hand-cut with scissors or precut-to-fit at Visual Workplace's In-House Sign Shop. It applies easily to glass/plexiglass, metal, PVC, corrugated plastic and magnetic/ dry erase boards. Gauge-Mark is ideal for Go-No-Go, alignment, measurement and pressure/vacuum gauges. It can also be used to reduce lighting glare, tint windows, or enhance backlit signs. It's available in red, green and yellow.
The Visual Workplace Resource Center offers a variety of free educational guides, books, articles, and videos to help companies increase safety and operational efficiency through visual signals. Other guides include the 7 Pillars of Visual Management (Leadership, Territory, Work Instructions, Scoreboards, Process Control, Inventory, and Safety), lean and 5S.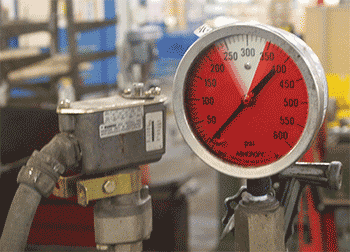 About The Author

Visual Workplace Inc.
Visual Workplace Inc. specializes in high quality products needed to help implement and sustain a lean work environment and 5S programs—such as the Mobile In-House Sign Shop which is designed for mobility and speed to tackle all 5S projects and to create visual controls quickly and easily at a fraction of the normal cost to purchase signs. Visual Workplace Inc. operates worldwide serving the automotive, consumer products, food and beverage, aerospace, retail, telecommunications, government/defense, pharmaceutical, health care, and educational industries.