Featured Video
This Week in Quality Digest Live
MARK-10 Corp.
Metrology
Improving Gun Safety With Force Measurement
Mark-10 helps NYPD develop solution for unintended discharge
Published: Thursday, January 14, 2016 - 17:59
(Mark-10: Copiague, NY) -- In an effort to reduce the incidence of accidental gun discharge, the New York City Police Department (NYPD) has been modifying its standard, off-the-shelf firearms to require a greater amount of force to activate the trigger.
Following any shooting incident, the weapon is immediately sent to NYPD's Firearms Laboratory for a battery of tests. Among those tests, the trigger pull force was traditionally assessed by hanging a known weight from a gun trigger, while holding the gun body by hand in an upright orientation. If the trigger did not "click," the firearm was considered acceptable. Although simple, this method was prone to inconsistencies and variations amongst the lab's personnel.
Mark-10 was called on to develop a custom solution for this problem. The company's engineers worked closely with the NYPD to design and produce a customized firearm test stand for NYPD's evaluation. The test stand accommodates a variety of gun types and sizes, and measures trigger forces in a controlled manner. The test results are now more repeatable, can be transmitted to a PC for a more detailed view with statistics instead of a simple pass/fail indication.
Through trigger pull force testing, an extra bit of gun safety is introduced into one of the world's busiest police departments, helping avoid unintended discharge, and saving lives in the process.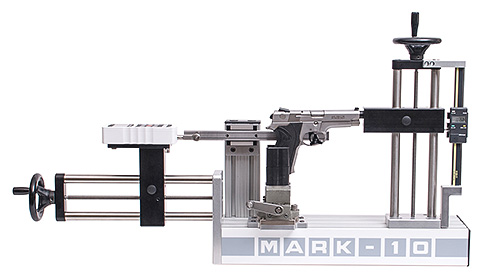 About The Author

MARK-10 Corp.
Mark-10 Corp. is a manufacturer of force and torque measuring instruments. Mark-10 product designs utilize the latest developments in electronics, materials, and sensor technology, are calibrated to National Institute of Standards and Technology (NIST) standards, and are used in numerous applications in the automotive, medical device, textile, pharmaceutical, cosmetic, packaging, food, and many other industries. Founded in 1979.