Featured Video
This Week in Quality Digest Live
Fowler High Precision
Metrology
Fowler High Precision Creates Mobile Tech Centers
Trade show demonstrations, explanations, and testing brought to the customer
Published: Thursday, January 7, 2016 - 17:38
(Fowler: Newton, MA) -- Fowler High Precision has announced the launch of its mobile tech centers (MTCs) and 3D mobile tech vans, which will travel across the United States, equipped with the newest, most popular, and technologically advanced products in measurement and inspection. These mobile showrooms will give customers and distributors the opportunity to see and use a wide array of Fowler products all in one convenient location.
With the mobile tech centers, customers gain a unique learning experience without ever leaving their neighborhood. MTC team members can help solve measurement challenges through hands-on demonstrations and experiences with calibration systems, measurements systems, gauge systems, microscopes and other optics, hardness and roughness testers, CNC measuring machines, portable DCC CMMs, vision systems, and more from well-known brands such as Bowers, Trimos, Wyler, and Sylvac. Not only do customers get the chance to use the latest technologies, they also have the opportunity to test their own parts.
The high-precision, 3D mobile tech vans will travel independently of the MTCs and deal exclusively with the latest 3D measurement technologies. The vans are equipped with a range of equipment, including Fowler Gagemaster Vision Systems, zCat portable DCC CMMs, and the Fowler-Sylvac Scan.
Currently, the first Fowler High Precision Mobile Tech Center and two 3D Mobile Tech Vans are already touring the United States. Two more MTCs and a third 3D mobile tech van will be deployed during the first quarter of 2016.
Together, the Fowler fleet of mobile tech centers and 3D mobile tech vans will cover the Central, Western, and Eastern regions of the United States. These showrooms bring the trade show directly to the customer, for one-on-one demonstrations, explanations, and actual testing on real parts. Book a visit by contacting Jeff Petersen at (800) 788–2353, ext. 329.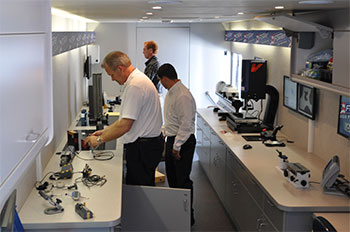 About The Author

Fowler High Precision
Fowler High Precision Inc. exclusively distributes products for quality inspection, leveling, control and calibration that are manufactured by world leaders in measuring. Familiar items including calipers, micrometers, indicators, height gages and bore gages have been carefully redesigned with state-of-the-art electronics to ensure compatibility with the latest in computer-integrated manufacturing and control. Based in Newton, Massachusetts, since 1946, Fowler High Precision represents well-known brands in the industry such as Wyler, Sylvac, Bowers and Trimos throughout the United States and Mexico.