This Week in Quality Digest Live
Ryan E. Day
Metrology
Datum Metrology Prospers With FARO Vantage Laser Trackers and BuildIT Metrology Software
Simplified workflows and improved features are key to managing growth
Published: Monday, December 18, 2017 - 12:02
Datum Metrology LLC (DM) is a metrology service provider specializing in jig building and bond tooling for various industries, including automotive, aerospace, naval, and nuclear energy. With decades of combined experience in multiple skilled-trade backgrounds, the DM team provides something of a one-stop-shop metrology solution. The company's depth and breadth of experience gives it a unique way of seeing new jobs.
"Instead of looking at a way to, say, inspect a job, we actually plan the job ahead because we can see the whole picture of the build," says Jason Sobieck, owner of Datum Metrology. "When we go into a customer's facility, instead of just jumping in and randomly measuring something, we know what we're going to jump into next. Being able to do that helps us move a lot quicker than many of our competitors."


Because DM's current specialty involves working on large jigs requiring extremely tight tolerances, along with very large bond tools, FARO Laser Trackers and BuildIT metrology software are the company's measurement tools of choice.
"Laser trackers make the most sense for us," explains Sobieck. "I think they're the most versatile tool in the metrology world right now. With a tracker, I have the ability to check something two times the length of a football field, or I can check something the size of a penny—and very accurately."
Sobieck and his partner, Chad Fortune, had many years of experience with laser trackers when they decided to form their own company. At a casual barbeque, the two former co-workers began kidding around about starting their own company. Apparently, it went from a joke to something more serious rather quickly. They chose to invest in two Vantage Laser Trackers from FARO right off the bat.
The right tool for the job
"I've used pretty much every type and flavor of laser tracker out there throughout my career," says Sobieck. "Honestly, FARO has always been the most reliable brand as far as I'm concerned. Their Vantage Laser Tracker is pretty much what I consider to be the workhorse. It's also extremely portable, and the cost was where we needed it to be. I couldn't be happier with the purchase."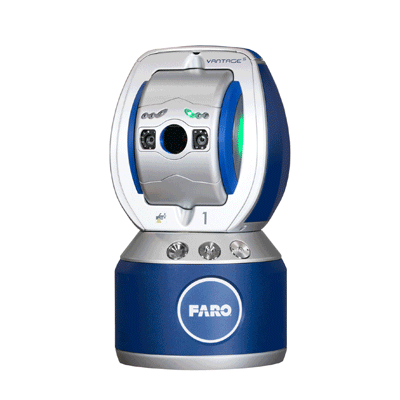 Vantage laser tracker from FARO Technologies
With 160 m (525 ft) of spherical working volume, the FARO VantageS and VantageE series have reinvented high-accuracy, large-volume measurement. The Vantage provides tremendous value in a complete laser-tracking solution that offers portability, accuracy, and great shop-floor durability.
"We bought two Vantage lasers and hit the ground running," says Sobieck. "A couple weeks after the trackers showed up, we started moving at an insane pace, and it really hasn't stopped yet."
With success came growth, and the DM team found themselves in need of another tracker.
"We wanted another FARO Laser Tracker," explains Sobieck. "So, we selected the VantageE because we already had two long-range VantageS trackers."
The VantageS is intended for short- to long-range measurement applications of up to 80 m, while the VantageE supports short- to medium-range applications of up to 25 m. Both compact models offer:
• RemoteControls workflow (patent pending), which streamlines laser tracker operations, allowing a single user to control functions, such as live video feed and tracker movements, from a mobile phone or tablet. A single operator is able to easily control the tracker from anywhere in the measurement area.
• Industry-leading portability with an integrated master control unit (MCU). These laser trackers are easily transported in a single carrying case between job sites or locations within the factory.
• Hot-swappable batteries that eliminate the need for AC power and cabling.
• Industrial-grade WiFi for reliable, wireless communications
• Easy integration with FARO's patented Super 6DoF (degrees of freedom) TrackArm solution to completely eliminate line-of-sight challenges.
Portability
"The VantageE is probably the most portable tracker I've ever touched," says Sobieck. "With the ability to work through WiFi, and hot-swap the battery, it's a night-and-day difference compared to a lot of other options out there."
Laser trackers normally require an MCU in a separate box as big as the tracker itself. For DM, that poses logistical problems, as their work as a service provider is inevitably conducted at their customers' facilities.
"Before having the Vantage tracker, wherever I traveled I'd be taking a van full of equipment," explains Sobieck. "Or if I was flying, I'd have to ship the equipment there prior to me ever hopping on an airplane. With the VantageE, my entire rig consists of one case for the Vantage; a tripod case, which is basically the size of a golf bag; and my laptop. It's carry-on luggage for the most part."
The fact that the MCU is built into the Vantage body also eliminates the cables that would connect the two.
"A lot of the times you'll find yourself in confined areas with a lot of obstacles," says Sobieck. "If you're moving the tracker from one area to another within those obstacles, you take the risk of snagging the cable on something, maybe even dropping the tracker or ripping a cable out. The Vantage's integrated MCU takes that risk right out of the picture."
Versatility
"I like the fact that you can use mobile applications to control the tracker from a distance," says Sobieck. "If I'm up on a 30- or 50-ft-tall jig assembly, I can use remote controls or target gestures."
FARO's patent-pending RemoteControls feature enhances workflow by allowing a user to control the movements and other functions of the VantageS or VantageE with a mobile phone or tablet, or even gesturing with a target.
Live video feed from the targeting cameras is displayed on the mobile device so that a single operator can control the tracker from anywhere in the measurement area. Remote on/off and scheduled warmup improve workflow by making the Vantage ready for immediate operation when the user begins measuring.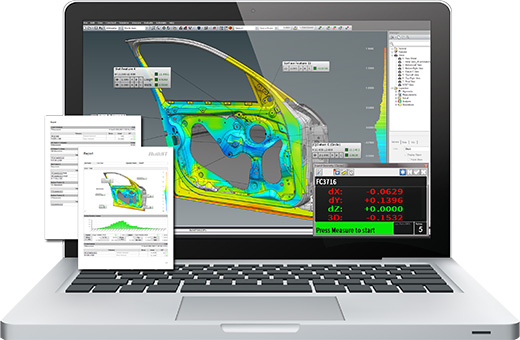 For enhanced portability and convenience, measurements can be taken with the improved WiFi, which supports faster connection time, greater range, and allows the Vantage to act as a WiFi access point. WiFi and wired Ethernet are both active, enabling connection with a PC and a wireless device simultaneously.
Making sense of the data
With a data output rate of 1,000 points per second, the VantageS and VantageE provide feedback for high-speed motion control and high-density scanning, making them ideal for automated applications. The raw data, however, are only as useful as the software used to render them. When looking at software to complete his FARO tracker system, Sobieck already had ideas.
"I've used many, many flavors of software, and to be honest, not a lot has changed over the course of the last 10 years," admits Sobieck. "For me, it was very buggy and had a lot of crash issues. I couldn't understand why they weren't getting fixed. It seemed like the answer was always, 'Wait until the next release, and it'll be fixed.' But when the next version came out, there were even greater problems. When we started Datum Metrology, I wanted to see what else was out in the market."
After researching various options, Sobieck settled on a BuildIT software package.
The name BuildIT comes from the fact that the software was originally designed for jig building in conjunction with laser trackers. Its function and features, including the real-time feedback and bold arrows, attest to its origins.
"The program was originally built around the core jig-building workflows that people were using it for when it was released 20 years ago," explains Erin Fong, sales and marketing coordinator at BuildIT Software. "We've expanded to add other applications since then, but we always continue to develop the features for jig building and alignment."
"A huge selling feature for me was the feedback that I'd gotten from multiple people who used BuildIT," says Sobieck. "Everyone commented on the user-friendly platform of the software. And then for me what really sold it, was their support when I requested a demo. It has been unlike any support I've ever received from any software company, period. I've never seen anything like it. Once I realized what type of company I was dealing with, the software petty much sold itself."
Software is often the sticky part with the inspection workflow, including the learning curve involved with a new program. Sobieck didn't find that to be the case with BuildIT.
"After only two weeks and two conference calls with BuildIT, I was able to completely do anything that I needed to do—and more efficiently than the prior software," says Sobieck. "With most software, you have to go through lengthy training courses. With help from the gentleman at BuildIT, I was able to understand the software in only two hours. To me, that is extremely impressive."
BuildIT continues to exceed Sobieck's expectations.
"It was actually kind of humorous; I didn't realize that it was Canadian Thanksgiving Day when I sent in a bunch of questions to BuildIT's metrology experts at the Montreal head office," admits Sobieck. "I actually got a response, though. I was pretty impressed that somebody took the time to contact me on a holiday."
"Somebody on our application engineering team is always going to at least give you a response and make sure that you're not stuck, even on a holiday," says Fong. "They're very responsive. They care a lot about our customers."
User-friendly platform
"One thing I love about the BuildIT software is there's not a downside way of doing things," says Sobieck. "You can use it similar to how you would use CMM software; that is, to plan out your entire inspection ahead of time, program the software, and then go through and measure it.
"Or you can do what I've found to be my favorite method; which is, as I'm going through and measuring certain things and getting certain details, I use BuildIT software to collect that data as I go and create my report as I go. At the end of the job I hit 'report' and it spits out a beautiful report for me."
BuildIT's versatile interface is a boon for both novices and seasoned users.
"BuildIT software is very appropriate for a novice user, because you can get very simplistic with it" explains Sobieck. "However, for advanced users like myself and my partner, we can go as deep as we want and basically, there's nothing stopping us from doing absolutely anything we want to do.
"If you use the software correctly there is no real programming. Just name a feature and then the software automatically associates the geometry you measured with the feature you named and gives you an annotation associated with it. It's really just a matter of what you want to do with it. If you want to apply geometric dimensioning and tolerancing (GD&T), it's very easy to do."
Time savings
All the features BuildIT engineered into the program were designed with usability and speed in mind.
"The CAD platform on this is incredible," states Sobieck. "It's probably the strongest CAD software that I've used. A big file that might have taken an hour and a half to download, BuildIT takes 10 minutes to pull in. And then when it's in there, it's organized and friendly to use. It's easy to segregate things, easy to rename, and organize files.
"When you want to make a report, it's even easier," Sobieck continues. "You open the panel, select 'add report,' and boom!—print. The savings that I realize with this software is insane simply because of how much less time I spend on the job. On average, on a job that would normally take me 80 hours, I'd say I'm saving 15 hours. I have had reports where there's a lot of linear dimensions and true-position call outs and profile call outs and perpendicularity. On top of that, the customer wants to know the spread between this hole, that hole, and that edge. [Before BuildIT] I've had jobs that, I kid you not, took me four hours to measure and 36 hours to make a report.
"I actually had the chance to go in and remeasure a job recently," says Sobieck. "This time I used the BuildIT software. It took me about the same amount of time to measure it, about four hours. But, my report was completely done and presentable in eight hours instead of 36. And it actually looked better than the ones that I generated before! Now that's an extreme case, obviously, but on this particular job, it saved me that much time. That's huge for me, and it's huge for my customers because I pass savings along to them."
Return on investment
"We haven't really gotten into any type of ROI detail yet, to be honest, because we're flying around just trying to keep up with everything," admits Sobieck. "One thing that I can tell you is we'll probably end up knocking about 20 percent off the time it takes to see ROI compared to the rest of my equipment. A 20-percent increase in ROI is significant for me."
Laser tracker technology also presents ROI in the form of its positive effect on customer perception.
"We're getting a lot of attention out here in the Detroit area, for sure," says Sobieck. "Some clients hear about us from a friend who says they know a guy who can come out to their facility and check things out. We show up with a laser tracker, and they're kind of mind-boggled by the whole thing, because a lot of people in my area are more used to your traditional CMM machine. They really pick our brain on it. At the end of the day, when they see what it can do, their mind is pretty much blown."
About The Author

Ryan E. Day
Ryan E. Day is a Quality Digest contributing editor and principal administrator of the company's content marketing program, which brings together those seeking business improvement solutions, and solution providers. Day has spent the last 7 years researching and interviewing top business leaders and continuous improvement experts including Sakor, Ford, Merchandize Liquidators, Olympus, 3D Systems, Hexagon Intertek, InfinityQS, Johnson Controls, FARO, and Eckel Industries. When not developing engaging and informative content, Day might be found polishing his html and css skills, or hanging out with his 20lb American Tabby cat.