Featured Video
This Week in Quality Digest Live
Patrick Nugent
Metrology
Mahr Helps Joe Gibbs Racing Create Precision Race Car Designs
Wins measured in inches; winning parts in thousandths of inches
Published: Tuesday, May 9, 2017 - 12:01
Joe Gibbs Racing, a family business founded by former three-time Super Bowl champion Washington Redskins head coach Joe Gibbs, is one of today's most successful racing teams. In its 25-year history, it has earned four NASCAR Cup Series championships, five NASCAR XFINITY Series championships, and a total of more than 270 wins across NASCAR's top two national racing series.
Joe Gibbs Racing (JGR) currently has four NASCAR Monster Energy Series teams, including the No. 11 FedEx Toyota Camry driven by Denny Hamlin (who won the 2016 Daytona 500), the No. 18 M&Ms Toyota Camry driven by Kyle Busch, the No. 19 ARRIS Toyota Camry driven by Daniel Suárez (2016 Xfinity Series champion), and the No. 20 DeWalt Toyota Camry driven by Matt Kenseth. Each race team has about 20 members (including the crew team, mechanics, and pit crew). These teams compete in an average of 39 races per year.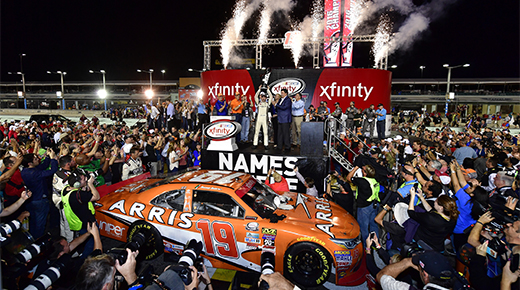 JGR also features three NASCAR Xfinity Series teams where emerging talent is developed. The team currently includes the No. 18 Toyota Camry driven by Kyle Busch and Daniel Suarez, the No. 19 Toyota Camry driven by Matt Tifft, and the No. 20 Toyota Camry driven primarily by Erik Jones, as well as development driver Cody Coughlin. In 2017, JGR also started an ARCA Racing Series team featuring Riley Herbst behind the wheel of the No. 18 Toyota Camry.
Several years ago, JGR also expanded its portfolio to include motocross/supercross, the second largest type of racing in the United States, and formed the JGRMX team. JGRMX currently features four riders, with a total team that consists of about 25 members. Riders include Justin Barcia, who has been featured in the X Games, Phillip Nicoletti, Weston Peick, and Matt Bisceglia.
The Joe Gibbs Racing organization currently employs about 600 people and operates a 400,000 sq-ft race shop that handles manufacturing for its 13 different teams.
What goes into creating premier race cars and motorcycles
It takes a huge manufacturing effort to support the teams. JGR manufactures approximately 90 percent of the racecar and motorcycle parts and pieces—which total more than 2,000—at its on-site race shop. This requires a team of close to 80 engineers who are constantly innovating and developing everything in-house to keep designs proprietary.
Toyota teams competing in the Monster Energy NASCAR Cup Series in 2017 will be racing the redesigned Toyota Camry for the upcoming racing season.
In a typical race car design, everything that has to do with shape of a Camry such as the nose and tail piece, which are provided to JGR from Toyota Racing Development, based on NASCAR-approved patterns and shapes. An intricate series of thorough track testing, finite element analysis, and CAD data is then combined and evaluated to generate the production details that will inform the design of the remaining parts that will go into the ultimate race car. This process involves a high degree of internal testing—from aligning virtual track-testing data with tandem wind-tunnel data from simulation testing, as well as actual wind tunnel testing.
All final data gathered in the testing process are evaluated to find the "sweet spots" on the car to create the optimal designs. Next, CNC machines are used to produce the 2,000 different parts and pieces that make up the car and motor.
The role of metrology
Along with the intense effort to create the ultimate race car design, engineers must ensure that all parts and pieces are being manufactured properly—and that's where JGR's state-of-the-art metrology lab comes in. All parts and pieces—whether manufactured by JGR or purchased from outside parties—go through its metrology department for release before they are allowed to be assembled into any of the cars or motorcycles. Any outside parts and pieces go directly to the metrology lab for 100-percent inspection before they are allowed into assembly.
Its team is checking everything from cylindricity to form to surface finish. A key element of JGR's metrology lab is precision measurement tools from Mahr. When creating the metrology lab, JGR's team carefully investigated what tools would most effectively meet its unique needs, and Mahr came out on top.
JGR's metrology lab is separate from the rest of the building so that noise vibration cannot get in. The lab features 35 stations, all of which feature Mahr hand tools such as micrometers and calipers. Additional equipment such as MarForm MMQ 400 Universal Form Measuring Machines are used throughout the lab to check all valves and test numerous features such as roundness, cylindricity, the form of cranks and cams, and so forth.
All engine builders use Mahr equipment, from micrometers to special custom tools such as specialized surface finish gauges for critical but hard-to-reac, areas in the engine. The metrology lab also features MarForm Primar for checking cranks and cams, Precimar PLM 600 precision length-measuring machines, MarShaft SCOPE 250 plus optical shaft measuring machines, MarSurf XC20 systems for evaluation of contour profiles on a variety of parts, specialized CNC systems to automate surface finish measurements on large batches of parts, and more.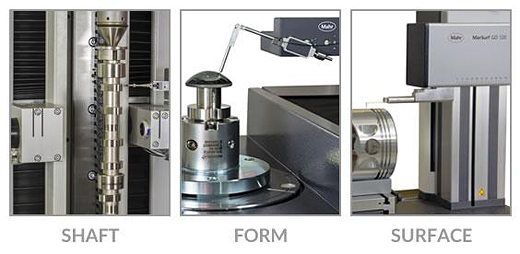 After inspection is completed in the metrology lab, parts and pieces are released to the setup floor where the cars are assembled. It takes about seven days on average to put a car together. Right now, each team has about 15 cars in the fleet, so there is a constant assembly process to keep cars ready for the track.
"It has been said that NASCAR is a game of inches, but in the manufacturing aspect, it's a game of millionths of inches in trying to measure all of the parts (it's not just the engines; it's the chassis, the transmissions, the suspension and more) in order to make sure they are right," says Mark Bringle, technical sponsorship and marketing director at Joe Gibbs Racing. "All of these parts have to be exactly right. Mahr has been a great partner for more than 15 years, and helps Joe Gibbs Racing to ensure that the highest quality parts are going into our cars and motorcycles with optimal performance."
JGR manufactures everything from engine parts, to mechanical parts, to parts for the pit crews. A key area where manufacturing is making a difference is in the performance of pit stops; parts on pit row absolutely have to be precise—as well as faster, stronger, and lighter. All of these custom designs are being inspected by Mahr tools as well to ensure they are performing as well as the cars themselves.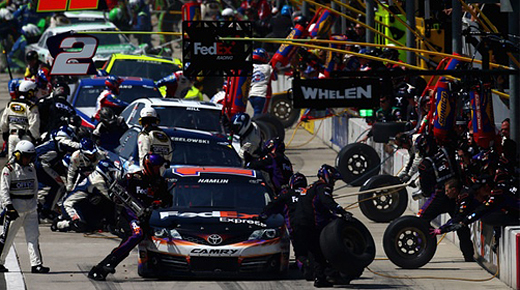 "From the driver to the pit crew, metrology makes a huge difference in what we are doing on a day-to-day basis," continues Bringle. "At the end of the day, safety could ultimately be affected if a part fails, and that is why metrology and its role in ensuring the ultimate quality are so critical to the production process."
About The Author

Patrick Nugent
Patrick Nugent, the vice president of metrology systems for Mahr Federal Inc., is responsible for the metrology systems product line of the Mahr group throughout North America. Nugent works out of the U.S. headquarters in Providence, Rhode Island. He has been with the Mahr group since 1998 and held several different positions prior to the vice presidency at the corporate headquarters in Goettingen, Germany. In addition to his work at Mahr, Nugent is a member of a number of ASME B89 committees working on standards for form measurement and measurement of internal and external standards.