Featured Video
This Week in Quality Digest Live
Ryan E. Day
Metrology
What Is a Handheld XRF Analyzer?
And is it right for your business?
Published: Monday, November 7, 2016 - 10:40
Handheld X-ray fluorescence (XRF) analyzers are proven analytical tools commonly used for the fast, easy, accurate, and nondestructive identification and analysis of metals and alloys. Common applications include metal alloy identification for quality control, scrap sorting and positive material identification (PMI), geochemistry for mining exploration and grade control, precious metal analysis, and hazardous elements screening for environmental, consumer goods, and restriction of hazardous substances (RoHS) testing.
XRF analyzers work by measuring the secondary X-ray emissions of a given sample when that sample is excited by a primary X-ray source. In this way, the chemical signatures of the sample's elemental composition are revealed. Known as spectrometry, this type of analysis is important for anyone needing to quickly and efficiently inspect metals and alloys.
Industries and applications
Several specific industrial sectors can benefit from the use of handheld XRF analyzers, such as the Olympus Vanta series. Adopting the technology can drive an enormous return on investment for manufacturers seeking to eliminate waste and more efficiently test and process metal-based parts and products.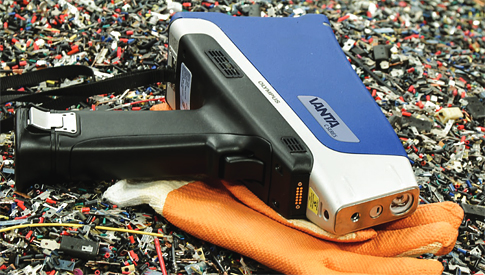 Vanta analyzers are used in a range of applications. Here are three of them
Manufacturing
Both manufacturers and installers of expensive or mission-critical components and machinery need to ensure that those parts have the correct alloy grades, regardless of the material source. Manufacturers often hold suppliers to a rigid quality process that dictates tight controls on all raw materials. Nonconforming material can potentially halt the production line, wasting time and money.
Unfortunately, material mix-ups are a reality in critical manufacturing operations, and incoming materials must be tested to ensure quality. "Trust but verify" is a motto that every manufacturer should live by to protect their operations.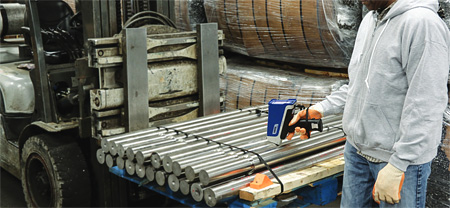 For manufacturers in a wide variety of sectors, including aerospace, automotive, fabricated metals, and medical device, handheld XRF analyzers provide fast (less than 2 seconds for most alloys) verification of metal alloys such as:
• Aluminum
• Carbon steel
• Nickel
• Cobalt
• Super alloys
• Stainless
• Titanium
Mining and geochemistry
XRF analyzers excel at onsite elemental measurements for a wide range of mining and geochemical applications, offering flexibility across the entire mineral resource cycle. Examples include:
• Greenfield and brownfield exploration
• Ore grade and process control
• Environmental monitoring and remediation/mine closure
• Educational research and teaching within the geological and environmental sciences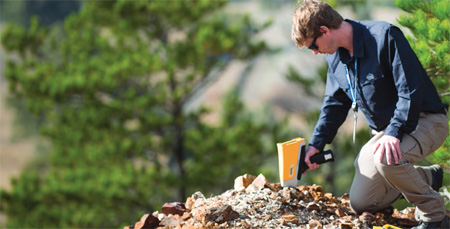 XRF analysis via a portable handheld scanner rugged enough to stand up to any imaginable field condition can help ensure a rapid return on investment by providing decision-quality geochemical data more quickly than traditional laboratory techniques. This kind of rapid, accurate decision making at the exploration stage enables field time to be used more effectively. It also maximizes exploration budgets and advances project timeframes.
PMI
Typically, XRF analyzers are of critical importance for positive material identification in helping ensure the proper chemistry and alloy identification in components such as pipes, valves, welds, and pressure vessels. In these and many other environments, the wrong mix of sourced metals and alloys can cause failures, rework, or even accidents.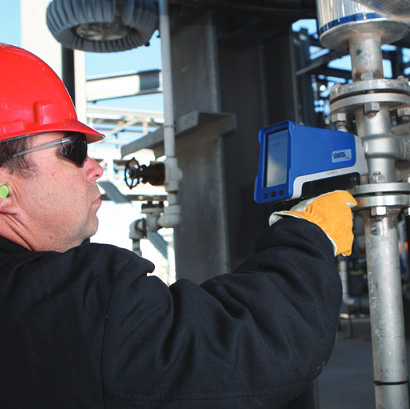 XRF analysis is essential for:
• Helping ensure that the correct alloy components are installed in critical locations
• Complying with the American Petroleum Institute (API) Recommended Practice (RP) 578—"Material verification program for new and existing alloy piping systems"
• Detecting sulfidation corrosion susceptibility (API RP 939-C)
• Evaluating flow-accelerated corrosion (FAC) susceptibility
• Discerning residual element corrosion susceptibility in hydrofluoric acid (HF) alkylation units
In these and many other everyday, real-world applications, the answer for better, easier, and faster material inspection is a handheld XRF analyzer.
Features to consider
Not all handheld XRF analyzers are created equal, and each offers unique features and benefits that may have greater or lesser importance, based on individual user applications and preferences.
Some of the key items to keep in mind when considering a specific system include:
• Performance. Choose an analyzer that incorporates the most advanced computer processing technology and ultra-low noise electronics, such as Olympus' Axon technology, to enable higher X-ray counts per second to generate faster, more accurate, and more repeatable results.
• Durability. Ensure that systems under consideration have been drop-tested and deliver high IP ratings of 64 or better for maximum uptime and a lower cost of ownership.
• Ease of use. Look for systems with easy-to-read LCD touch-screen displays and an intuitive user interface that can be customized based on testing objectives.
• Data management. You want systems that are WiFi and Bluetooth-enabled for real-time data sharing and cloud applications.
For fast, efficient, convenient, and accurate inspection of material spectrometry, few pieces of equipment can beat a handheld XRF analyzer. Being able to confirm that metals and alloys are what they are purported to be can save time, money, and effort, and often help ensure safety. That's a combination of benefits that equals a robust ROI for those in industry working with metals and alloys.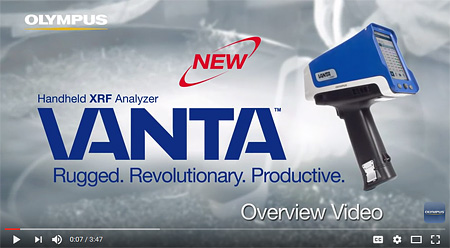 Vanta and Axon are trademarks of Olympus. The Bluetooth word mark and logos are registered trademarks owned by Bluetooth SIG.
About The Author

Ryan E. Day
Ryan E. Day is a contributing editor and the content-marketing coordinator at Quality Digest. With a varied career from mechanic to artist to inventor holding a U.S. patent, but a journalist at heart, he's produced freelance feature articles, op-ed pieces, ad copy, and display communications.