This Week in Quality Digest Live
Caroline Preston
Management
Convincing Students That Manufacturing Job Skills Will Pay Off
A tale of unconventional supply and demand
Published: Monday, December 3, 2018 - 13:01
The high school students clustered around a 4 ft-tall red robot with long arms and cartoonish eyes. A so-called collaborative robot, programmed to work with humans at Prent Corp., a packaging company, it looked cute, not intimidating.
But on this annual Manufacturing Day, which during the last few years has given local high schoolers the chance to don safety goggles and step inside factory walls, the robot delivered the not-so-subtle reminder of what their teachers have tried to drill into them: The unskilled jobs that paid earlier generations so well are dwindling, gone offshore and to robots like this one. To compete for the manufacturing jobs of tomorrow, these teenagers will need specialized skills.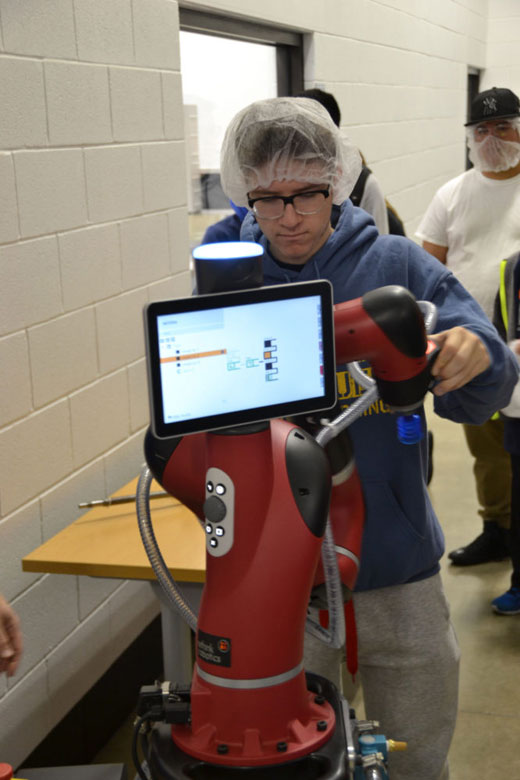 Matthew Porter, a student at Craig High School, inspects a collaborative robot at Prent Corp. in Janesville, Wisconsin. Photo: Caroline Preston/The Hechinger Report
A decade ago, it would have been difficult to imagine this southern Wisconsin city of roughly 60,000 trying to sell its young people on careers in manufacturing. In 2008, GM idled the plant that had long kept thousands of Janesville's residents in the middle class. Now, after enduring several years of double-digit unemployment, along with higher rates of homelessness and suicide, the hometown of Rep. Paul Ryan has seen joblessness fall to roughly 3.3 percent. Many businesses, some of which migrated to town after GM and its suppliers left, say they can't find enough skilled workers to fill jobs in manufacturing and the trades.
"Employers have stopped training, that's the big thing. They want people who already have the skills and already have the experience, and no one wants to give them the experience."
—Peter Cappelli, professor of management, Wharton School
That's prompted new Janesville Schools Superintendent Steve Pophal to enact a plan to give kids the critical thinking and specialized skills he hopes will help them meet local business needs while avoiding the trap of low-skill, low-wage work that accounts for a growing share of the city's economy. At the same time, he is trying to turn parents and students into "more sophisticated consumers of education beyond high school."
With jobs in the trades going begging and too many kids exiting four-year colleges with crippling debt only to find their degrees don't have labor-market currency, Pophal says more people need to consider the value of certifications and two-year technical degrees.
"Certainly going right into a university pathway is a great choice for some kids," says Pophal, who has a good-natured demeanor, Ron Howard-like looks, and a Midwestern accent. But he says there's a "disconnect" between the skills students acquire in universities and those that help land the in-demand blue-collar and technical jobs in their hometowns. "Some can afford to have the debate about liberal arts education," he says. "A lot of people in this community don't have that luxury."
As part of his plan, Pophal is helping to send teachers back to school for master's degrees at the local Blackhawk Technical College so they can teach more specialized classes that also count for college credit. The city's two traditional high schools are creating programs in mechatronics, a growing field that combines mechanical engineering and electronics. Pophal is also courting businesses to add more opportunities for workplace learning, and he has brought in an education company to help teachers engage students, rather than lecturing at them.
"Having kids sit in rows and learning to be compliant, learning to take direction, that pedagogy prepared kids [for] the manufacturing environment of days gone by," says Pophal. "That kind of work environment doesn't exist any longer." That kind of worker now is going to get a $10 to $12 per hour job that doesn't pay the bills."
Indeed, that's another wrinkle to the changes in the workforce that are making Pophal's job of selling manufacturing and other technical careers more difficult. While jobs have rebounded, wages are lagging.
Some of the skilled jobs he's steering students toward pay between $16 and $25 per hour—less than the $28 per hour salaries many unskilled workers were earning at GM close to a decade ago. That's complicating the work of educators like Pophal who are trying to prepare students for jobs that demand skills and training while offering a less-certain return on investment. "I say to employers, 'If I'm going to help you scale up your future workforce, you're going to have to scale up your living wage opportunities,'" says Pophal, who joined the district last year.
On a recent Friday at Janesville's Parker High School, which sits across from a cornfield and serves 1,300 students, marketing and business teacher John Zimmerman was guiding students through a lesson on "tax increment financing." Imagine you're a city council member, he told them, and you're deciding whether to entice a manufacturer to open a new plant in town by offering tax incentives plus infrastructure improvements like a new road.
"Is it worth it?" he asked the students as they broke into small groups to do the math.
Down the hall, computer science and robotics teacher Bob Getka was teeing up students to program code that calculates the commission salespeople would earn. A bear-like man whose classroom is ringed with photographs of every one of his roughly 350 former students who passed the AP computer science exam, Getka asked the class if any of them had completed a practice coding session at home.
Only a few hands went up, and Getka shook his head. "What did I tell you about grades?" he said, reminding the students that what mattered was their ability to nail down this coding language. "Grades are worthless. No one will ask you what your high school grades were after you graduate. It's what you know."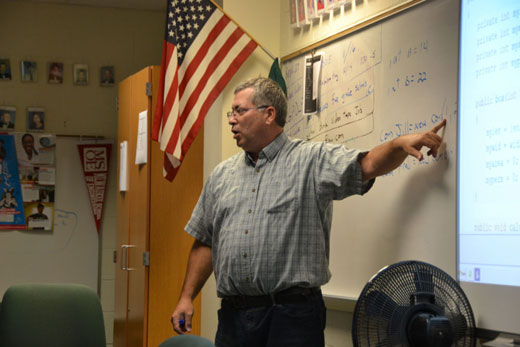 Bob Getka teaches a computer science class at Parker High School in Janesville, Wisconsin. Photo: Caroline Preston/The Hechinger Report.
These classes demand the sort of interdisciplinary and real-world thinking that Parker High is trying to encourage as it rolls out a program to help all juniors and seniors home in on job-linked areas of study—such as health and human services; business, administration, marketing and arts; and technology, engineering, agriculture, manufacturing, and science. That aligns with a state mandate, implemented during the 2017–2018 school year, that all students infuse their academics with career planning.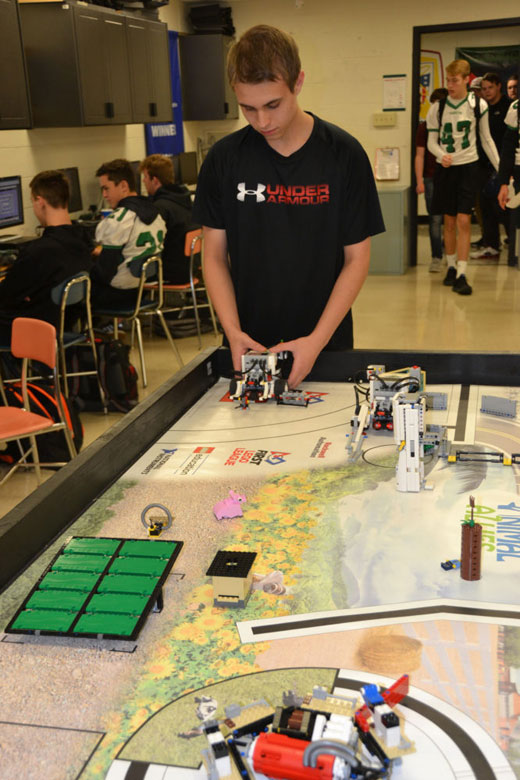 A student at Parker High School, in Janesville, Wisconsin, shows off the robot he has programmed. Parker students often travel to robotics competitions around the country. Photo: Caroline Preston/The Hechinger Report.
If Janesville had a prototype for the sort of "sophisticated consumer of education" it hopes to mold, it might look something like Aidan Brown. A Parker High senior, Brown has decided against following his older brother to a four-year college.
Instead, he'll continue working at the local construction business, where he now earns $15 an hour on weekday afternoons and weekends, through an apprenticeship he arranged himself with help from teachers. He also plans to take night classes toward a two-year business degree at Blackhawk Technical College with the goal of opening his own construction business.
Brown says that, at first, he didn't get much encouragement from adults for his plan. "They say if you don't go to college, you're pretty much screwed," he said of teachers. "I'm not saying every teacher says that, but that's pretty much what they instill in every kid."
That's starting to change, he says.
For Pophal, that change can't happen quickly enough, but his job is also complicated by Janesville's spreading poverty.
Half of the students in Janesville schools qualify for free lunch, nearly double from when GM was still operating, according to Pophal. At ECHO, the local food bank, a majority of clients hold jobs—sometimes two or three—but still can't afford basic necessities, says Jessica Locher, associate director.
Speaking on a recent Friday as she waited in the food bank to pick up her bag of groceries, Michelle Nicoson said she was counting on her boyfriend earning a degree from Madison Area Technical College. Nicoson, a Parker High School graduate, has a certificate in dialysis, but is staying home right now with her two young children. Nicoson said a degree would help her boyfriend boost his $16-an-hour wage as a steamfitter into a much more comfortable salary.
Michelle Birt, a woman in her 50s, had just relocated from Chicago to help raise her grandkids so her two children here could return to school. Her daughter was earning $11 an hour at Kentucky Fried Chicken; her son was making $13 an hour. "I've been telling them to go back to school. I've been telling them. That's how they're going to make it. The only way."
Barry Brandt, who owns a local heating and air conditioning manufacturing business called Lanair Products, says he recently raised pay for unskilled workers on the assembly line from $11 to $14 an hour. Skilled employees at the company, like welders and machinists, earn between $20 and $25 an hour, he says.
The wage increase has made it a little easier for the company to retain workers, but Brandt says it's still a challenge to find people with a strong work ethic, who show up each day and have the necessary communication skills.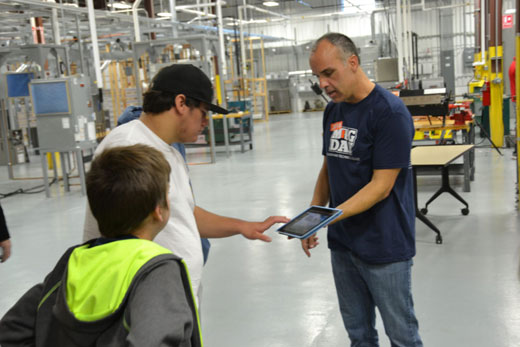 On Manufacturing Day, students from Craig High School, in Janesville, Wisconsin, get a lesson in HVAC (heating, ventilation and air conditioning) technology from an instructor at Blackhawk Technical College. Photo: Caroline Preston/The Hechinger Report
"Having kids sit in rows and learning to be compliant, learning to take direction, that pedagogy prepared kids [for] the manufacturing environment of days gone by."
—Steve Pophal, superintendent, Janesville Schools
Pophal says he has been able to fund some of his programs with private philanthropy and state grants, and the district has gotten creative about raising money in other ways. Since 2013, Janesville has been recruiting tuition-paying students from China to shore up its budget, for example. Still relatively new to the job, Pophal says that before turning to a referendum, he wants to make sure there's nowhere left to cut.
Julie Underwood, a professor and former dean of the University of Wisconsin-Madison's School of Education, says exposing kids to careers through programs like the one in Janesville is important so long as it doesn't come at the expense of other educational services. "The public schools in 2011 took the largest budget cut that's ever been endured in the state of Wisconsin, and that hasn't been brought up to a working level," she says. "So the question is, what are you going to not do if you are going to add something else? With mental health needs increasing due to more students in poverty, and more English language learners, this is a very hard decision to make."
At the same time, not everyone agrees that it's the job of schools to give students workplace expertise—or even that a so-called skills gap exists. Peter Cappelli, a professor of management at the University of Pennsylvania's Wharton School, says there's no evidence of a growing gulf between what workers can do and what businesses need. Rather, he says, businesses could solve their workforce problems if they would simply pay people more, relax their rigid hiring practices, and invest in workers.
"Employers have stopped training, that's the big thing," says Cappelli. "They want people who already have the skills and already have the experience, and no one wants to give them the experience."
Teachers, who have already sacrificed pay and benefits, have expressed mixed reactions to the push for them to get master's degrees at Blackhawk Technical College so they can make their classes more attuned to business needs. (Their tuition is covered, but they must pay for books and fees.)
Still, many are willing to make sacrifices if it gives their students a brighter future. Back at Parker High, teacher John Zimmerman is a half-hour into his lesson on tax increment financing.
He gets excited when he reveals that the assignment had a real-life inspiration: a Janesville city council decision during the early-2000s to help refurbish a road with the goal of persuading the still-kicking GM plant to stay put.
"That was a pretty nice road, and all of a sudden GM closed," says Zimmerman.
But like a lot of people here, Zimmerman still manages to zero in on the positive. That road might not have paid off with GM, he says, but it could help keep other businesses content—and lure new ones.
"We want to make Janesville a pretty attractive place," he tells the students, citing the opening of a Dollar General warehouse last year and new, high-paying jobs coming with a medical isotope company called SHINE. "It's going to be so cool. We're going to have so many jobs in this town."
First published Oct. 28, 2018 by The Hechinger Report.
About The Author

Caroline Preston
Caroline Preston is a senior editor at The Hechinger Report. She previously worked as a features editor with Al Jazeera America's digital team and a senior reporter with The Chronicle of Philanthropy. Her freelance writing has appeared in The American Prospect's online edition, Fusion, Jezebel, The New York Times, The New Yorker Online, and other publications. She holds a bachelor's degree in history from Brown University and an master's degree from Columbia University's Graduate School of Journalism.