This Week in Quality Digest Live
Chad Kymal
Management
Supplier Development Over the Years
Thirty years of selected supplier-development case studies from Omnex
Published: Wednesday, October 3, 2018 - 11:03
Omnex began working in the automotive industry by assisting Ford powertrain suppliers in 1986. The U.S. automotive industry's Big Three used GM's Targets for Excellence, Ford's Q 101, and Chrysler's SQA standards to qualify its supply bases. The automotive industry was making deep reductions in its supply bases based on the results of these assessments and other factors. Though many on the Omnex team at that time came from General Motors, Ford's Q 101 was the standard that really received our attention. This is the standard that many automotive suppliers used to guide them on their path to improvement.
Omnex and Ford Q-101
The Q 101 standard introduced failure mode and effects analysis (FMEA), control plans, change management, SPC (e.g., CP, CPk), gage repeatability and reproducibility (GR&R), 8D problem solving, initial sample inspection reports (ISIRs), which were precursors to production part approval process (PPAP), and supplier assessments. It may be difficult to imagine today, but many of the tools that organizations are currently tussling with actually started in the 1980s in this standard inspired by W. Edwards Deming. During the mid- to late 1980s, we worked with and turned around the worst suppliers in the Ford powertrain supply base. Suppliers not only had to pass the Q 101 assessment, they also had to go six months with no customer rejects before they could be nominated for the Q1 Award. Omnex developed a strong reputation for working with Ford's worst suppliers and helping them get to the top of their commodity in a period of six to eight months.
How did we get the worst suppliers to improve to the point of having no rejects for six months? Is that possible? The key was a linked process methodology that Omnex developed at the time called Process Review. We implemented Process Review working with manufacturing teams organized by part families. The FMEAs, control plans, and work instructions were developed by the best operators, who then ensured they were followed. For Omnex, it was a manufacturing initiative led by manufacturing. This is when Omnex discovered the links between process flow, process failure mode and effects analysis (PFMEA), control plans, and work instructions that led to the development of AQuA Pro software. This is a methodology that Omnex still uses and is the one that helps us drive zero defects in the supply base.
Process review today:

Ford and the emerging market strategy
During the late 1990s, Ford implemented its emerging market strategy and made its foray into SE Asia, India, and Brazil. For this strategy, Omnex partnered with Ford and set up offices to support them in Thailand, India, and Brazil. When we went into these countries to support the Ford suppliers, it was no short order. Omnex had to help implement all of Ford's core tools, advanced product quality planning (APQP), PPAP, measurement system analysis (MSA), SPC, and FMEA, quality operating system (QOS), and QS-9000 (a precursor to IATF 16949) for a supply base that had little to no knowledge of these tools. Most of these suppliers we were working with were completely new. In Thailand, we faced many Japanese suppliers (Ford had a Mazda JV) that did not know these systems and tools. In India, the knowledge about core tools, QS-9000, and QOS was zero. In Brazil, we found the same results.
What did we do?
In each country, we began the improvement process with top management training. We developed executive overviews for QOS, QS-9000, APQP, and core tools. We had created a curriculum and implemented management systems that were integrated. In other words, none of the methodologies were taught as a standalones, but rather each integrated with the other.
In each of the countries, the initiative was kicked off by Ford inviting its suppliers' top management for executive-level training. This was their initial introduction to these tools that they had to implement. During this process, Omnex trained Ford, Ford supplier technical assistance engineers, and their suppliers.
This was not an easy task for Omnex. We were located in North America and had to train and certify our staff in each country in addition to supporting Ford and the Ford suppliers with training and implementations. Nearly 20 years later, we have seasoned veterans and a large staff in each of the overseas offices.
These suppliers made tremendous progress. The goal was third-party certification for all suppliers. The downside to this was that certification did not always lead to parts per million (PPM) reductions or delivery improvements as was expected. However, this did not come as a surprise. A focus on improvement, not just certification, was what was needed in the automotive industry as well as in these countries in order to see significant PPM reductions and delivery improvements. Achieving improvements is not an accidental process; it requires a strong focus from top management and then the workforce.
Semiconductor industry initiative
The next big challenge for Omnex came when companies within the semiconductor industry approached us seeking a partner to help train their supply base. In the semiconductor industry, the design and fabrication was either in the United States or Europe, and the supply base for assembly and testing was located in Southeast Asia. Suppliers in the late 1990s were primarily concentrated in Singapore, the Philippines, and Taiwan. The Semiconductor Assembly Council (SAC) had adopted the most stringent quality standards in the world at that time, even compared to automotive standards and one developed by the Automotive Electronics Council called the Semiconductor Supplement.
The SAC was unique in that suppliers that wanted to be certified to SAC standards had to have a sponsor that was a mentor; certification also included a second-party audit. Also unusual were the key performance indicators (KPIs) that were shared among SAC's customers.
Omnex began by provided training, implementations, and auditor certifications. In this improvement process, not only did we help the semiconductor suppliers, but it also gave us the opportunity to assist the "who's who" of Silicon Valley, which included during the 1990s AMD, Atmel, Philips Semiconductor, and Analog Devices, and today Nvidia, Lumileds, Micron, and Cree.
The SAC was very successful. Its certified suppliers were recording PPM levels less than 10. Ron Ramos, who worked for Phillips Semiconductor (now NXP), was on the board of SAC at the time and reported on the success of the SAC. It certified suppliers, on average, according to data performed:
• Productivity improvements 10 percent to 30 percent (equipment and people)
• Yield improvement: Subcontractor yields improved to 99.6 percent
• Performance-to-schedule improvement: consistently sustained 100 percent
• Number of customer complaints decreased by up to 15 times the reduction
Volvo Trucks: Building an Asian supply base
Volvo was building three new assembly plants in Asia, which included India, Thailand, and China. It was adding approximately 200 new suppliers that had never supplied to automotive or truck plants. In the beginning, Volvo first asked Omnex to conduct an assessment of the supply base. The assessment was very comprehensive and covered the following sections: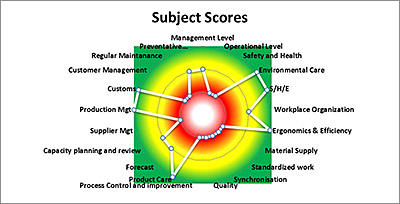 Action items were identified for each supplier. Omnex and Volvo divided the suppliers based on their assessment, and Omnex was given the worst suppliers to help them on their road to improvement. For these suppliers, Omnex used the following process of: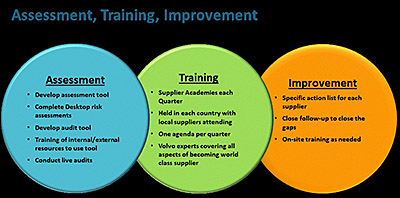 The launch of Volvo's Quester truck was one of the best truck launches in all of the automaker's history. A two-year, sustained, process and supplier development effort paid dividends in the success of this truck in Asia. The Volvo financial report had this to say: "It is also great to note that the European truck segment in Asia is growing, with a 41-percent volume increase for Volvo trucks, which holds a strong position in this segment."
Focusing on the bottom 20 percent
Another key strategy for supplier development that Omnex uses is to focus on the bottom 20 percent of the supply base based on KPIs. Omnex often works with customers to improve their supply base. We have a set process that we follow. It begins with an operational assessment and an improvement plan. This program has five phases, as follows:
• Initial selection
• Assess system
• Develop statement of work (SOW) and action plan
• Implement action plan
• Conduct verification activities
This process works as a partnership between Omnex and the customer to develop and improve the supplier. In some cases, it is important for the customer to allow Omnex to have some confidentiality with the supplier so they can be completely open with Omnex. Important steps in this process include the assessment, SOW and action plan, and implementation of the plan. The customer pays for the assessment, but the supplier pays for the improvement. This is a model that Omnex has used again and again with great success in multiple industries.
What's next?
Omnex is currently hard at work on developing a supplier management software solution with underlying artificial intelligence (AI) and machine learning. Studying the five areas below, we can clearly see the areas of supply chain management. Problem solving is linked with FMEAs in new product development. Supplier metrics are derived from audits, problems, and new-product development launch metrics. These same metrics provide risk factors to allow supplier management to determine what methodologies to use. Will it be the method Omnex used with Ford's emerging markets, Volvo, or a poor-supplier improvement process? There is significant demand and opportunity for supplier development and improvement in the years ahead, as there has been in the last 30 years, and it is our hope that with a continued improvement focus, we can extend our supplier improvement initiative into the next 30 years.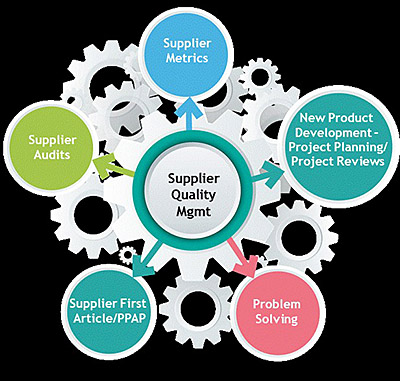 About The Author

Chad Kymal
Chad Kymal is the CTO and founder of Omnex Inc., an international consulting and training organization headquartered in the United States. He is also president of Omnex Systems, a software provider of ISO 9001, ISO 14001, and ISO 27001 management systems. He developed and teaches auditor training for ISO 9001, IATF 16949, ISO 14001, and ISO 45001, as well as an Integrated Management Systems Lead Auditor training course where all three standards are combined in a single audit.
Kymal is also on the ISO/TC 176, ISO/TC 207, and PC283 committees for ISO 9001:2015 (quality), ISO 14001:2015 (environmental), and ISO 45001 (health and safety) management system development.