This Week in Quality Digest Live
Chad Kymal
Management
Save Costs When Implementing Enterprise Quality Systems
A companywide quality system can reduce dozens of processes to 17 shared ones
Published: Wednesday, April 5, 2017 - 11:02
What is enterprise quality? Simply put, it is a system where there is one quality manual, and a core of common processes, work instructions, and forms and checklists for a multisite environment. Why is this a good idea? Because it saves money.
Figure 1 illustrates how enterprise quality takes many isolated management systems and transforms them into a common one.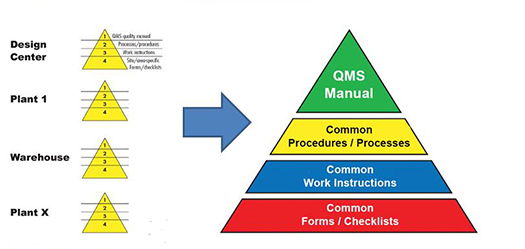 Due to the aggressive time frames for implementing standards, which in many industries is 12 to 18 months, organizations in a multisite environment are shying away from an integrated management system. Instead, they are using enterprise quality as a first step toward an integrated system. There are enough savings in a companywide implementation to justify the expenditure for enterprise quality management systems. In fact, these systems are not possible without a web-based or cloud based implementation.
Enterprise quality with enterprise quality software
Enterprise quality enables global processes for:
Savings in enterprise quality implementations
The savings from using enterprise quality management are obvious when we look at an organization with five sites, where each site has its own ad hoc processes as shown on the left side of figure 1. Let's say that each site has 17 processes with their own process owners—in other words, a total of 85 processes and 85 process owners. Implementing enterprise quality will reduce it to a total of 17 common processes with 17 process owners. This reduction will create tremendous savings in maintenance costs of the management systems for the organization. Savings would be realized from:
Systems implementations. Implementing ISO 9001:2015 or IATF 16949 or AS9100 will cost roughly $25,000 at a minimum for each site. This cost will reduce to half in each site with the implementation of a web-enabled enterprise quality process. This would result in a savings of $62,500 in implementation costs.
Systems maintenance. Let's say that maintenance costs of the system are approximately $15,000 per year at each site to run and manage the processes as well as audit the management system. This cost will also reduce, conservatively, to about 50 percent or $37,500 per year, or a net present value of 10 percent, a savings of $375,000 per year. As you can see, the significant savings from enterprise quality implementations is found with maintenance cost savings.
Audit costs for a multisite enterprise systems with six to 10 sites can range from 20 percent to 40 percent. Since the example we are discussing is a multisite system of five, there will be no savings in audit costs from an enterprise quality implementation.
For this example, the total savings of an enterprise quality implementation in a five-site organization is $437,500. These savings will easily help organizations invest in the software needed to ease the implementation process.
Additional savings can be realized in new product development, risk management, and design reuse, which have not been considered for this example. Additionally, savings from the smooth operation of the organization as it uses best-in-class processes are additional benefits .
To learn more about implementing an enterprise quality management system, Join Chad Kymal and Dirk Dusharme for the webinar, "Enterprise Quality Management: ISO 9001, AS9100, ISO 13485 or IATF 16949 Implementations Made Easy," scheduled for Tues., April 11, 2017, at 11 a.m. Pacific, 2 p.m. Eastern. Register here.
About The Author

Chad Kymal
Chad Kymal is the CTO and founder of Omnex Inc., an international consulting and training organization headquartered in the United States. He is also president of Omnex Systems, a software provider of ISO 9001, ISO 14001, and ISO 27001 management systems. He developed and teaches auditor training for ISO 9001, IATF 16949, ISO 14001, and ISO 45001, as well as an Integrated Management Systems Lead Auditor training course where all three standards are combined in a single audit.
Kymal is also on the ISO/TC 176, ISO/TC 207, and PC283 committees for ISO 9001:2015 (quality), ISO 14001:2015 (environmental), and ISO 45001 (health and safety) management system development.