This Week in Quality Digest Live
Mike Richman
Management
Book Review: Clarity First
How smart leaders and organizations achieve outstanding performance
Published: Monday, March 19, 2018 - 11:03
What is the primary element required by an organization—or an individual—when they begin to seek improved outcomes? It's not dedication, or desire, or knowledge, or even skill. Rather, it's critically important to begin by getting clear, perfectly clear, about what you're doing and why. Only then can a leader marshal the forces necessary to align the team's vision and achieve its goals.
Someone who understands this is consultant, speaker, and author Karen Martin, who won a Shingo Research and Professional Publication Award in 2013 for The Outstanding Organization (McGraw-Hill Education, 2012). Martin's new book, Clarity First (McGraw-Hill Education, 2018), is a superbly written work that argues for the power of clarity as the foundation of exceptional performance.
The opposite of clarity is ambiguity, and if there's anything that business (especially U.S. business) has available in spades, it's ambiguity. Any day, at thousands of organizations around the world, people are hired without well-defined roles, projects are launched without specific goals, and contracts are signed without the foggiest notion of how the precepts of those agreements will be fulfilled. Eventually, usually, the lines are sketched in somewhat and eventually, usually, the organizations in question bump and grind their way to enough revenue to stay afloat. But the costs of even these "successes" are staggering: burned-out employees and managers, peeved customers, disaffected shareholders. The common denominator is missed opportunities.
Now consider those moments when there isn't even the fig leaf of temporary success. Imagine that ambiguity leads to lost contracts or a mass exodus of customers. Ponder what happens when competitors who are more efficient, with higher degrees of clarity about why they're in business and how they deliver value, begin to grab frighteningly higher percentages of market share. What then?
At those moments, leaders may come to realize that ambiguity is their worst enemy, and that clarity might just be their best friend. However, why wait until you receive a terrible diagnosis to start taking healthier actions that can have positive long-term repercussions? In other words, why muddle along in ambiguous mediocrity, at best, when you could enjoy the greatness that might be achieved when you start with clarity?
These are the questions that Martin asks in this elegant and highly enjoyable book. Even better, she doesn't simply ask the questions—she provides insightful answers that have been vetted in her real-world experience working with companies such as Adventist Health, Epson, Lenovo, the Mayo Clinic, Prudential Insurance, and many others. Yes, even these world-class organizations struggle with clarity. In fact, the larger the organization, the more prone it will be toward chaos and ambiguity, which are force multipliers. Fortunately, clarity is a force multiplier as well; once an organization gets clear about what it is and what it's in business to do, executing the work itself gets much, much simpler.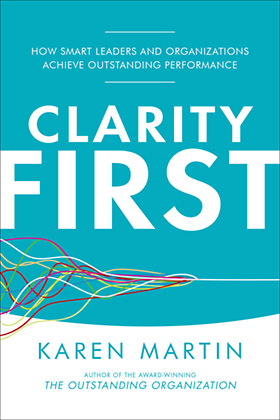 The core of Clarity First comes in the "Five Ps" that make up the majority of the chapter headings: "Purpose," "Priorities," "Process," "Performance," and "Problem Solving." The final two chapters, "You" and "Committing to Clarity," bring the lessons home and offer a road map for making clarity a daily practice. Mindfulness—i.e., focusing on the present moment, self-knowledge, and wisdom—is a big buzzword these days in terms of personal development and psychological health, but it also has major benefits for everyone in an organization, from those in the C-suite to entry-level workers and interns just starting out.
In fact, the psychology of change (avoiding or embracing it) is the subtext throughout this book. Ambiguity exists not because people enjoy it. Rather, it proliferates due to a desire to cling to the status quo, even if it's not working very well. Managers often will put up with suboptimized behaviors and processes because of the fear of change. However, when one embraces uncertainty and comes to accept that change is a necessary part of the human experience, whether personally or at work, that person can begin to achieve clarity around outcomes and goals. And once that clarity has been achieved internally, it can be given voice and shared with the wider community.
I very much enjoyed this book and found myself nodding (and occasionally cringing) in recognition. All of us, in organizations large and small, find ourselves sliding into ambiguity more or less often. Hopefully we can discover tools to help us remain mindful when we are slipping off track, so that we can ask ourselves and each other questions like, "Why are we doing this?" or, "Who are we intending to serve?" or, "What is our mission?" or, "How will this choice affect our core values?"
These are important things to consider, and they are not always easy to nail down. There are those in your organization right now who are crying out for clarity; perhaps they've grown discouraged or disinclined to keep asking because they've never been given real answers. Worse, it's possible that these people have gotten the message, overtly or subtly, that such questioning is not good for them or the organization. Maybe they are people you manage. Maybe one of them is you.
If any of this rings true for you, as it did for me, I encourage you to read Clarity First. It's a book that has the potential to change your outlook, and the outlook of your organization, for the better.
About The Author