This Week in Quality Digest Live
Chad Kymal
Management
Changes and Implementation Strategies for AS9100 Revision D
Start planning your transition to the revised standard now
Published: Wednesday, June 1, 2016 - 14:05
The aerospace standard AS9100 Revision D was originally planned to be released in April 2014. Many of us close to the standard expected it to be released in May 2016 after the April International Aerospace Quality Group (IAQG) meeting in Singapore. However, this was not the case; the IAQG decided to release the English version, along with all the required IAQG language, in October 2016.
The late release of the standard, coupled with the September 2018 transition deadline date remaining unchanged, increases the pressure on organizations planning on transitioning to AS9100 Rev. D.
Let's explore the challenges to organizations planning their transition by first understanding the changes that AS9100 Rev. D reflects; deciding on which of the other AS standards should be implemented along with AS9100 Rev. D; and looking at other decisions and strategies, such as using integrated management systems and related software. After that we'll present the transition deadlines and consider their implications.
AS9100 Rev. D changes
AS9100 Rev. D is built on a base of the recently revised quality management system standard ISO 9001:2015. The drivers of AS9100 Rev. D are the changes found in ISO 9001:2015, along with aerospace additions and other IAQG standards. When AS9100 Rev. D is compared to AS9100 Rev. C, it's evident that the number of additional "shalls" in AS9100 Rev. D is 66 vs. 53 "shalls" in AS9100 Rev. C. (See figure 1 below.)


Figure 1: Comparison of "shalls" in AS9100 Rev. C and Rev. D

There are nine subclauses in AS9100 Rev. D vs. 10 subclauses in AS 9100 Rev. C. There are two new subclauses in AS9100 Rev. D, which are 8.1.3—"Product safety" and 8.1.4—"Prevention of counterfeit parts." However, 30 percent of the additional "shalls" were in "Measurement, analysis and improvement" in AS9100 Rev. C, and only 3 percent were in "Performance evaluation" for AS9100 Rev. D.
Product safety, counterfeit parts, and human factors are the big differences between AS9100 Rev. D and Rev. C. The subclause 8.1.3—"Product safety" has not only been added, but also appears in five additional areas of the standard. 8.1.4—"Counterfeit parts" likewise has been added and shows up in three additional areas of the standard. "Human factors" has been added to 10.2—"Nonconformity and corrective actions." The other changes reflect movement of the clauses from the process model structure in AS9100 Rev. C to the plan-do-check-act (PDCA) structure of AS9100 Rev. D. (See figure 2.)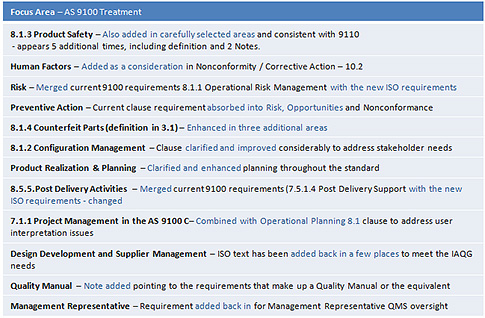 Figure 2: Changes to AS9100 Rev. C and D. Click here for larger image.
When AS9100 Rev. D is compared to AS9100 Rev. C, the changes in the additional aerospace requirements are not as significant as the changes in the base ISO 9001:2015 standard.
Changes in ISO 9001:2015
There are 18 changes in ISO 9001:2015 compared to ISO 9001:2008. Some of the significant changes include the High-Level Structure (HSL) change. Also, there is the addition of Context, Interested-party expectations, and risk-based thinking as three of the biggest changes in the standard. Omnex has provided a webinar on these changes through Quality Digest. For more on the ISO 9001 changes, see the "Planning for ISO 9001:2015 and ISO 14001:2015: What are your next steps?" webinar presented by Omnex.
Context, interested-party expectations, and objectives
"Context" is a term that has been hot in business circles during the last few years. Context, or "contextual intelligence," has been associated with setting company strategy. The argument has been that companies need to consider the context of the organization when they design their strategy, goals, and objectives. In a September 2014 article titled "Contextual Intelligence," Tarun Khanna of the Harvard Business School had this to say:
"Trying to apply management practices uniformly across geographies is a fool's errand, much as we'd like to think otherwise. To be sure, plenty of aspirations enjoy wide if not universal acceptance. Most entrepreneurs and managers agree, for example, that creating value and motivating talent are at the heart of what they do. But once you drill below the homilies, differences quickly emerge over what constitutes value and how to motivate people. That's because conditions differ enormously from place to place, in ways that aren't easy to codify—conditions not just of economic development but of institutional character, physical geography, educational norms, language, and culture....
"Context matters. This is not news to social scientists, or indeed to my colleagues who study leadership, but we have paid it insufficient attention in the field of management. There is nothing wrong with the analytic tools we have at our disposal, but their application requires careful thought. It requires contextual intelligence: the ability to understand the limits of our knowledge and to adapt that knowledge to an environment different from the one in which it was developed."
Context, then, has entered into our lexicon from a business perspective. An organization's context, both internal and external, will influence the policy, objectives, and processes of the quality management system (QMS). ISO 9001 says that an organization needs to identify the internal and external issues "relevant to the purpose and the strategic direction and that affect its ability to achieve the intended result(s)." In a note, ISO 9001:2015 suggests that both internal and external issues must be developed when determining the context of the organization. The external context needs to consider issues from legal, technological, competitive, market, cultural, social, and economic environments, whether international, national, regional, or local. Internal context needs to consider issues related to values, culture, knowledge, and performance.
The organization then identifies not only customer expectations, but also interested-party expectations. ISO 9001:2015 scopes interested parties and their requirements to those that are relevant to the QMS.
Once the issues related to the context as well as interested-party expectations and requirements are identified, what's next for the organization?
The organization uses the context and the strategic direction to formulate the quality policy and objectives (subclause 5.1.1 b). The organization also uses the context and the interested-party expectations to determine the risks and opportunities, and subsequently, the actions to address them (subclauses 6.1.1 and 6.1.2). Strategy is defined as planned activities to achieve an objective (subclause 3.35), and hence, strategic direction can be thought of as the mission and vision that define the quality policy and objectives. (See figure 3.)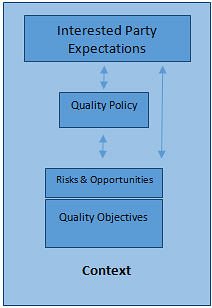 Figure 3: A quality management system with context
Risk-based thinking
Many aerospace organizations thought that subclause 7.1.2—"Product realization risk" in AS9100 Rev. C would suffice for meeting the requirements of ISO 9001:2015. However, ISO 9001:2015's risk-based thinking is more comprehensive; clause 6.1 is about planning risk or the risk and opportunities of not meeting "intended outcomes." For more information on risk-based thinking, see "Risk-Based Thinking and ISO 9001:2015."
Leadership
Another big change found in AS9100 Rev. D is the expectations and accountability of top management. Even though responsibilities can be delegated, accountability is with top management. Top management is responsible for AS9100 performance, ensuring that senior management perform their responsibilities and that AS9100 is functioning satisfactorily. In short, top management is in for a major surprise if they think that it's "business as usual." For more information on leadership's role, see "The Expanding Role of Leadership in Management System Standards."
In short, ISO 9001:2015 changes affect AS9100 Rev. D significantly, and implementers must understand these requirements as they plan their implementations.
Other AS9100 standards
AS 9100 Rev. D identifies 16 additional standards that can be integrated into AS9100 as various clauses are being implemented. One key standard to consider is AS9115 for companies that do software development, and the software is in the end product. AS9101 is another important aerospace standard relating to audits. (Omnex's AS9100 internal and lead auditor classes include this with ISO 19011 auditing standards.) AS9102, concerning first-article inspection, and AS 9103 on variation management are both key aerospace standards to consider as well. Another standard that Omnex thinks is critical for organizations in the aerospace industry is AS9145 for aerospace APQP and PPAP. Organizations need to adopt this standard for two major reasons: it's required by most aerospace OEMs, including Bombardier, Air Bus, Embraer, Rolls Royce, UTC, Parker, and others; and it helps reduce on-time and quality risks in a product launch.
Other decisions and strategies
There are many important decisions organizations need to make when they conduct implementations. The first important decision is integration. As noted in Integrated Management Systems by myself and coauthors Gregory Gruska and R. Dan Reid (ASQ Press, 2015), integration reduces implementation costs by 50 percent and maintenance costs by 66 percent. However, saving money isn't the only reason for integration; it's really because clause 5.0—"Leadership" in AS9100 as well as ISO 14001 require top management to integrate the requirements in the respective standards into the business processes of the company.
The second important and strategic decision is to determine the extent of the process approach, i.e., is it an enterprise approach? Enterprise processes link corporate, design, sales, manufacturing, and warehouses.
The third important strategic decision is to bring in prevention tools like APQP and FMEA into the product launch.
The last strategic decision organizations need to make when conducting AS9100 Rev. D implementation is whether to use enterprise quality or enterprise integrated management systems software.
Transition timelines
There are four key dates for AS9100-registered companies. The first is when the official AS 9100:2016 standard will be released in October 2016. The second key date is June 2017, which is the deadline past which no new AS9100 Rev. C companies will be accepted, and also the deadline for when registrars will stop using AS9100 Rev. C in surveillance audits. The third key date is September 2017, when all AS9100 companies must provide their transition dates and plans to their registrars. The final key date for AS9100 Rev. D is September 2018, when organizations are required to be registered to AS9100 or else lose their AS9100 certification. (See key dates in figure 4 below.)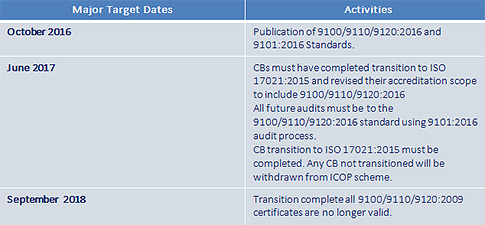 Figure 4: Major target dates for AS9100 Rev. D. Click here for larger image.
Companies can start their transitions now. Omnex is rolling out its internal and lead auditor training courses for AS9100 Rev. D in June 2016. Organizations will need to conduct a gap assessment and formulate their implementation plans, train their implementer, auditors, and top management. Other important people who will need to be trained are top managers since AS9100 and ISO 14001 hold them accountable for their companies' QMS and EMS and its performance.
For more information on this topic, join me and Quality Digest editor in chief Dirk Dusharme for our webinar, "Changes and Implementation Strategies for AS9100 Rev. D," on Tues. June 7, 2016, at 11 a.m. Eastern/2 p.m. Pacific. Click here to register.
About The Author

Chad Kymal
Chad Kymal is the CTO and founder of Omnex Inc., an international consulting and training organization headquartered in the United States. He is also president of Omnex Systems, a software provider of ISO 9001, ISO 14001, and ISO 27001 management systems. He developed and teaches auditor training for ISO 9001, IATF 16949, ISO 14001, and ISO 45001, as well as an Integrated Management Systems Lead Auditor training course where all three standards are combined in a single audit.
Kymal is also on the ISO/TC 176, ISO/TC 207, and PC283 committees for ISO 9001:2015 (quality), ISO 14001:2015 (environmental), and ISO 45001 (health and safety) management system development.