This Week in Quality Digest Live
Jeffrey Eves
Management
Benefits of Environmental Certification
'Zero Waste to Landfill' helps organizations gain market share
Published: Tuesday, May 10, 2016 - 13:30
There are many paths for organizations to become good, sustainable, low-footprint citizens of the business world. Production processes can be redesigned to be more efficient, corporate campuses can be located so as to reduce employees' dependence on fossil fuels, and buildings can be built with energy efficiency in mind—and consumers are paying attention.
According to findings from the 2015 Cone Communications/Ebiquity Global CSR Study, nine out of 10 consumers expect companies to operate responsibly, addressing social and environmental issues. Global consumers also revealed that they act on those expectations when making purchases. Eighty-four percent of consumers globally say they seek out responsible products whenever possible, though 81 percent cite availability of these products as the largest barrier to not purchasing more.
Today more than ever, organizations recognize the need to establish outstanding environmental performance habits. Whether this is to "do the right thing" as good stewards of the planet, or to meet the increasing demands of customers and the public at large, there's a growing sense that companies not only want to achieve sustainable environmental practices, but also demonstrate them. Third-party verification lends credibility to green claims, providing assurance to organizations, their customers, and other interested parties.
One of the primary methods of reducing negative environmental effects is through the proactive management of byproducts and wastes, known as "zero waste to landfill." Eliminating or minimizing the amount of waste being dumped into landfills serves a dual purpose by protecting the goals of the organization as well as the broader needs and interests of the communities where those companies operate. As a side benefit, companies that control waste get a significant marketing advantage because customers today are more environmentally conscious than ever before, and they prefer to buy from those whose values align with their own.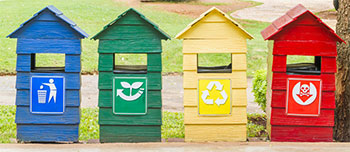 Zero Waste to Landfill certification program
The zero waste philosophy must be effectively implemented and verified to ensure that organizations are getting the maximum benefit out of their sustainability efforts. Intertek's Zero Waste to Landfill certification program provides assurance that systems and processes are put in place and maintained to create business value from environmental consciousness. Although it's nearly impossible for any organization to generate absolutely no waste, Intertek's approach verifies performance within the following categories:
• Zero Waste to Landfill: at least 99-percent diversion rate
• Near Zero Waste to Landfill: between 95-percent and 99-percent diversion rates
• Advanced Waste Diversion: between 85-percent and 95-percent diversion rates
The certification process begins with on- and off-site audits of the interested organization's processes and procedures as they apply to waste management activities. Once the certification is successfully initiated, annual audits are conducted to verify that the organization's ongoing performance matches the appropriate category in terms of level of diversion from landfills. The Zero Waste to Landfill certification is valid for a three-year term.
The verification criteria are as follows:
• The landfill diversion data must be materially correct and verifiable, and must also clearly demonstrate the specific level of claimed waste diversion.
• Vendors must provide assurance that byproducts and wastes are not being put into landfills.
• The certified organization must develop and implement a policy establishing a firm commitment to the waste-diversion claim (e.g., a zero waste policy)
• The organization must effectively implement documented waste management processes and procedures.
• Training programs must be implemented as appropriate to ensure the competency of persons whose work may affect the performance toward the zero waste goal.
• A waste management information system must be developed to demonstrate the quantification of wastes, tracking systems, appropriate manifesting, shipping records, and other waste handling and disposal information.
• A management system must be established and maintained to ensure proper operational controls, monitoring, and corrective actions to ensure the waste management processes are effectively implemented. These processes should reside within business management system frameworks such as those found in ISO 14001 or ISO 9001. If the organization is already registered to either or both of these management systems, the Zero Waste to Landfill assessment can be made as part of the normal auditing functions for these standards. Particularly in the case of ISO 14001certification, auditing time (and consequently costs) can thereby be reduced.
• Compliance with applicable regulatory requirements related to byproducts and waste materials is required. Where noncompliance is observed, acceptable corrective actions must be implemented.
• The scope of byproducts and wastes includes:
All process byproducts and waste within the defined scope of activities
Construction/demolition/renovation waste is excluded
Recycled and reused wastes count toward diversion
Incinerated waste is not counted toward waste diversion
Incineration resulting in energy production, such as that found in waste-to-energy (WTE) plants, may be counted, but this will be noted on the verification statement.
Ash from WTE plants is excluded.
Verification process
Intertek's verification process for the Zero Waste to Landfill certification generally includes the following seven steps:
1. An agreement outlining the scope and cost of the Zero Waste to Landfill verification is prepared.
2. The organization provides requested waste-generation and landfill diversion data to Intertek for preliminary review and audit planning.
3. An onsite audit is scheduled. Intertek's audits will include collection of objective evidence (e.g., records reviews, observations, and interviews) to verify effective waste management and the diversion rate. Intertek will review records from waste recyclers and other vendors, as well as landfills.
4. At the end of the onsite audit, Intertek will issue findings and recommendations related to the verification criteria. Opportunities to improve waste management practice will be provided, as observed.
5. Once all findings are closed through acceptance of corrective actions, the Intertek audit team will recommend the appropriate verification statement.
6. An independent Intertek team will conduct a technical review and issue the Zero Waste to Landfill certification for the initial three-year period.
7. Annual surveillance audits will be conducted as per the verification agreement.
The journey is the destination
As with all well-executed, properly audited, and thoroughly-validated certification programs, the real benefit of the Zero Waste to Landfill program comes not from the certification on the wall, but from the positive behaviors that the process reinforces and validates. Organizations that have successfully completed the Zero Waste to Landfill journey find that it results not only in efficiency in manufacturing processes, but also savings in physical and financial resources through energy conservation and reuse of raw materials. Even more, the spirit of sustainability, the attitude of efficiency, and the culture of continuous improvement, experienced by internal and external stakeholders alike, has a powerful effect on the long-term success of these organizations.
About The Author

Jeffrey Eves
Jeffrey Eves is the green services program manager in North America for Intertek's business assurance group. He is responsible for sustainability auditing and verification services for ISO 14001 Environmental Management Systems, ISO 50001 Energy Management Systems, and Occupational Health and Safety (OHSAS) 18001 certification programs, sustainability assessment services, greenhouse gas verification services, and various environmental and safety-related, second–party, and supplier/vendor auditing services. Eves also manages Intertek's green services global center of excellence while supporting business development, auditor recruitment, qualification, and development activities. He is a lead auditor for ISO 50001, ISO 14001, and OHSAS 18001.