This Week in Quality Digest Live
American Quality Institute AQI
Lean
Buzz Aldrin Is Keynote Speaker at Lean & Six Sigma World Conference
March 29–30, 2017, in Nashville, TN
Published: Tuesday, March 14, 2017 - 12:00
(American Quality Institute: San Jose, CA) -- Former astronaut and moonwalker Buzz Aldrin will be the keynote speaker at this year's Lean & Six Sigma World Conference in Nashville, TN, on March 29–30, 2017, at the Gaylord Opryland Hotel.
Buzz Aldrin was one of the first two humans to walk on the moon on July 21, 1969. He is a former U.S. Air Force officer with the Command Pilot rating. He also went into orbit on the Gemini 12 mission, finally achieving the goals for EVA (space-walk work) that paved the way to the moon and success for the Gemini program.
There have been few efforts in the history of humans that have tested our willpower, bravery, and technological capability as thoroughly as our landing on the moon. In his doctoral thesis at MIT, Aldrin's dedication read, "In the hopes that this work may in some way contribute to their exploration of space, this is dedicated to the crew members of this country's present and future manned, space programs. If only I could join them in their exciting endeavors!" His perseverance paid off.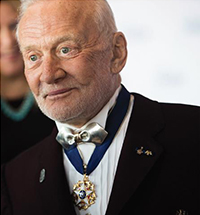 Buzz Aldrin
Today, at the age of 87, Aldrin remains a vocal proponent of a manned mission to Mars, and views his mission to the moon "not as a destination but more a point of departure, one that places humankind on a trajectory to homestead Mars and become a two-planet species."
Should you have any question, feel free to contact us at (412) 782–3383.
About The Author

American Quality Institute AQI
American Quality Institute (AQI) is the leading organizer of the Lean & Six Sigma World Conference and the ISO 9000 World Conference. ISO 9000 World Conference is focused primarily on ISO 9000 and ISO 14000 families of standards being used in automotive, aerospace, biomedical, chemical, computer hardware and software, construction, education, electronics, engineering, environmental, energy, healthcare, medical devices, and metals industries. The Lean and Six Sigma World Conference covers lean and Six Sigma leadership, A3 thinking, Hoshin planning, visual management, DFSS, theory of constraints, fun with statistics, and the integration of lean Six Sigma, and project management and agile. Visit http://aqi.org.