Featured Video
This Week in Quality Digest Live
Quality Digest
Lean
2017 Shingijutsu Super Kaizen Workshop
Learn the genba kaizen method by which all other kaizen is compared
Published: Tuesday, February 7, 2017 - 18:20
(Quality Digest: Chico, CA) -- Here is your chance to listen to and learn from someone who helped develop, improve, and expand Toyota's production system!
This is a rare opportunity to learn genba kaizen from Chihiro Nakao at the 2017 Shingijutsu Super Kaizen, held May 1–5, 2017, on site at Connecticut-based Whitcraft LLC, a highly successful practitioner of Shingijutsu Kaizen. This five-day workshop is dedicated to introduce first-time attendees to the Shingijutsu Kaizen method, and to further refine the training—a learn-do approach to understanding kaizen—given in seminars during April 2016.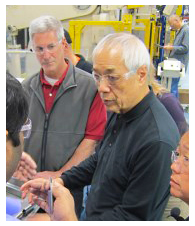 Chihiro Nakao leading genba kaizen at Whitcraft LLC in Connecticut. Photo by Bob Emiliani.
Whether you are the president of the company, HR manager, supervisor, or engineer, you will learn the genba kaizen method by which all other kaizen is compared. Nakao-san has more than 50 years of genba kaizen experience and was a part of the original autonomous study groups initiated by Taiichi Ohno. He also served as Ohno-san's assistant. Nakao-san is an amazing teacher and an inspiring leader who has spent the last 30 years facilitating genba kaizen worldwide.
Attendees arrive on Sunday afternoon, April 30, 2017, for a kick-off meeting with cocktails and refreshments at the Hilton Garden Hotel in Glastonbury, Connecticut. Attendees should plan to fly into Hartford's Bradley Airport. The $4,000 per person registration fee includes, accommodation for five nights with breakfast and lunch, text books and teaching materials, transportation to and from Whitcraft, and a gala dinner.
To enhance the individual learning experience attendance is limited to 40; registering early is recommended. To register fill out the application form online and email it to Shingijutsu USA's Seattle office at office@shingijutsu.co.jp. Registration deadline is March 30, 2017.
About The Author

Quality Digest
For 35 years Quality Digest has been the go-to source for all things quality. Our newsletter, Quality Digest, shares expert commentary and relevant industry resources to assist our readers in their quest for continuous improvement. Our website includes every column and article from the newsletter since May 2009 as well as back issues of Quality Digest magazine to August 1995. We are committed to promoting a view wherein quality is not a niche, but an integral part of every phase of manufacturing and services.