This Week in Quality Digest Live
Georgia Institute of Technology
Innovation
Winners Selected for the 2017 InVenture Prize
Brilliant inventions from the 'American Idol for Nerds'
Published: Tuesday, March 21, 2017 - 11:00
The teams competing for the 2017 InVenture Prize @ Georgia Tech have invented devices that aim to make our lives safer or more efficient.
The annual competition brings together student innovators from all academic backgrounds to foster creativity, invention and entrepreneurship.
More than 500 students applied for the contest, with six finalists selected in February, and the winners selected on March 15, 2017.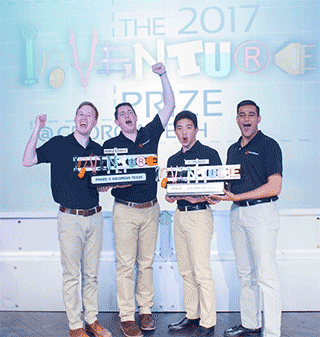 2017 Inventure Prize winners, CauteryGuard, redesigned an electrocautery device by adding a retractable tip.
2017 Inventure Prize @ Georgia Tech winners: 1st place
A safer medical device used to remove unwanted tissue and to stop bleeding won Georgia Tech's InVenture Prize Wednesday night.
The four biomedical engineering students behind CauteryGuard redesigned an electrocautery device by adding a retractable tip. This change prevents the risk of burns many doctors and patients face from the device's exposed tip. It also eliminates the chance of fires in operating rooms because an exposed tip could come into contact with flammable materials.
The team won $20,000 plus a free patent filing and a spot in Flashpoint, a Georgia Tech accelerator. They also won the $5,000 People's Choice Award, which went to the fans' favorite invention. Voting was held online and by text messaging during the finale.
Inventors: Four biomedical engineering majors – Jack Corelli from Philadelphia; Hunter Hatcher from Marietta, Georgia; Devin Li from Corning, New York; and Dev Mandavia, from Duluth, Georgia.
2nd place
The two-member team of InternBlitz earned second place, which comes with $10,000, a free patent filing and a spot in Flashpoint.
InternBlitz takes the digital college application system of the Common App and applies it to internships. With more than 600 internships to choose from, students can apply for 15 different internships in just five minutes.
Inventors: Murtaza Bambot, an industrial engineering major from Duluth, Georgia; and Nathan Dass, a computer science major from Woodbridge, Virginia.
The other four finalists
Capable Cane is a walking cane that unfolds into a portable, full-sized comfortable seat. The design offers the stability of four legs and provides an armrest and a backrest, making it safer than what is currently available. Inventor: Jeffrey McMichael, a mechanical engineering major from Atlanta.
CPR+ is a CPR mask that allows an untrained bystander to perform CPR by collecting vitals and dynamically walking the user through each step of the process. Inventors: Samuel Clarke, a mechanical engineering and computer science major from Indianapolis; David Ehrlich, a computer engineering major from Portland, Oregon; and Ryan Williams, a computer engineering major from Las Vegas.
Gaitway are transportable, collapsible parallel bars for physical therapists to use when working with children. Unlike other designs, Gaitway can be used by children as young as 15 months and as old as 10 and can support up to 150 pounds. Inventors: Two industrial design majors – Nora Johnson from Tampa; and Veronica Young from McDonough, Georgia.
PickAR is like Google Maps for warehouses. The team invented a headset, which uses augmented reality technology to overlay picking information and directions to packages so warehouses can find and process orders more efficiently. Inventors are computer science majors: Cheng Hann Gan from Wheaton, Illinois; Sarthak Srinivas from Bangalore, India; and Wenqi Xian from Beijing.
ACC InVenture Prize is still to come
On March 30–31, 2017, 15 student teams of the Atlantic Coast Conference (ACC) will travel to Georgia Tech and pitch their inventions to a panel of expert judges. Teams will compete for $30,000 in prizes and a chance to be the next ACC InVenture Prize winner. The 15 university teams will pitch during the preliminary round on March 30, after which five teams will be chosen to advance to the final round on March 31, which will be broadcast live at 8 p.m. Eastern on the Georgia Public Broadcasting channel: http://www.gpb.org/acc-inventure-2017.
CauteryGuard will represent Georgia Tech in the ACC InVenture Prize competition.
About The Author

Georgia Institute of Technology
The Georgia Institute of Technology is one of the nation's top research universities, distinguished by its commitment to improving the human condition through advanced science and technology. Georgia Tech's campus occupies 400 acres in the heart of the city of Atlanta, where 20,000 undergraduate and graduate students receive a focused, technologically-based education.