This Week in Quality Digest Live
Marposs
Innovation
Experience Augmented Reality Gauging With Marposs at IMTS 2018
Other exhibits will feature machine tools to demonstrate tool setting, probing, machine monitoring, and robotic gauging
Published: Wednesday, June 27, 2018 - 12:00
(Marposs: Auburn Hills, MI) -- At IMTS 2018, Sept. 10–15, 2018, in Chicago, in the McCormick Center's East Building, booth E-5516, Marposs will be demonstrating guided sequence gauging using augmented reality (AR). Visitors to this area of the booth will be provided with AR glasses that guide them through a sequence of steps and measurements to check features on a cylinder head component using the Marposs iWave2 handheld wireless gauge and a go/no go gauge. As visitors progress through the sequence, the perception will be that the measurement information is adhering to the workpiece.
This AR experience is just one of many demonstrations occurring in the Marposs booth, where visitors can take a tour that illustrates how Marposs measurement and inspection solutions can be applied to improve manufacturing processes from before, during, and after the machining operation. Other stations will feature machine tools to demonstrate tool setting, probing, machine monitoring, and robotic gauging. Additionally, there will be stations on dynamic grinding, including the company's BLU single-cable control system, bench gauging, automated machine inspection, and leak testing. Nearly 50 Marposs products will be displayed or demonstrated at the show.
For more information, call toll-free 1 (888) 627–7677, email marposs@us.marposs.com or visit www.marposs.com to see the complete product offering.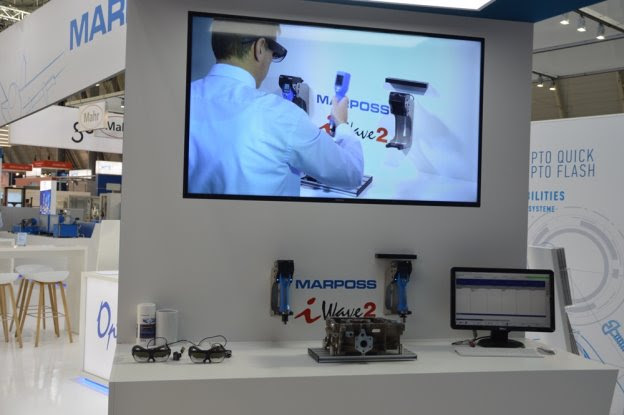 At IMTS 2018, Marposs will have an augmented reality gauging experience as well as many other hands-on demonstration stations. IMTS runs Sept. 10–15, 2018, and is being held in Chicago.
About The Author

Marposs
Marposs supplies precision gauging equipment to industries worldwide for measuring to the thousandth of a millimeter in the workshop environment, production lines, and on board machine tools. Main customers are machine tool manufacturers, automotive and their subcontractors, aerospace, bearings, glass, electrical motors, appliances, consumer durables industries, and gauge and fixture makers. Marposs supplies individual gauging components, turnkey machines, or fully automated lines. Headquartered in Bentivoglio, Italy, Marposs' U.S. office is in Auburn Hills, Michigan.