Featured Video
This Week in Quality Digest Live
BEA Lasers
Innovation
BEA Lasers Introduces Rugged MIL Series Laser Modules With Integrated Power Supply
Industry's first-right angle rugged laser system
Published: Monday, January 30, 2017 - 12:45
(BEA Lasers: Elk Grove Village, IL) -- The MIL Series laser modules includes the MIL RA Model that features a right angle, and the MIL Compact Model that features a straight housing. Both laser modules are ideally suited for applications with limited space and tight positioning requirements.
Both new MIL Series models utilize a low profile 3/8-in. rugged laser housing, fitted with a M12 connector, 2-meter long PVC jacketed cable, and integrated power supply. The optional sensor-style bracket, or multi-adjustable "LB" bracket, completes the laser system. The new MIL Series laser diode modules are offered with standard 515 nm (green) or standard 635 nm (red), with 1 mW or 5 mW. Other outputs are available on request.
The industry's first-right angle rugged laser system, the MIL RA is a laser diode module with a 3/8-in. brass, nickel-plated laser housing that only occupies 1.5 in. of valuable space.
The MIL Compact is a low profile laser diode module that occupies 1.5 in. of space, a much smaller profile then other lasers intended for industrial applications.
The MIL RA and MIL Compact Series Laser modules are typically used for alignment and leveling applications. They are ideal for counting, machine vision, edge detection, paper web, riveting, and water-jet cutting alignment, to name just a few.
The MIL RA and MIL Compact Laser Series are offered in direct diode 635 nm (red), or 515 nm (green) lasers. The direct diode 515 nm (green) and 635 nm (red) design provides a compact, durable laser that will perform reliably under the most adverse industrial conditions. Compared with traditional 532 nm green laser diode modules, the 515 nm features low power consumption, along with a wider operating temperature/tolerance and greater stability.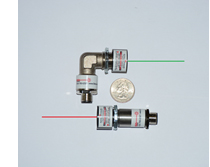 Custom variations can be provided by BEA Lasers to these new laser modules. Customization includes laser pattern options (i.e., lines, crosses, dot patterns), flash options, other outputs, and more.
The MIL Series laser modules are available now from inventory held at the BEA Lasers facility in Elk Grove Village, IL. This central location allows BEA Lasers to ship from stock within 24 hours, with custom options taking 4 additional weeks.
About The Author

BEA Lasers
Since 1980, BEA Lasers has provided innovative laser module solutions to industry and research, leveraging the staff's expert knowledge of photonics and electro-optic components. BEA Lasers offers a full line of standard ruggedized laser diode modules with green and red lasers for varying applications and customer requirements. These applications are typically for alignment and leveling functions in customer operations or production. BEA Lasers also provides customization of laser modules. Many BEA Laser products conform to and surpass CE Marking standards and FDA regulations.