Featured Video
This Week in Quality Digest Live
Mike Richman
Innovation
Book Review: Juran's Quality Handbook, Seventh Edition
The latest edition of a foundational text
Published: Thursday, December 1, 2016 - 01:00
In the quality profession today, the term "guru" tends to be thrown around with reckless abandon, more often than not self-referentially by the "guru" him- or herself. Don't get me wrong; there are many outstanding people now working in our field, with interesting and perhaps even revolutionary ideas about how to improve processes, reduce waste, and add weight to the bottom line. Several of them, I humbly submit, regularly contribute to Quality Digest.
A guru, however, is a person apart. He or she is the kind of individual who not only puts forth ideas, but leads a movement that establishes lasting change for the good. The names are familiar to us all: W. Edwards Deming. Shigeo Shingo. Arnold Feigenbaum. And, of course, Joseph M. Juran.
Anyone not familiar with Juran in particular would be well-served to seek out the seventh edition of Juran's Quality Handbook: The Complete Guide to Performance Excellence (McGraw-Hill Education, 2016). In reading this updated version of Juran's original masterwork, which dates back to 1951, one gets the sense of the logic approach and discipline of mind that made the man one of the giants in the field, in his time and ours.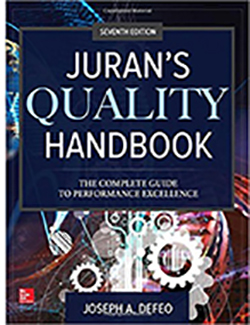 This edition, ably edited and completely updated by current Juran Global CEO Joseph M. DeFeo, empowers readers to apply the right methods for delivering superior results and achieving excellence in any organization or industry. In Chapter One, "Universal Principles of Quality Management," Juran's original, powerful foundational theories are presented, particularly the Juran Trilogy of quality planning, quality control, and quality improvement. The wisdom and simplicity of this approach is as valid now as it was 65 years ago when the first edition of this handbook appeared, and DeFeo and his team of contributors are wise enough to let the unvarnished guru speak to us from across the decades.
Later in the book, readers are presented with updated chapters focusing on topics such as lean and Six Sigma, as well as brand-new material on risk management, building a flexible quality management system, and some insightful perspectives on the history and meaning of the quality function itself. In addition, this edition offers brand-new statistical tables, charts, and data; presents relevant examples and case studies demonstrating how others have applied these methods and tools; and shows readers how ISO standards and other regulatory systems can connect with day-to-day quality improvement efforts.
Clocking in at more than 900 pages, the seventh edition of Juran's Quality Handbook offers a depth of focus that few other books in the field of performance excellence can hope to match. Whether you're new to quality or an industry veteran, in this book you are sure to find practical insights that are immediately applicable to most quality improvement challenges.
As with most things, when present knowledge and its resulting insights can come together with the time-honored wisdom and proven performance of the past, the result is a guide pointing toward future success. DeFeo and the Juran Global team have done just that in revisiting the work of their founder, and this book is a worthy addition to any quality professional's library. Read it, apply these lessons, and you'll be well on your way to transforming the culture of quality within your organization.
About The Author

Mike Richman
Mike Richman is Quality Digest's publisher.