This Week in Quality Digest Live
Patrick Nugent
Innovation
How to Make Your Metrology Smarter
And put more control directly into the production line
Published: Wednesday, October 4, 2017 - 11:01
A simple fact in manufacturing is that everyone has to measure. However, measurement is not simply about inspection; manufacturers need the right tools to increase quality, maximize productivity, and ultimately, make measurement a value-added process.
One of the most critical aspects that a measurement tool can provide is valuable data that result in actionable intelligence. However, quality industry professionals continuously face challenges when it comes to turning manufacturing information into actionable data. Quality managers need to ensure that all of the necessary data are being collected, and that they are the right data. More important, they need to ensure that data are accurate, always. Data should also be as simple and painless as possible to evaluate in order to determine that all of the necessary requirements have been met.
Thankfully, there are new systems designed to create more intelligent quality control operations in the production line. These include new approaches that focus on increased automation—and as a result, added quality—as well as incorporating advanced technologies such as integrated wireless technologies to collect data faster and more reliably.
These types of technologies can be utilized as part of an integrated effort to "make metrology smarter." Smart metrology provides the benefits of enhanced ease of use and increased accuracy, and is an excellent methodology for delivering measurement data to whatever reporting systems are currently in use—from simpler tools such as Microsoft Excel to more advanced CAQ/SPC software packages including Q-DAS qs-STAT, InfinityQS, QC-CALC, Minitab, and many more.
Automation
As an example of smart metrology in action, we will look at a measuring station that is designed to provide a fully automatic measuring sequence without operator intervention. Although the specific example details roughness measurement on a cylinder head and cylinder block, the use case can be adapted for any situation where there are numerous features that must be measured with precision, and where maximum flexibility is also required.
The measuring station enables the operator to move the machine around the part, or to move the part around the machine—providing simplified access to all of those features needed to obtain the complete range of surface finish data required—quickly, reliably, and accurately.
For roughness measurement on cylinder heads, the machine features an automatic swivel unit for heavy workpieces; an automatically rotatable drive unit; and roughness measurement on a valve seat. All typical roughness characteristics can be measured in one clamping with seven CNC-controlled axes. Measurement on the underside is also possible. For ease of use and measurement reliability, the machine is designed for loading by machine operators from production in the course of a measurement that accompanies production.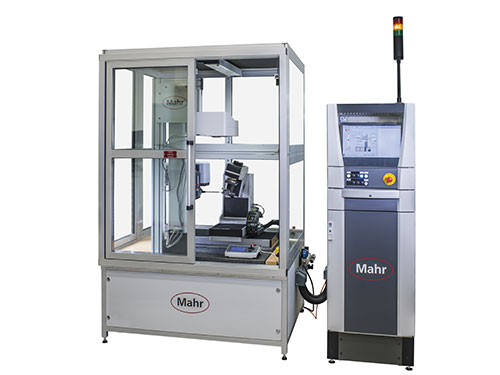 Automatic clamping of the workpieces increases the operating safety and minimizes operator intervention time during the setup process of the machine. The fully automated measuring sequence positions the workpiece as well as the drive unit in the various positions necessary to access difficult-to-reach measuring points safely and reproducibly.
No manual setup of the workpiece fixtures is required, which minimizes operator influence and improves operating comfort. This results in reliable processes and no operation influence since the measurement takes place automatically.
Typical measuring tasks performed for this type of measuring station include:
• Roughness on valve seat at different angles
• Roughness in the valve guide (realized up to Ø 5 mm)
• Cylinder head sealing surface (combustion chamber and cam hood side)
• Camshaft bearing tunnel (partly with bolted bearing shells)
• Connection surfaces in various angular positions
Typical applications
• Measurement of roughness on cylinder head (focus on three-cylinder and four-cylinder); variant for cylinder block also available
With this type of tool, an operator can simply put a piece in and push a button, and the machine performs more than 70 measurements in 40 minutes. The data are recorded automatically and error-free. Furthermore, in a typical CNC application, if a probe breaks, a new one is inserted and there could be a fraction of a difference, so the points must be retaught. With a smart metrology platform like this one, it automatically knows the difference, compensates, and readjusts—and is automatically recalibrated.
Wireless integration
There is also a new class of handheld tools (such as micrometers, calipers, and indicators) that have integrated wireless transmitters that make the measurement recording processes much faster and more efficient.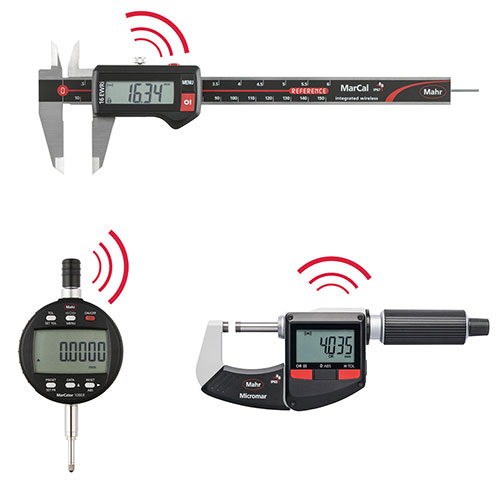 Traditionally, data are collected via a conventional measuring station with a cable connection, or it's plugged into a transmitter. Now, with new integrated wireless technology, data acquisition is much simpler. It's now possible to transmit measurement data directly from the instrument, wirelessly, into simple reporting tools or more advanced CAQ/SPC software packages, without being tangled with excessive cables.
Measurement devices with integrated wireless transmitters are designed for user-friendly, practical, and cost-effective use in the factory. Integrated wireless technology also provides the benefits of unconstrained movement. For example, when using a digital micrometer or other wireless products while measuring at the machine or on large parts, the user is not obstructed by cables. Handheld surface devices with touchscreen operation and integrated memory can be used to generate measurement reports as PDF documents right off of the device.
Smart metrology tools such as these ensure that data collection is easy, without a dedicated metrology specialist required for operation and collection. In this case, the person running the machine is also collecting the data. This also ensures that operators are collecting the right data and eliminating data bias.
Summary
With smart metrology tools, quality managers can ensure that measurement data are accurate, reliable, and actionable. By incorporating elements such as enhanced automation and integrated wireless technologies, quality industry professionals can ultimately put more control into their production operations, and ensure they are measuring exactly right, every time.
About The Author

Patrick Nugent
Patrick Nugent, the vice president of metrology systems for Mahr Federal Inc., is responsible for the metrology systems product line of the Mahr group throughout North America. Nugent works out of the U.S. headquarters in Providence, Rhode Island. He has been with the Mahr group since 1998 and held several different positions prior to the vice presidency at the corporate headquarters in Goettingen, Germany. In addition to his work at Mahr, Nugent is a member of a number of ASME B89 committees working on standards for form measurement and measurement of internal and external standards.