This Week in Quality Digest Live
Davis Balestracci
Health Care
Your 'Swiss Army Knife' of Control Charts
Why the Individuals chart is good enough for purposes of improvement
Published: Monday, February 26, 2018 - 13:03
The Individuals chart is the "Swiss Army knife" of control charts. It usually approximates the supposedly "correct" chart under most conditions, and its use is much easier to understand and explain. It can also save you a major side trip into the swamp of unnecessary calculation minutiae, especially avoiding square roots!
Based on real data
Suppose a quality analyst (QA) comes to you saying, "We're trying to reduce this particular infection, and I had some data: the number of infections and patient days for the past 30 individual months. My software led me down its decision tree and told me to do a u-chart, which you can see in figure 1: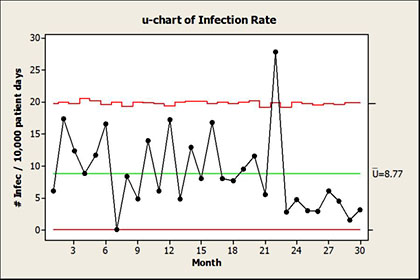 Figure 1: U-chart of infection rate
"It's obvious I need to investigate that special cause at month 22. And month seven got a zero! But since it's right on the limit, it would probably be advantageous to investigate it anyway, right?"
A good consultant would reply...
GC: I'm more interested in what might be a significant reduction right after what seems to be the special cause at month 22. Did you notice that the most recent eight months' performances are all below the average?
QA: But they're between the limits!
GC: Which is why you should always do a run chart first and be aware of the eight-in-a-row rule.
QA: But the Nelson rules for control charts say you should use nine-in-a-row.
GC: Sigh… I think investigating these past eight months, especially month 23, would be a higher-yield strategy than digging into the zero at month 7, which wasn't necessarily a special cause.
QA: Would the chart need to be recalculated to take this into account? Maybe month seven is a special cause!
GC: That's the least of your worries at the moment. The run below the median of the last eight data points is gold. What I would do is aggregate those 19 infections that occurred during those months and brainstorm various ways to categorize them, then see how these tallied patterns are different from the same categorizations of the 134 infections of months one to 21. [This is the basic idea of stratification.] Unfortunately, it's not much data at this point, but it's all you've got.
Right now, the most fruitful approach might be asking what happened during month 23.
It also wouldn't hurt to investigate what happened during month 22, but it was something outside of normal circumstances that doesn't seem to affect routine performance. Is it something worth preventing in the future?
In any case, you can then use these last eight data points as a baseline, should you make more interventions.
QA: But that's only eight data points. I was taught that you need 20 to 25 data points for a good baseline! Can I still use a u-chart?
GC: If it's all you've got, it's all you've got. Besides, you start to get reasonable limits with as few as seven to 10 points.
QA: No way! You didn't answer my question about the u-chart. You probably can't use an Individuals chart either because eight points can't tell you whether the data are normally distributed.
GC: That normal distribution nonsense is a myth. Let me show you. Figure 2 is your u-chart adjusted for the shift, and figure 3 is the Individuals chart for the last eight data points: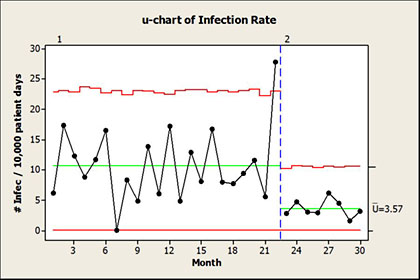 Figure 2: U-chart of infection rate adjusted for shift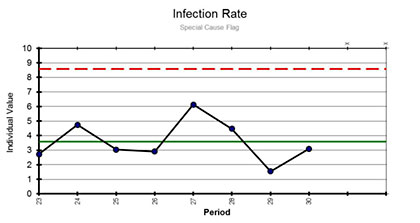 Figure 3: Individuals chart for the last eight data points
Note the similarity in limits. I'd say it's a good enough approximation to move ahead in your improvement effort, as I suggested, without fretting about and getting seriously sidetracked about "accuracy" issues. It also gets rid of the annoying distraction of the stair-step limits, which never fail to cause a predictable tangent from what should be the main issue of keeping your focus and everyone else's focus on the process needle.
By the way, also note that recalculation of the limits still shows that month seven's zero was common cause.
QA: That's still not a very long baseline. Do I need to recalculate my limits after every new data point? When can I stop?
GC: Sigh… let the data be your guide. It's not a bad idea to keep recalculating for now. The more important question of the moment is, "How will you know if your intervention is effective?"
Need more proof?
Figure 4 is another u-chart showing 30 months of stable behavior for a different facility where nothing has changed (and once again, zero is not necessarily a special cause to celebrate). Figure 5 is an Individuals chart approximation of the same data. Note the similarity of the limits. Those of the Individuals chart are a good enough approximation for purposes of improvement.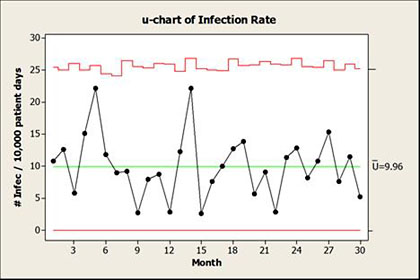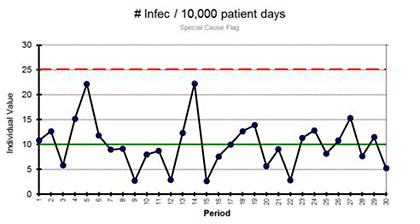 Figure 5: Individuals chart using the data from figure 4
Rather than waste precious meeting time over which chart is more correct, the time would be much better spent aggregating the 109 infections produced by this system during this stable 30 months of behavior and brainstorming ways to stratify them to do a Pareto analysis. That would also be far more productive than investigating the (nonexistent) "disturbing upward trend" during months 15 to 19 and the "high" performance (> 20!) of months five and 14.
The wisdom of Dr. Donald Wheeler:
"The purpose is not to have charts. The purpose is to use the charts.... You get no credit for computing the right number—only for taking the right action. Without the follow-through of taking the right action, the computation of the right number is meaningless." (From "When Do I Recalculate My Limits?" Quality Digest, May 1996.)
About The Author

Davis Balestracci
Davis Balestracci is a past chair of ASQ's statistics division. He has synthesized W. Edwards Deming's philosophy as Deming intended—as an approach to leadership—in the second edition of Data Sanity (Medical Group Management Association, 2015), with a foreword by Donald Berwick, M.D. Shipped free or as an ebook, Data Sanity offers a new way of thinking using a common organizational language based in process and understanding variation (data sanity), applied to everyday data and management. It also integrates Balestracci's 20 years of studying organizational psychology into an "improvement as built in" approach as opposed to most current "quality as bolt-on" programs. Balestracci would love to wake up your conferences with his dynamic style and entertaining insights into the places where process, statistics, organizational culture, and quality meet.