This Week in Quality Digest Live
Michael Causey
FDA Compliance
FDA Eases Up a Bit on Enforcement Gas Pedal
Fewer warning letters, but CAPAs continue to garner the most citations
Published: Thursday, November 19, 2015 - 13:52
Medical device warning letters and domestic inspections continue to show a slow decline, according to a new report issued by the U.S. Food and Drug Administration (FDA). The number of medical device-related warning letters dipped to 121 during calendar year (CY) 2014, compared to 144 during the prior reporting period.
For the fifth year in a row, U.S. inspections declined. They dropped to 1,619 in 2014, compared to 2011's 1,931, and 2013's 1,741. However, at least one thing remained constant: Production and process controls, and corrective and preventive actions (CAPA) continue to be the most frequently cited quality management system subsystems.
More than half of CAPA observations were related to 21 CFR 820.100(a) and 21 CFR 820.198(a), and a bit more than 10 percent cited 21 CFR 820.90(a).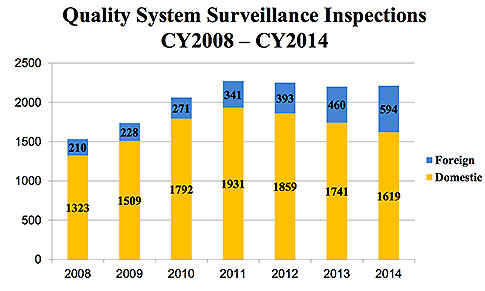 On the other hand, foreign inspections posted their highest number in years, with 594 in 2014. That's way up from 210 in 2008 and 460 in 2013. The agency said it's been working to increase its foreign inspection stats as foreign manufacturer inventory has grown. China was the biggest target (190) in 2014, followed by Germany (72), Japan (37), and Taiwan (29). It's a bit of a surprise not to find India on the list, but that country's regulators have something of a reputation for blatantly favoring local firms over "invaders" from outside its borders. There could be a connection.
Casting a wider net, the FDA reported interesting stats based on some 14,271 domestic and foreign inspections conducted between 2009 and 2015. Domestically, manufacturers got off the hook with "no action" more than half of the time. At the same time, the FDA did demand action 8 percent of the time. The numbers were a bit harsher when it came to foreign inspections: 42 percent wriggled free with no action, and 15 percent got the opposite directive.
The report also reveals that the FDA issued 1,106 Form 483s covering 2,213 QSIT inspections during 2014. It issued 3,740 483s, citing quality system regulation deficiencies over the same time period.
First published Nov. 5, 2015, on the AssurXblog.
About The Author

Michael Causey
James Michael Causey's been a journalist since he started his own neighborhood newspaper in the 1970s. In addition to quizzing FDA officials for the past 10+ years, he's also interviewed political satirist Art Buchwald, FCC Chairman Reed Hundt, SEC Chairwoman Mary Schapiro, and is the past president of the Washington Independent Writers. Causey is the editor and publisher of eDataIntegrityReport.com and is a contributing writer on the AssurXblog.