This Week in Quality Digest Live
The QA Pharm
FDA Compliance
Three Stages of Quality Management System Implementation and Oversight
The most important lessons I've learned in pharmaceutical quality assurance during the last 40 years
Published: Wednesday, November 8, 2017 - 13:01
If I could summarize in one page the most important lessons I have learned in pharmaceutical quality assurance over the last 40 years, this is it.
When it comes to putting a procedure into written words, it doesn't mean the words will be effective in getting people to follow the procedure.
The responsibility of quality assurance is to ensure that an effective quality management system (QMS) is put in place procedurally, is in use behaviorally, and is in control measurably.
The responsibility of management is to enable the QMS through accountability of each element of the QMS by an identified owner, to provide oversight through performance metrics, and to promote the QMS as a normal and valued part of the business—not to make the FDA happy or pass an inspection.
As I reflect on my pharmaceutical career and the many clients I have served over the years, the best results and most rewarding experiences were with those who embraced this concept.
My hope is for all my followers to use this simple graphic as a way to communicate a QMS implementation strategy.
I would be pleased to support your effort with details behind each of these points.
If you would like a high-resolution image, write to me at my personal email address: snyderjohn@mac.com. You have my permission to use freely.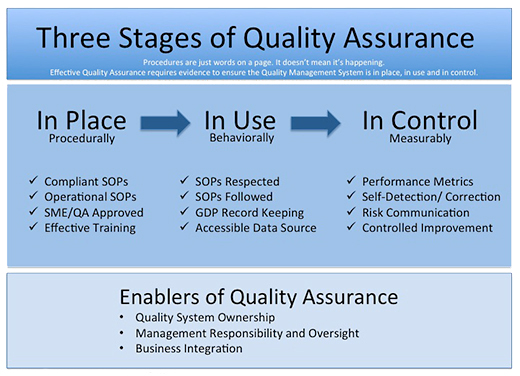 © 2017 John Snyder & Company Inc. All rights reserved.
About The Author

The QA Pharm
The QA Pharm is a service of John Snyder & Co. Inc., provider of consulting services to FDA-regulated companies to build quality management systems and develop corrective actions that address regulatory compliance observations and communication strategies to protect against enforcement action. John E. Snyder worked at the lab bench, on the management board, and as an observer of the pharmaceutical industry for more than 30 years. His posts on The QA Pharm blog are straight talk about the challenges faced by company management and internal quality professionals. Synder is the author of Murder for Diversion (Jacob Blake Pharma Mystery Series Book 1).