This Week in Quality Digest Live
American Customer Satisfaction Index ACSI
Customer Care
ACSI: Higher Satisfaction for Nondurable Goods and Everyday Items
TVs and video players lead the pack, with internet services at the bottom
Published: Tuesday, November 1, 2016 - 11:18
(ACSI: Ann Arbor, MI) -- Manufactured nondurable goods include household products that consumers typically use every day. This sector as measured by the ACSI is comprised of food manufacturing, personal care and cleaning products, soft drinks, breweries, apparel, and athletic shoes. According to ACSI data collected during the third quarter of 2016, customer satisfaction with consumer nondurable products as a whole rose to an ACSI score of 82.1 on a 100-point scale.
Food manufacturing
Most food manufacturers post gains in customer satisfaction as grocery prices fall for the ninth straight month. The grocery food category, which includes packaged food products ranging from chocolate, baked goods, and cereal to meat, cheese, and frozen foods, is up 9.2 percent to an ACSI score of 83. This is the highest level of customer satisfaction with food manufacturing since 2012, and the longest streak of food deflation in 50 years.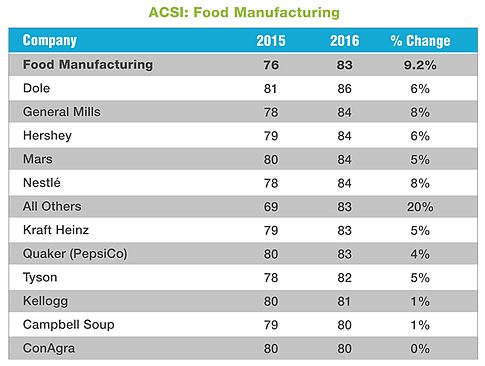 Among the largest food companies, Dole maintains the lead with an ACSI score of 86. General Mills leaps to second place at 84, alongside chocolate manufacturers Mars, Hershey, and Nestlé. Smaller companies (including store brands and minor brands that make up a large proportion of the industry) gain the most, surging to a combined score of 83. Two other companies match the industry average of 83: PepsiCo's Quaker Oats division and Kraft Heinz. Tyson (82) and Kellogg (81) are below the industry average. ConAgra—the only company not to improve—falls from second place to tie for last with Campbell Soup (both 80).
Beverages
Customer satisfaction for both soft drinks and beer has returned to the levels typical for beverage industries. Manufactured goods usually score high in ACSI, and only the television and video player industry (87) ranks above either soft drinks or breweries in satisfaction, according to customers.
Consumers are increasingly seeking healthier beverage alternatives. Soft drinks overall rise to an ACSI score of 84 as the industry responds to shifting tastes with expanded offerings of "better for you" products such as organic teas, cold-pressed juices, protein and performance drinks, and coconut water.
Among the major soft drink producers, Coca-Cola falls from first to last place, despite gaining 3 percent as the rest of the industry shows greater improvement. A year ago, Dr Pepper Snapple Group shared the lead with Coca-Cola, but the No. 3 soft drink maker now tops the category alone with an ACSI score of 86. Smaller beverage manufacturers follow closely in second place with a combined score of 85. PepsiCo comes in at the industry average (84), overtaking Coca-Cola (81).

In 2015, beer sales grew by 0.2 percent as MillerCoors took the lead in customer satisfaction. This year, Anheuser-Busch InBev wins the top spot with an ACSI score of 84. The company recently completed its multibillion-dollar acquisition of SABMiller, creating the world's largest beer company. As part of the merger, SABMiller gave up ownership of the Miller brands by selling its 58-percent stake in MillerCoors to Molson Coors, which already owned the rest. According to ACSI interviews conducted prior to the merger's finalization, MillerCoors trails AB with an ACSI score of 81. Meanwhile, the combined score for all other smaller brewers, including craft breweries, places second at 82.

Personal care and cleaning products
Customer satisfaction improves for shampoo, soap, toothpaste, detergents, and cleaning products, moving up to an ACSI score of 83. Dial jumps from third to first place at 85, followed closely by Clorox and Unilever at 84. Colgate-Palmolive, Procter & Gamble, and the combined score for smaller manufacturers all tie at 83, while Johnson & Johnson debuts in the Index at 82.

Apparel and athletic shoes
Customer satisfaction for apparel increases to 79 as the largest manufacturers improve. Apparel prices have gone up by only 0.3percent during the past year compared to a 0.5-percent average growth rate during the past five years.
Hanes brands moves into a tie for first place alongside Levi Strauss, both with ACSI scores of 81. Nine West and VF are close by at 80, while the aggregate of smaller companies (including store brands) ranks on par with the industry average at 79.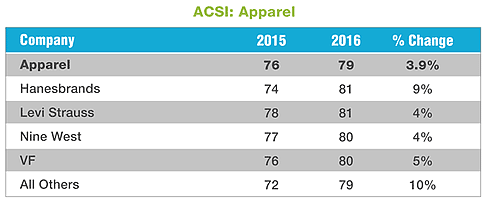 A small boost in customer satisfaction for Nike simultaneous with a leap for Adidas (which includes the Reebok brand) brings about a reversal in their ACSI rankings. With a score of 83, Adidas takes the lead over Nike (80) this year. The combined score of all other smaller athletic shoe manufacturers, including Under Armour and Skechers, is just below Nike at 79.

About this report
The "ACSI Nondurable Products Report 2016" on food, soft drinks, beer, personal care and cleaning items, apparel, and athletic shoes is based on interviews with 5,607 customers, chosen at random and contacted via email between Sept. 19–30, 2016. Customers are asked to evaluate their experiences with recently purchased products of the largest manufacturers in terms of market share, plus an aggregate category consisting of "all other"—and thus smaller—companies in these industries.
The survey data are used as inputs to ACSI's cause-and-effect econometric model, which estimates customer satisfaction as the result of the survey-measured inputs of customer expectations, perceptions of quality, and perceptions of value. The ACSI model, in turn, links customer satisfaction with the survey-measured outcomes of customer complaints and customer loyalty. ACSI clients receive confidential industry-competitive and best-in-class data on all modeled variables and customer experience benchmarks.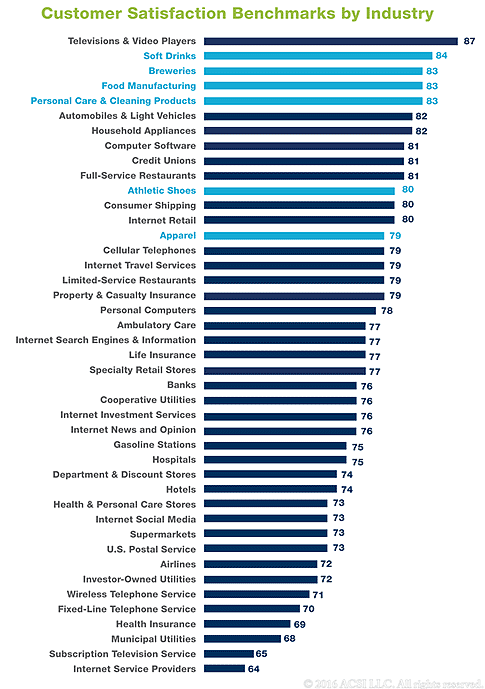 About The Author

American Customer Satisfaction Index ACSI
The American Customer Satisfaction Index (ACSI), founded at the University of Michigan's Ross School of Business and produced by ACSI LLC, is a national economic indicator of customer evaluations of the quality of products and services available to household consumers in the United States. The national index is updated each quarter and scores on a zero-to-100 scale at the national level. The ACSI produces indexes for 10 economic sectors, 47 industries, more than 225 companies, and more than 200 federal or local government services.