This Week in Quality Digest Live
Mike Richman
Customer Care
Book Review: Kaleidoscope
First-class guidance for sparkling customer service
Published: Monday, March 13, 2017 - 12:02
If there's one thing that separates those who do things in an average way and those who do those same things in an extraordinary way, it's passion. This sense of intense interest, excitement, and focus drives the authentic pursuit of excellence, even (or perhaps, especially) in the rather mundane realm of customer service.
Just as passion culls the great customer service reps from the merely good ones, so does it differentiate authors. In his new book, Kaleidoscope: Delivering Innovative Service That Sparkles (Greenleaf Book Group Press, 2017), author and Quality Digest contributor Chip Bell proves beyond doubt that he has a great passion for passion.
Bell has authored or co-authored more than 20 books, but this one and its two immediate predecessors—The 9 1/2 Principles of Innovative Service (Simple Truths, 2012) and Sprinkles: Creating Awesome Experiences Through Innovative Service (Greenleaf Book Group Press, 2014)—form a series on the value of creative, inspired customer service. Yes, innovation can apply in a service environment, and Bell shows how. It's all about demonstrating a deep and genuine sense of creativity for the work in which you are engaged. Customers can tell the difference. What he's talking about goes well beyond value-added service and into the realm of "value-unique" service in which you treat customers as individuals with unique drives and desires. You do this by bringing your own unique personality to the exchange. This approach dials down the formula, and dials up the fun.
The kaleidoscope motif is apt because the book is organized into nine different "shades" of value-unique service that reflect the hues, shapes, and patterns that you (and more important, your customers) will discover in your efforts. These nine shades also function as chapter headings, covering the qualities that really set you and your organization apart: Enchantment, Grace, Trust, Generosity, Truth, Mercy, Alliance, Ease, and Passion.
Spread throughout the book are witty and pertinent quotes, aphorisms, and references to historical figures such as Benjamin Disraeli and Albert Einstein, and cultural touchstones like Johnny Cash or the movie Steel Magnolias. Best of all are the numerous real-world examples of organizations that have flourished through a commitment to value-unique customer service.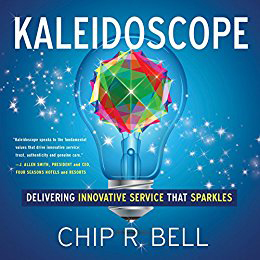 A book like Kaleidoscope is very much a reflection of the author's personal experiences and outlook. Prior to his business career, Bell was a highly decorated infantry unit commander with the 82nd Airborne, including a stint in Vietnam. He also taught guerrilla tactics at the U.S. Army Infantry School. So this is a man who truly knows how to get things done, and communicate lessons learned. In addition to his popular contributions for us here at Quality Digest, he has also been featured in Forbes, The Wall Street Journal, Fast Company, and elsewhere. Bell has also consulted for or presented to many Fortune 500 companies, including GE, IBM, Microsoft, and Caterpillar.
Given Bell's background, it's no surprise that Kaleidoscope is a tightly focused and well-organized look at the often overlooked skill of providing great customer service, which is a core competency of any quality-oriented, customer-facing organization. As mentioned, the book is also fun and a fast read. It's perfect for anyone who wants to be the change they seek in their company, from those in the C-suite down to those talking to customers in a call center or shaking their hands in a brick-and-mortar storefront.
For more on the topics found in this book, be sure to join me and my co-host, Dirk Dusharme, on our web TV show, Quality Digest Live, Friday, March 17, 2017. We'll be interviewing Chip Bell on the show and picking his brain for more great ways to improve customer service. See you there!
About The Author