This Week in Quality Digest Live
Hexagon Manufacturing Intelligence
CMSC
Hexagon Manufacturing Intelligence Announces BLAZE 600A 3D Optical Solution for Rapid Data Acquisition for Improved Shop-Floor Productivity
Published: Wednesday, May 16, 2018 - 11:00
(Hexagon Manufacturing Intelligence: North Kingstown, RI) -- Hexagon Manufacturing Intelligence recently announced the release of BLAZE 600A, a fully automated 3D optical measurement system designed for use with robotic installations on the shop floor.
Based on Hexagon's proven white-light scanner technology, BLAZE 600A combines high-resolution digital imaging technology with blue-light LED illumination to rapidly deliver high-accuracy freeform surface and feature data. Its large measurement field efficiently captures high-density point cloud data, while enhanced projection technology enables virtually any material or surface type, including shiny, painted, and reflective surfaces; black parts; and composite materials, to be scanned without the need for surface preparation.
BLAZE 600A is optimized for shop-floor measurement so manufacturers can reduce the time spent transporting workpieces from the production area for inspection. Easy to use and offering fully automated scanning, the system requires a maximum of one operator. Fast data capture provides near-total immunity to the effects of vibration or changes in ambient light, ensuring accurate measurement even in changeable workshop conditions. To minimize downtime and maintenance costs, BLAZE 600A's high-data-rate cameras, projector unit, and electronics are robustly designed for heavy industrial use, while all optical components are protected by a rigid, temperature-stable housing. The system is available in two projection configurations and supports several measurement field size settings without compromising accuracy on larger fields of view. Different data-acquisition modes can also be selected to ensure the best possible results for each inspection task.
"BLAZE 600A significantly outperforms earlier-generation systems in terms of accuracy and repeatability, but more importantly it offers a high degree of flexibility to increase application potential throughout the production process," explains Pål Fugelli, sales and marketing manager, Automated Solutions at Hexagon Manufacturing Intelligence.
"Manufacturers can set up the system to suit their specific needs and easily adapt it for different tasks," continues Fugelli. "The ability to accurately digitize a huge range of parts means BLAZE 600A offers a single-system measurement solution for all stages of the production cycle, giving quality engineers and production managers the information they need in real time."
BLAZE 600A is now available for order worldwide More information is available through local Hexagon commercial operations and dealers.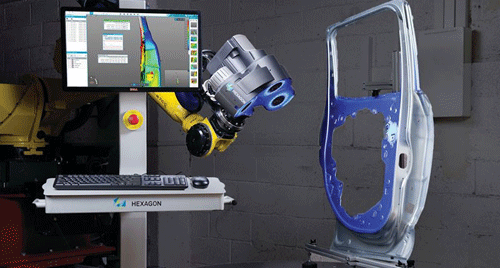 About The Author

Hexagon Manufacturing Intelligence
Hexagon Manufacturing Intelligence helps industrial manufacturers develop the disruptive technologies of today and the life-changing products of tomorrow. As a leading metrology and manufacturing solution specialist, our expertise in sensing, thinking and acting – the collection, analysis and active use of measurement data – gives our customers the confidence to increase production speed and accelerate productivity while enhancing product quality.
Hexagon Manufacturing Intelligence is part of Hexagon, a leading global provider of information technologies that drive quality and productivity across geospatial and industrial enterprise applications.