Featured Video
This Week in Quality Digest Live
FARO
CMSC
FARO Introduces Next-Generation FaroArm
Published: Thursday, August 3, 2017 - 15:57
(FARO: Lake Mary, FL) -- FARO, a global source for 3D measurement and imaging solutions for factory metrology, product design, construction BIM/CIM, public safety-forensics, and 3D machine vision applications, has introduced the new FARO QuantumS FaroArm. This introduction extends FARO leadership in value and performance in the manufacturing inspection process through best-in-class performance and durability, enhanced ergonomics, and extreme portability. Live web demonstrations can be scheduled here.
Performance and durability
The QuantumS is certified to ISO 10360-12:2016, the most rigorous international measurement quality standard in existence. This global standard, unlike the various regional standards such as VDI/VDE 2617, establishes the consistent, critical testing procedures that enable objective performance comparisons across any and all articulated arm coordinate measuring devices. Also, the QuantumS sets a new standard for ruggedness as it tests to the International Electrical Commission (IEC 60068 -2) standards for shock, vibration, and temperature stress relief. Next, with the addition of the FAROBlu Laser Line Probe HD, the QuantumS continues the FARO tradition of delivering maximum measurement consistency for both direct-to-parts contact and noncontact requirements in every working environment. Finally, FARO extends its leadership in improving end-user productivity by enabling users to capture richer detail faster than any other comparable product on the market.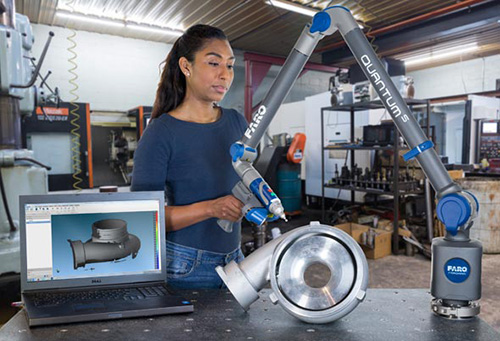 Usability
The advanced man-machine interface and enhanced ergonomics make the FARO QuantumS a virtual extension of the human arm and enables up to 15 percent less effort and fatigue for the operator with direct, contact-only units. This dramatic increase in both comfort and portability increases operator productivity by facilitating continuous use over extended periods during the workday.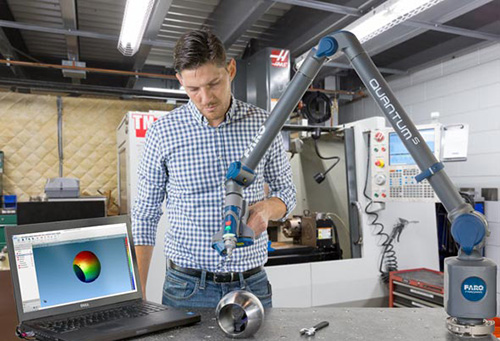 Portability
QuantumS advances the concept of true portability and ensures additional floor reach by up to 40 percent. Advanced wireless capability ensures that the reliability of cable-free scanning and probing is comparable to scanning and probing with a cable attachment. Furthermore, the availability of dual, hot-swappable batteries supports continuous operation anywhere on the factory floor without the need for external power.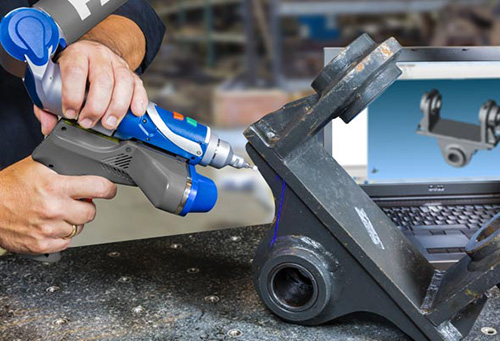 "FARO takes great pride in its market leadership position in delivering a FaroArm that is 25 percent more accurate than any FaroArm to date, is our toughest FaroArm ever and adheres to the most exacting global quality standards," says Simon Raab, Ph.D., FARO's president and CEO. "We continue to elevate the value/performance standard for large-scale measurement applications by combining leading-edge usability, best-in-class performance, and value-driven pricing. Next-generation user interaction, enhanced portability, and Super 6DoF compatibility [www.faro.com/lasertracker] significantly improves the end-user experience from both a personal comfort and productivity standpoint." The QuantumS FaroArm is available for immediate quoting.
About The Author

FARO
FARO develops and markets computer-aided coordinate measurement and imaging devices and software. FARO's portable equipment permits high-precision 3-D measurement, imaging, and comparison of parts and compound structures within production and quality assurance processes. The devices are used for inspecting components and assemblies, production planning, 3-D documentation, as well as for investigation and reconstruction of accident sites or crime scenes, and to generate digital scans of historic sites. Principal products include the FaroArm, the FARO Laser Tracker ION, FARO Laser ScanArm, FARO Laser Scanner, FARO Gage, and the CAM2 family of advanced CAD-based measurement and reporting software.