This Week in Quality Digest Live
FARO
CMSC
FARO Introduces CAM2 2018 3D Measurement Software Platform
Published: Wednesday, May 16, 2018 - 11:00
(FARO Industries: Lake Mary, FL) -- FARO, the world's most trusted source for 3D measurement and imaging solutions for factory metrology, product design, and 3D machine vision applications, announces the release of the FARO CAM2 2018 software platform, specifically designed to enable users to realize the highest value and level of performance with all FARO metrology products across the automotive, aerospace, machine tools, and metal-fabrication industries.
CAM2 2018 elevates the end user experience through a seamless integration with FARO portable coordinate measuring machine products, an advanced user interface that streamlines and simplifies most inspection activities, and new reporting dashboards that facilitate short cycle, actionable intelligence.
Optimized value of FARO hardware
CAM2 2018 is a tightly integrated software platform for the entire FARO measurement product portfolio driven by extensive feedback from users of previous generations of CAM2 as well as other third-party metrology software platforms. As such, it ensures that our customers are able to uniquely leverage the full range of FARO hardware features/functionality, now and also in the future, through updates for the most current software versions and patches. Additionally, both the software and hardware are supported by the market-leading FARO customer service organization in addition to the extensive online self-help FARO Knowledge Base.
Improved quality control through repeat part management
CAM2 2018 now includes repeat part management (RPM) functionality for easy production implementation and minimal training. This smart tool enables a specific inspection process to be designed once and then repeated and executed by anyone on the factory floor. Accordingly, this ensures the efficient use of resources, consistent oversight, and quality control of inspection routines without the need to have highly skilled metrology professionals drive and manage the process.
Accelerated actionable insight
CAM2 2018 features integrated web-based dashboard reporting that delivers real-time inspection results and insightful trend analysis in a user-friendly set of adaptable visual reports. The RPM Control Center information can be shared across the organization in real time and accelerate the ability to take immediate corrective action as required.
"As a full-service, high-accuracy, portable coordinate measuring solution provider, we can provide great value for our customers," states Pete Edmonds, vice president, factory metrology. "To that end, we are focusing our platform development to assure that our software enables our customers to realize the full operational potential of their FARO hardware, ranging from small- to large-volume measurement. CAM2 2018 is a further evolution of our strategic direction to deliver tight alignment of our hardware and software portfolios."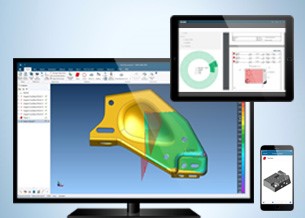 About The Author

FARO
FARO develops and markets computer-aided coordinate measurement and imaging devices and software. FARO's portable equipment permits high-precision 3-D measurement, imaging, and comparison of parts and compound structures within production and quality assurance processes. The devices are used for inspecting components and assemblies, production planning, 3-D documentation, as well as for investigation and reconstruction of accident sites or crime scenes, and to generate digital scans of historic sites. Principal products include the FaroArm, the FARO Laser Tracker ION, FARO Laser ScanArm, FARO Laser Scanner, FARO Gage, and the CAM2 family of advanced CAD-based measurement and reporting software.