This Week in Quality Digest Live
Creaform Inc.
CMSC
Creaform Wins 2017 Good Design Award in Japan
Published: Wednesday, November 15, 2017 - 13:34
(Creaform: Levis, QC) -- Creaform, a worldwide leader in portable and highly accurate 3D measurement solutions, recently announced that it won the 2017 Good Design Award in Japan for its optical CMM solution and 3D scanners, which include MetraSCAN 3D, HandyPROBE Next, and C-Track.
The Good Design Award is hosted by the Japan Institute of Design Promotion. Submissions for the awards come from a wide range of fields, and approximately 1,200 designs are recognized each year. Products are judged not only on the aesthetic design but also the underlying design process, idea, and relevance.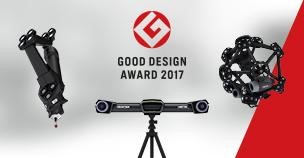 "Creaform is proud to have been recognized by such a prestigious institution as the Japan Institute of Design Promotion," says Nicolas Lebrun and François Lessard, Creaform's senior industrial designers. "Creaform's relentless focus on ahead-of-the curve solutions ensures that all of our products are the culmination of creativity and innovation that puts our end users at the heart of our designs. This philosophy is perfectly aligned with the Institute's design and awards philosophy."
"Creaform has always been dedicated to the Japanese market, investing just recently in a brand-new million-dollar facility near Tokyo. This award is a symbol of our growing expertise in the distinctive metrology needs of Japanese manufacturers," adds Carl Mercier, Creaform's head of sales for the Asia-Pacific region.
Creaform received its Good Design Award on Nov. 1, and the products was then shown during the Good Design Exhibition 2017, which took place from Nov. 1–5, 2017, in Tokyo, Japan.
The Good Design Award follows Creaform's 2017 IDEA Award and Red Dot Award: Product Design 2017 for its quality and breakthrough designs.
About The Author

Creaform Inc.
Creaform helps companies seamlessly create, simulate, verify, and collaborate in 3D, significantly enhancing their turnaround times and profitability. In addition to designing and selling its 3D laser scanners/systems, 3D digitizers, portable CMMs, dual camera sensors, and distributing other 3D measurement systems and software, Creaform offers design and engineering services, reverse engineering, finite element analysis, 3D and long-range scanning, inspection, training, and staff outsourcing.